Seattle Protester Struck by Car Speaks Out: 'I'm Alive and Stable'
A protester who was injured after being struck by a car that was driven into a crowd protesting police brutality on a closed Seattle freeway has spoken out from her hospital bed.
Diaz Love, 32, and Summer Taylor, 24, were both hit by the vehicle on Interstate 5 in the early hours of Saturday morning.
Taylor died on Saturday evening at Harborview Medical Center, while Love remained in a serious condition in the intensive care unit at the hospital on Sunday, a hospital spokesperson confirmed to Newsweek.
On Sunday night, Love took to Facebook to reveal she was in a stable condition, but remained "in a lot of pain."
Love, of Portland, Oregon also said that Taylor's death would not stop protests from continuing.
"I'm alive and stable. In a lot of pain. I cannot believe Summer was murdered. If they thought this murder would make us back down, they are very wrong. Very wrong," Love wrote alongside a picture taken in hospital.
"My FB is filled with death threats, that and only being able to use one hand has me going slow. I deeply appreciate and feel all the love y'all are sending me." Love has been contacted for additional comment.
Love had been live-streaming the protest on Facebook for almost two hours when the vehicle sped into the crowd.
The video ended abruptly shortly after protesters started shouting "Car! Car!" to warn of the approaching vehicle. Love's filming became shaky seconds before the sound of screeching tires and a loud crash was heard.
Just hours before the incident, Love had shared her fears of going out to protest over the Fourth of July weekend in another post on Facebook because of "death threats from various hate groups."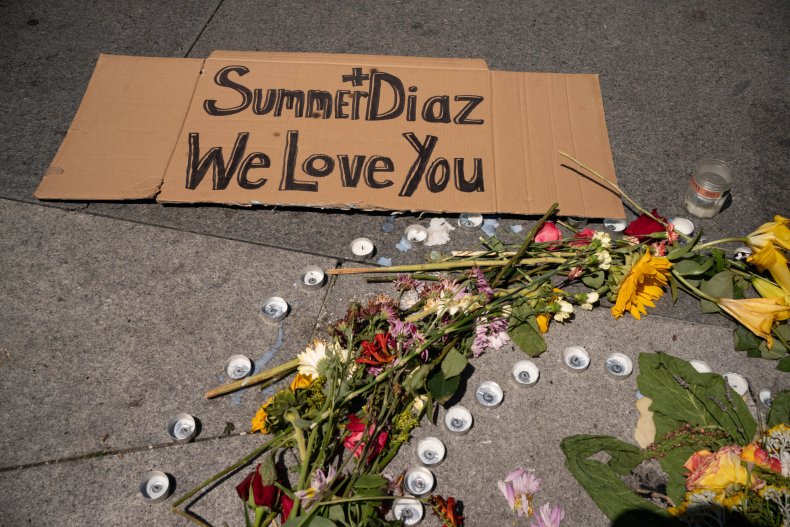 "This weekend is a big one. If you've been following the Revolution and protests you know the death threats from various hate groups is real, real this weekend," the post said.
"I'll be shocked if some major tragedy doesn't take place in one of our protests in the States this weekend. To say Im scared af to be going out and protesting this weekend is an understatement.
"But still, my brave Black Femmes will be on their march today. Still, we need to protect Black woman. So I think I'll get in the streets to live stream again tonight. But f**kkkkk I'm scared."
Dawit Kelete, 27, was booked into the King County Correctional Facility on two counts of vehicular assault, according to The Associated Press.
Police said he drove a white Jaguar around vehicles that were blocking I-5 and sped into the crowd about 1:40 a.m.
In a press conference at the weekend, Washington State Patrol Capt. Ron Mead said authorities were not sure if the incident was a targeted attack, but said impairment wasn't being considered a factor.
In a tweet on Sunday, the state patrol said it would no longer allow protesters to enter I-5. "For the safety of all citizens including protesters and motorists, pedestrians walking on the freeway will be arrested," it said.
The Washington State Patrol has been contacted for additional comment.
Saturday's incident comes after weeks of protests against police brutality and racism in Seattle, set off by the killing of George Floyd, a Black man, in Minneapolis police custody on May 25.
Last week, authorities cleared the "Capitol Hill Organized Protest" (CHOP), a several block stretch in the Capitol Hill neighborhood, on Seattle Mayor Jenny Durkan's orders after a number of fatal shootings took place in the area.
Protesters occupied the area for much of June after police abandoned a precinct following clashes with protesters.