An Inmate Had Skin Cancer and Needed Radiation. This Prison Gave Him Tylenol.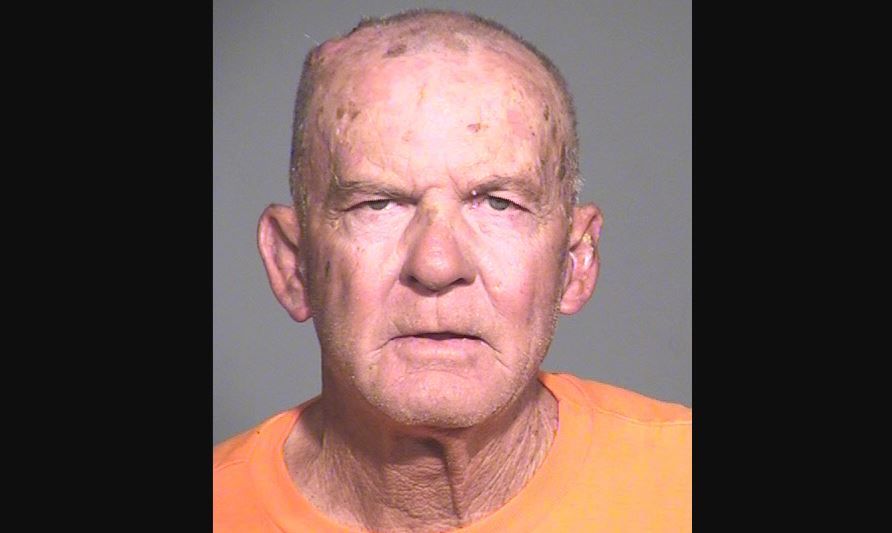 Walter Jordan had lived inside Arizona prison walls for nearly three decades when patches of skin cancer began to spread across his bald head earlier this year.
But Corizon Correctional Healthcare, the for-profit company Arizona hired to care for its 42,000 prisoners, didn't bring the 67-year-old inmate to a cancer doctor, according to court papers. Instead, Jordan was sent to a dermatology clinic, where doctors burned the cancers with electricity – a treatment usually reserved for smaller skin cancers on less critical parts of the body.
When a Corizon medical worker examined Jordan in early July, she was shocked. "The wound is horrific," she wrote in an urgent request for radiation therapy, noting that the large open sore on his head was quickly growing deeper and was exposed to the dust, heat and flies in the prison, court papers state. "I cannot stress how important it is that we take some type of immediate action."
Meanwhile, Corizon denied Jordan's request for SPF 50 sunscreen and only gave him Tylenol with codeine for his pain, court papers state. Jordan penned a letter to the court in August, writing in a shaky hand that the Arizona Department of Corrections and "Corizon delayed treating my cancer. Now because of their delay, I may be luckey [sic] to be alive for 30 days."
Jordan was right. The skin cancer grew through his skull and into his brain and – combined with a radiation treatment he received too late – triggered a seizure that killed him in early September.
Jordan's is one of several deaths at the center of an ongoing legal fight over inmate health care in Arizona – and a window into how states use private companies to handle medical services for prisoners in an age of cash-strapped budgets. After falling out of favor with the Obama administration, privatization in the corrections industry is enjoying a resurgence under President Donald Trump, who campaigned on a law-and-order platform.
Corizon, which provides medical care to over 220,000 prisoners in 22 states and is one of the largest prison healthcare companies in the country, has been criticized in recent years for the poor quality of some of that care. The family of a Kansas man sued Corizon in October after a fungus infected his brain over four months and company employees failed to help, according to the suit. And in April the family of a Georgia woman sued, claiming she died of pneumonia that Corizon workers should have diagnosed much sooner.
The Arizona lawsuit began in 2012 when a group of prisoners sued the state over prison conditions and solitary confinement. The two sides seemingly reached a crucial milestone in 2015 when lawyers for the prisoners and the state agreed on a settlement that required the state to reform medical care in its prisons. But in the two years since the settlement, progress has been uneven and the federal judge who oversees the settlement says the state has failed to fulfill the settlement requirements.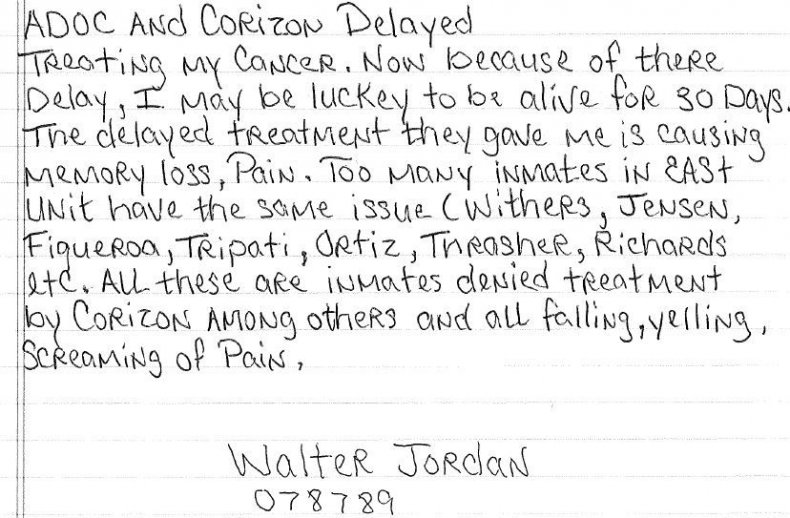 Because the state and Corizon have shown "pervasive and intractable failures to comply" with the settlement, U.S. Magistrate Judge David Duncan is considering holding the state in contempt of court, he wrote in an October order. The judge threatened to fine the state $1,000 each time it fails to comply with an element of the settlement, a decision that could cost the state millions of dollars.
Duncan was furious in court in Phoenix on Wednesday over issues including allegations Corizon tried to save money by canceling prisoner referrals, according to local public radio station KJZZ, which has covered the case and Jordan's death extensively. (Jordan was convicted of killing two men in 1989.)
The state of Arizona pays Corizon about $12 per prisoner per day, which comes out to a total of about $150 million per year, according to David Fathi, director of the ACLU's National Prison Project and one of the lawyers in the Arizona case. Private prison healthcare companies have little financial incentive to pursue expensive, potentially life-saving treatments for prisoners, Fathi said.
"It's a fixed amount, so the less they spend on care, the more they get to keep. The incentive that creates is pretty obvious," Fathi told Newsweek.
Corizon spokeswoman Martha Harbin disputed that assessment, saying that medical workers aren't paid based on the company's financial performance.
"We bring services inside the walls and help states and counties meet their constitutional requirement to provide a community standard of care to those incarcerated within limited public budgets," Harbin said in an email.
Corizon has lost multiple contracts amid allegations of poor medical care in several jurisdictions, including New York City, New Mexico and Minnesota. "They have come under increased scrutiny over recent years for the inadequate quality of the medical services they provide to incarcerated individuals," said Lauren-Brooke Eisen, senior counsel in the Brennan Center's Justice Program and the author of Inside Private Prisons: An American Dilemma in the Age of Mass Incarceration.
Eisen added that because Corizon is a private company they are able to keep the details of all settlements secret, adding another barrier to transparency in an already cloistered part of the justice system.
A key problem with prison health care is that doctors become indoctrinated by correction officers to believe that all prisoners are manipulators or con artists, said Heather Ann Thompson, a University of Michigan professor who won a Pulitzer Prize this year for her book, Blood in the Water: The Attica Prison Uprising of 1971 and Its Legacy. "So they don't take their medical problems seriously," she said.
Thompson also noted that African-Americans have been found to receive inferior medical care and pain treatment even outside prison walls. "We're talking about a captive population, mostly of color, so it's a double whammy," she said.
A spokesman for the Arizona Department of Correction declined to comment on ongoing litigation, but said in an email, "The Arizona Department of Corrections expects the state's contracted health care provider, Corizon, to provide all inmates the constitutionally-mandated health care to which they are entitled. It is also the department's expectation that Corizon address allegations raised regarding the care they are contracted to provide."
Harbin, the Corizon spokeswoman, told Newsweek in an email that of the 100-plus indicators spelled out in the Arizona settlement, the company has achieved a compliance rate of 91 percent in the 10 prisons where it provides care.
As for Walter Jordan, the prisoner who died of skin cancer in September, Harbin would only say, "Walter Jordan was provided appropriate treatment but nevertheless succumbed to cancer."