Inmates in Bosnian Prisons Buck National Trend With 80 Percent Getting Vaccinated
While the number of Bosnians vaccinated against COVID-19 remains low, the same cannot be said for the country's prison population, which boasts a vaccination rate almost three times higher than the nation's rate as a whole.
Vaccine hesitancy has led to only about 27 percent of Bosnia's population of 3.3 million receiving the shot. But among the approximately 2,000 inmates across the country's 13 prisons, more than 80 percent are vaccinated.
At Bosnia's largest prison, located in Zenica, over 90 percent of the 600 inmates are vaccinated. Redžo Kahrić, the maximum-security prison's warden, said he believes the vaccination rates are so high out of convenience. Though vaccinations are not mandatory, inmates are required to quarantine if they come into contact with someone who tested positive for the virus, whereas people outside of prisons are free to ignore the rules.
In addition to high inmate vaccinations, the prison employee vaccination rate is also higher than Bosnia's overall rate, with 60 percent of the Zenica prison's employees vaccinated. This has helped to keep Bosnian prisons from having any major COVID-19 outbreaks.
"Many members of my family got infected, including my mother, so I think that masking up and getting vaccinated is the way to go," Fahro Kahriman, an inmate at Zenica, said.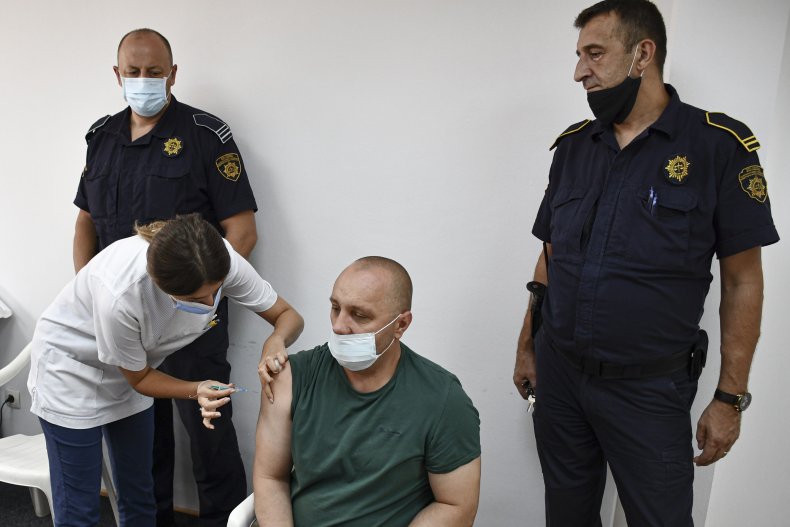 Bosnia and most of the rest of the Balkans struggled at the beginning of the year to secure vaccines but had a steady supply of jabs by late spring. While the public demand for shots quickly slowed, interest remained high inside correctional facilities, where authorities say getting vaccinated remains voluntary.
Prisoners at Zenica who are eligible for weekend leave also are tested before and after their trips outside. The spread of the virus appears to have generally been better controlled inside than outside Bosnian prisons. Since the start of the pandemic, no major prison outbreaks have been reported.
In the early days of the pandemic, when most of the world faced shortages of personal protective equipment, Zenica prisoners were put to work sewing face masks as part of the prison's work program.
The prison produced over 10,000 masks, primarily for in-house use, but also for the Justice Ministry to distribute to other correctional facilities, Kahrić said. The program has continued along with the pandemic.
In the past, Zenica prison was notorious for its poor human rights record, but substantial reforms were made in the decade it has been under regular monitoring by relevant European and Bosnian human rights bodies and officials.
Inside the prison's sewing shop earlier this month, inmates appeared to enjoy light banter while stitching together protective face masks. Most said they freely embraced getting vaccinated against COVID-19, as well as making and wearing face masks as added protection.
Sewing masks is "a way to spend quality time in prison and, at the same time, to contribute to the society," Kahriman said.
Bosnia, which has a population of 3.3 million, has reported nearly 290,000 virus cases and more than 13,300 COVID-19 deaths in the pandemic, some of the worst infection and mortality rates in Europe.
The Associated Press contributed to this report.