Insane Clown Posse Appears Before a Cincinnati Appeals Court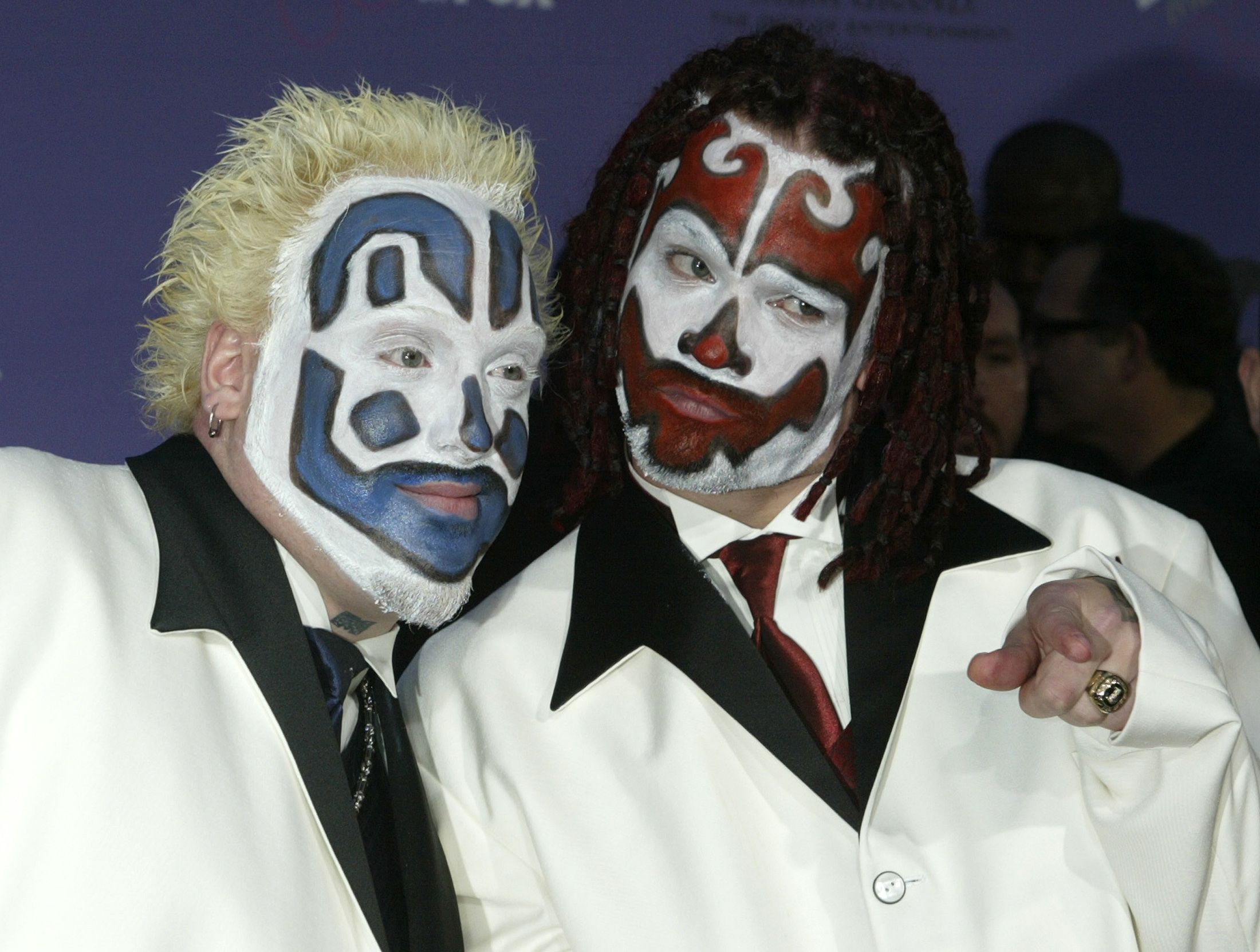 Since 1999, thousands of the Detroit rap-metal group Insane Clown Posse's fans, known as Juggalos, have held an annual Gathering of the Juggalos. The Juggalos, known for their elaborate face paint and hatchet tattoos, emerged as a subculture that often surpasses fandom and transcends into lifestyle. Fittingly, the Gathering is not so much a music festival as an extravaganza, but one that's included several cases of sexual assault and drug overdose.
It's also a magnet for undercover police, according to the Daily Beast, and in 2011 the FBI issued a National Gang Threat Assessment alleging that the Juggalos were "a loosely organized hybrid gang" engaging in violent activity. The report stipulates that the gang is "rapidly expanding into many U.S. communities," particularly New Mexico, and is committing "sporadic, disorganized, individualistic" crimes including vandalism, petty theft, drug use and assault.
Last year, Detroit Free Press reported that Insane Clown Posse had filed a lawsuit claiming the report had led to its fans being investigated and at times detained by authorities. What's more, it was causing a decline in the number of Juggalos because they feared expressing themselves, according to band members and their attorneys. Authorities pleaded with Insane Clown Posse to drop the lawsuit, which was dismissed last July by a federal judge.
But the band and the Michigan ACLU had already filed an appeal, in a fight to "clear the Juggalo family name," Violent J, an Insane Clown Posse member, wrote in a joint statement along with the ACLU. "There has never been—and never will be—a music fan base quite like Juggalos, and while it is easy to fear what one does not understand, discrimination and bigotry against any group of people is just plain wrong and un-American."
On Thursday, members of the band stood before an appeals court in Cincinnati to officially counter the allegation made against Juggalos. Insane Clown Posse's attorneys told the judge that the FBI had directed unwarranted ire toward the band's fans, according to Associated Press. The appeal comes at the heels of a Detroit federal judge deciding that the Justice Department isn't liable for how the national report on gang activity is utilized. But it's unclear yet when a decision will be reached on the appeal.
That sentiment was backed by the American Civil Liberties Union of Michigan, which said fans' free speech and due process had been violated by the report. "The Juggalos are fighting for the basic American right to freely express who they are, to gather and share their appreciation of music, and to discuss issues that are important to them without fear of being unfairly targeted and harassed by police," Michael J. Steinberg of the Michigan ACLU said in a statement.
Earlier this month, Gathering of the Juggalos announced the lineup for its next festival, in Thornville, Ohio, July 22-25. It will feature acts such as Waka Flocka Flame, Tech N9ne and Flosstradamus.