Even the Insane Clown Posse Isn't Insane Enough to Gather This Year
It's a sad day for Juggalos and Juggalettes as the Insane Clown Posse has announced that it will be canceling its annual music festival, The Gathering of the Juggalos, due to the coronavirus pandemic.
This is the first time in its 20-year history that ICP has canceled the event, which features performances from Psychopathic Records (ICP's label) artists, wrestling, comedy and wet T-shirt contests. If you weren't already taking COVID-19 seriously, this is a good sign that maybe you should. If you're not in the know about the Gathering, it's not exactly an event that's praised for the healthy behavior of its attendees. The 2020 edition of the festival was set for Garrettsville, Ohio, from August 5 to August 8.
"For 20 consecutive years, the Gathering of the Juggalos has been the biggest family reunion on the planet, generating untold levels of freshness for thousands and thousands of attending Juggalos from all walks of life, all around the world," the duo said in a tweet. "With the global pandemic that is now affecting us all, we are dedicated first and foremost to the safety and health of our family. That said, at this juncture, it is with a heavy heart we announce that due to the COVID-19 outbreak, we have no choice but to postpone the Gathering until next year."
The group said the decision was made with the owners of Nelson Lodges Quarry Park, where the Gathering was set to take place. ICP said they didn't want to risk any Juggalo lives, but the festival would return in 2021! "[T]he bottom line is simply that we REFUSE to risk even ONE Juggalo life by hosting a Gathering during these troubling times," the band said in the tweet. "We will endure this together as a Family, and the Gathering of the Juggalos will return in 2021, stronger, bigger, and better than ever! Whoop whoop!"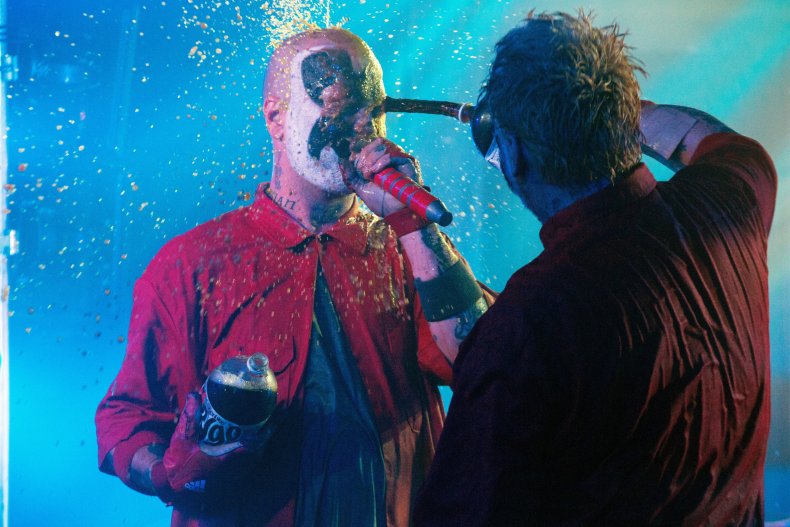 For those still looking to fill the gap that the cancellation has left, ICP started a personalized video service called Custom Clown Clips, where fans can purchase custom videos from Shaggy2Dope and Violent J for $100 a piece or one with both band members for $250. Fans can also purchase custom clips from other members of the ICP Fam-i-ly like Florida Joe and Moon Glorious. Other members of the Family like Big Baby Sweets and Sugar Wolf will also be available to purchase clips from in the future.
Until next year Juggalos and Juggalettes, but thankfully, we can all just stream The Great Milenko on our own. Whoop whoop!