Insane Clown Posse Member Tries to Dropkick Fred Durst on Stage During Performance
A performance by Limp Bizkit at a festival this the weekend was briefly interrupted after one of the members of Insane Clown Posse attempted to dropkick singer Fred Durst off the stage.
The nu-metal veterans had just finished performing their version of George Michael's "Faith" at the Rock Allegiance Festival in Camden, New Jersey, on Saturday (October 6), when Shaggy 2 Dope from the Detroit rap outfit stormed the stage and attempted to attack Durst from behind with an elaborate flying kick.
However, concert footage filmed by the audience shows Shaggy 2 Dope, real name Joseph Utsler, failing to make any real contact with his kick before falling to the ground and being wrestled away by security staff.
Durst, who did not appear to be harmed at all during the assault, then tells the audience: "What a pussy, couldn't even pull it off."
As a fight breaks out at the side of the stage, Durst adds: "It's one guy, calm down it's one guy."
Durst then tells the crowd "let's give that guy a hand" before starting a chorus of "Na na na na, na na na na, hey hey, hey, goodbye."
It is unclear what prompted Shaggy 2 Dope to storm the stage and attack Durst, but a Reddit user points out Limp Bizkit and Insane Clown Posse have had a long-running feud dating back two decades.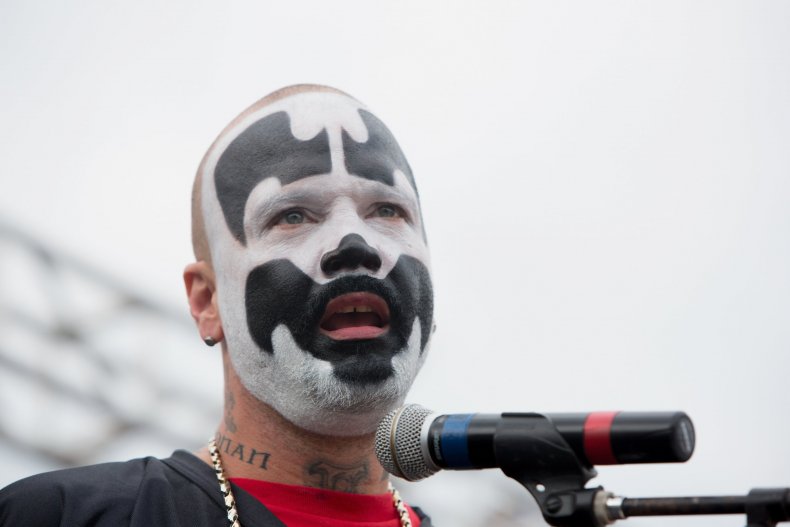 "Well it all started 20 years ago when ICP was trying their hardest to sell out," wrote DanyDoomzday. "They performed at Woodstock and after was told 'Fred wants to meet with you' they had no idea who the f*** Fred was.
"I guess Fred Durst was a mega superstar and egoed out on them hard like wouldn't look at them or anything while he talked. He invited them on the Family Values tour with Korn and all those bands then at the last minute told them to f*** off outside and booted them.
"They were on this huge festival show Monster sponsored together and I'm assuming he was a c*** again."
Insane Clown Posse gained worldwide notoriety in 2011 after the FBI branded their famously dedicated fanbase known as Juggalos a "loosely-organized hybrid gang" who exhibit "gang-like behavior and engage in criminal activity and violence."
The band launched a lawsuit against the FBI in 2014 after claiming their fans—who wear clown make-up like the band and sport tattoos—are being unfairly discriminated against because of the FBI claiming they were gang members, which both their fans and the band strongly deny.
A spokesperson for Insane Clown Posse did not immediately respond to a request for comment.