'Insecure' Star Yvonne Orji Teases Molly's Love Life and Friendships on HBO Show's Season 2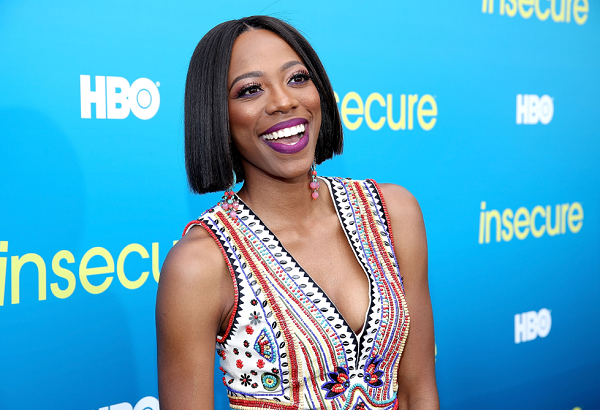 When viewers were first introduced to Molly on season one of HBO's hit series Insecure, the young lawyer was looking for love in all the wrong places.
Although she had already signified herself as a force to be reckoned with at the Los Angeles law firm where she worked, when it came to her personal life, Molly was a bit of a mess.
Flash forward past several bad dates with contenders from the elite dating service The League, an almost-relationship with a man who once received sexual pleasure from another man and several tiffs with her best friend Issa—played by the show's creator Issa Rae—and fans now see a (somewhat) improved Molly on Season 2 of the series, which kicked off in late July.
During a recent interview with Newsweek, Yvonne Orji, who plays Molly, said that the character would continue to work on becoming a better person but that journey, of course, wouldn't come without Molly getting into a few messes.
Check out Newsweek's full interview with Orji below:
It seems like we're getting a lot more Molly this season.
Every first season you're learning a little bit about the characters. You're trying to figure out if you like them, why you like them. And I think Season 2, now that we've established everybody, we're going to see more. We're peeling back the layers. We're going to see who's the person [that Molly is], Molly's world. She's journeying and just trying to figure out how to be a better version of who she is because that was a big issue in Season 1—not really happy with who her friends say she is but not knowing how to change that. And so that's what you see this season, Molly trying to figure it out. It's not going to be Insecure if Molly's not making some mistakes, so she's going to make some mistakes also while trying to figure it out.
Molly and Issa are besties but they've certainly had some conflicts in the past. Things look smoother between them so far in Season 2. Is the fighting and arguing done for now?
They're not going anywhere. It's conflict, but it's like, "I'm not going anywhere. I'm gonna work with you. We're going to battle but we're going to figure this out because you're my homie." And that's what they have, the two of them it's just like, "Okay, so we're gonna fight. But we're going to figure it out, and we're also going to figure it out together." That's something that I don't think is going to change, because that is the crux of the show. This show [is about] these two friends who, at Season 1, were real with each other but to a certain degree. And I think that the degrees that they weren't real with each other is what got them in a lot of trouble. Now we're going to see them really be real like, "OK, girl. I'm gonna throw you on the carpet, but I still love you. And I wouldn't be your friend if I didn't tell you this." So we'll see a little bit more of that dynamic.
Molly discovering she's paid less than one of her male colleagues seems to be right on time, especially with so many women advocating for closing the pay gap.
Yeah, it's real, we're going to talk about it and leave the conversation open for people to have their own conversations.
Is she at least going to fight harder for a pay increase?
You have to watch. But you know, Molly is that person that totes the fine line. When has a black woman that just cursed out somebody got what she wanted? It's like, "Is that the way to go?" And that's some of the conversations that we'll have. We always talk about, "Oh, if it was me, I'll do this." And it's like, "OK, has that worked? When will it work? Should it work? Is it ever reasonable to turn up?" Since Episode 1, it was known that black people love Molly and white people love Molly. She is infamous of toting that line of professionalism and a little ratchet-ism. We'll see how she handles it.
Is Jered [Langston Kerman] gone forever? Is he done?
A lot of people really want Jered to either get back to Molly or just continue to exist on the ether of Insecure. We'll see. He didn't die, so he's not gone forever. So, we'll see.
What was your reaction when you found out what was in store for Molly and Jered's relationship?
It was funny because the writers always say if something happens in the room that causes everybody to have a conversation that there's no answer to, then they have to fit it in. "We have to now talk about this because clearly there's no answer," and that was one of those moments. So during the scene [when Molly found out Jered had received oral sex from a man], it was kinda like you found yourself saying, "Well, OK, he's the one who got head. He didn't give it. But does that really even matter?" And the whole thing with Molly is that she just couldn't believe him. She couldn't get it out of her head...hearing a dude say, "Yeah, it was a one-time thing. I'm done. This isn't what I like." And he says that so definitively. But the issue is, because there are so many down-low brothers in the African-American community, it was hard for her to bounce back and take him at his word. But she gambled wrong, and she realized that he was being serious and he was a good guy and she messed that up. That's life.
She's starting to take a different approach to dating in Season 2. Where will we see her dating life going forward?
Season 1 Molly sabotaged a lot of her relationships. Season 2 we're going to see Molly attempt to not do that. We see her dating and trying to take things as they come, not trying to be as pressed and just let things kind of flow. She's kind of going with the flow, but it wouldn't be Insecure if Molly wasn't mixing it up a bit. We're going to see her try to be this new Molly. You know, sometimes when you're doing your best, it's not even you that throws yourself a curveball, the situation that you're trying to avoid throws you a curveball. And now you got a whole new thing to figure out, like, "How do I do this?" So I think Molly is saying all day, "I'm going to try to do better," but then situations present themselves and it's like, "How am I supposed to do better with this?"
How is she going to help Issa adapt to single life?
Season 2 sees Molly and Issa trading spaces. In Season 1, Molly tries to warn Issa, "You don't want this life that I live. You don't want this single girl life." And Issa obviously didn't listen, and she did what she did, and now she's finding herself on the market again. We've seen [Issa] go through a series of dates where she's not necessarily sold. And I think it's funny because we're going to see Issa in that life that Molly tried to prevent her from and how Molly helps her navigate it. That single life is not for the faint of heart, I'm trying to tell y'all. And we're going to find out what the real is for both Issa and Molly.
What have you learned from Molly since playing her?
It's so funny, [the cast and crew] clown me because there are moments where Yvonne and Molly intersect, and they call those moments Mollyvonne. I found myself after Season 1, if I was about to go out telling myself, "Please do not make any Molly moments. Do not have any Molly moments on this date. Play it safe. Play it cool. Never let them see you sweat." Just one of those things. [Laughs] But what I've learned is that—and I think this is everybody—is that you can have a portion of your life going right and then another part going wrong at the same time. It doesn't make you a bad person, you just have to learn how to pivot. You have to learn how to not just focus on the things that are good but also figure out how to fix the things that aren't so good. I think that's the thing with Molly. She was trying to do work-mode for love-mode, and what works at work might not work in life or in love. And she didn't understand how to switch gears.
Describe Season 2 in three words.
Hysterical. Relevant. Necessary.
Why necessary?
It's necessary because we're seeing people's vulnerabilities. There are so many things that people talk about and experience that hasn't been highlighted in the way that we're doing it. Like what happens after a breakup in the black community when a former good guy goes bad? We had Rihanna's Good Girl Gone Bad, but it wasn't until 4:44 that we're seeing Jay Z spill his heartfelt emotions. And Jay Z's almost 50! Don't wait until you're almost 50 to realize that you've done some crappy stuff. Use your words now, young man. The black man showing emotions and getting in tune with their hurt is kind of what we're showing here [on Insecure], and what happens when a woman comes to terms with the fact that she might be the reasons for his hurt. There are so many great spaces we are talking about in this season that's very refreshing that I, personally, haven't seen talked about in a nuanced way and in such a visceral real way.
Were you expecting fans to have such a strong reaction to the show?
When you don't see something represented so much, it's easy to forget how important or how necessary it is or how much you missed it. Not that viewers have gotten get used to [not seeing blacks represented on TV], but it's like, "Oh, OK. Another bad relationship being portrayed." But then when you see what it is you've been missing or what you've been wanting, you're like, "That's it! That's woke! That's normal!" And it's just this visceral reaction. And that's what we get from our fans, that reaction like, "That is me and my friends. I have a Molly in my life, or I am the Issa in my life." And just being that connected, that resonated at lot with me because that representation has not been there for a long time. So I think it was very refreshing for everybody. We thought we had something special, but we were still hoping people would watch. We hoped people got HBO and understand that Issa coming from YouTube. I think we got the message across, so we're very happy.