'Insecure' Season 4 Finale Recap: What Happened at the End and What It Means for Season 5
Insecure Season 4, Episode 10, titled "Lowkey Lost," brought the HBO show's most recent set of episodes to an end with a surprise pregnancy, a disappearance, and the long-awaited reunion between Issa (played by Issa Rae) and Molly (Yvonne Orji).
Spoilers ahead...
However, while one couple of friends got back together, two relationships hit major stumbling blocks. Molly and Andrew (Alexander Hope) found themselves arguing with each other. He had agreed to go out with her after the event when he clearly did not want to, but she would not let him watch the Looking for LaToya reunion without her. This led to a big fight between them where Andrew told her he was tired of bending to her will when she was totally unwilling to do the same.
By the end of the episode, their relationship is all but over, with Andrew breaking it off by pointing out how out of sync they were.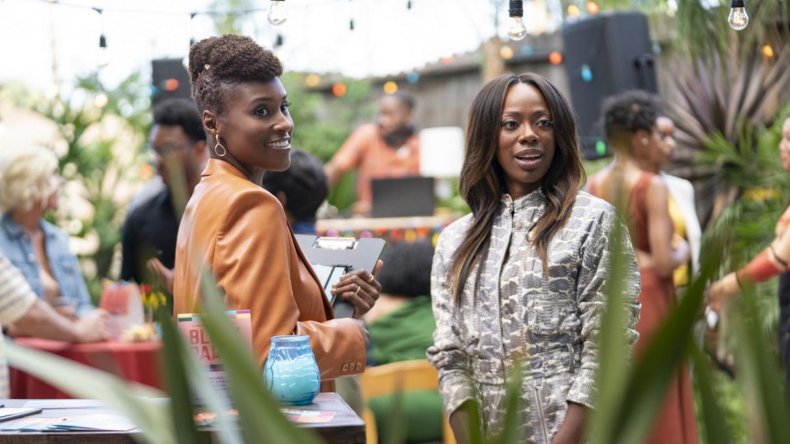 But while that relationship has seemed doomed for a while, the problems between Issa and Lawrence (Jay Ellis) came just as they seemed to be in a good place, with fans happy to see them back together. Lawrence confirmed he got that job in San Francisco after all, but Issa was happy to do long-distance and was even considering a move to the city, away from her beloved L.A.
However, Lawrence then revealed that his ex Condola (Christina Elmore), who was also good friends with Issa for a few episodes this season, was pregnant with his baby. Although she expressed she did not want to get back together with him, she still wants to be a mother, creating a major dilemma for Issa.
Though Lawrence hadn't cheated—the baby had been conceived before his reunion with Issa—it still leaves a dark cloud over their relationship that is sure to play out across Insecure Season 5.
Meanwhile, Issa's ex Nathan (Kendrick Sampson) revealed he was upset he missed his chance with her, leaving room for a possible Season 5 reunion.
In the post-episode Wine Down, Rae explained: "This taints him in a very real way...they've lost a milestone...she doesn't have the firstborn. He's sharing that moment with someone he's not with."
While Issa and Molly deal with relationship drama, they also have to find Tiffany (Amanda Seales), who tries to deal with her postpartum depression by disappearing. They eventually found her at a Sheraton Hotel and was reunited with baby daddy Derek (Wade Allain-Marcus).
However, all this drama did have a positive outcome, as it led Molly and Issa to realize that, whatever their differences, they needed each other's love and support to deal with these big life events. The season ended with the pair of them going for dinner at a restaurant, and viewers will surely see if they are able to patch things up when Season 5 of Insecure comes to HBO.
The network has already confirmed that season and Rae has teased to Entertainment Tonight: "We'll be able to do some things this season that we haven't quite been able to do before."
She also tweeted: "Thank you guys for watching with us this season! See you (COVID-willing) next year! #InsecureHBO."
Insecure Season 4 is streaming now on HBO Go, HBO Now, and HBO Max. Season 5 is coming soon to HBO.