Why Is Lawrence Still on 'Insecure' in Season 4?
Let's start with a disclaimer: Jay Ellis is a great actor with an impeccable jawline that could shatter a million hearts.
From the moment he appeared in Insecure's first season, his talent shined bright as he breathed life into a lethargic and unmotivated Lawrence, the boyfriend of the series protagonist Issa, played by show creator Issa Rae. When viewers first met Ellis' character, he was bumming it out on the coach of the apartment he shared with his girlfriend, spending most of his time sulking over his inability to land a job. In the seasons since, we've watched Lawrence work at Best Buy, endure a painful breakup with Issa (who could forget that lonely Best Buy uniform shirt hanging in an otherwise empty closet in the season-one finale?), rebound with a bank teller, and—finally—score the job of his dreams at a trendy tech company.
We've enjoyed watching the actor these past few years, and he still lights up the screen when he appears. But Lawrence, the character? Why is he still a part of this show? It doesn't make much storytelling sense. We're four seasons into the HBO series now, and it's hard not to wonder why he's still lingering in the Insecure universe now that he and Issa appear to finally be done as a couple.
It's worth noting that all of the characters on Insecure are messy, and they all exude traits of pettiness and immaturity that one would hope to outgrow by the time the big 3-0 rolls around. But it seems as though—this season, at least—Issa is actually trying to grow as a person, and that's refreshing. She's keeping the apartment complex she manages afloat, participating in self-care Sundays with Molly (Yvonne Orji) instead of the typical Saturday night turn-up and, despite being up for a position with Beat Crew (the non-profit she interviewed with during Season 3), Issa's dedicating herself to throwing a block party to help raise money and support local businesses in her community.
The fourth season's first episode hinges on Issa successfully pulling off a mixer to draw sponsors to her block-party project, which she does—despite a few flubs and gaffes along the way, of course. But it's not just glad-handing and making small talk that trips Issa up. The woman she's teaming up with to throw the block party, Condola (Christina Elmore), is an elegant and established publicist that Issa considers a new friend. She also happens to be dating Issa's ex, Lawrence. Even when Issa looks to be on the path to progress and to leaving some of her 20-something drama behind, she can't get away from her past entirely.
But how does the new Issa try to handle the situation? Well, during Sunday's episode—the second of the fourth season, titled "Lowkey Distant"—she attempts to clear the air with Condola while they're scouting a potential location for the upcoming block party. Issa says she wants them to "be cool," that she only has room in her life for "good energy" and so much about Condola, so far, feels like a burst of positivity. She wants the two of them to really be friends. Condola does, too. And besides, two headstrong women like them shouldn't let somebody who dips their fries in mayonnaise dictate their professional relationship. (As Condola says while giggling, "This ain't Amsterdam!")
It's an awkward position to be in, yes, but it's nice to see that Issa isn't allowing her past to determine her future. The Issa of old would've likely made a much bigger deal after finding out that Lawrence is moving on with someone she knows. (Longtime viewers will remember how upset she got when Lawrence brought Aparna (Jasmine Kaur), the Woot Woot co-worker he was sleeping with, to their friend Derek's (Wade Allain-Marcus) birthday party in the second season.) So claps all around for Issa.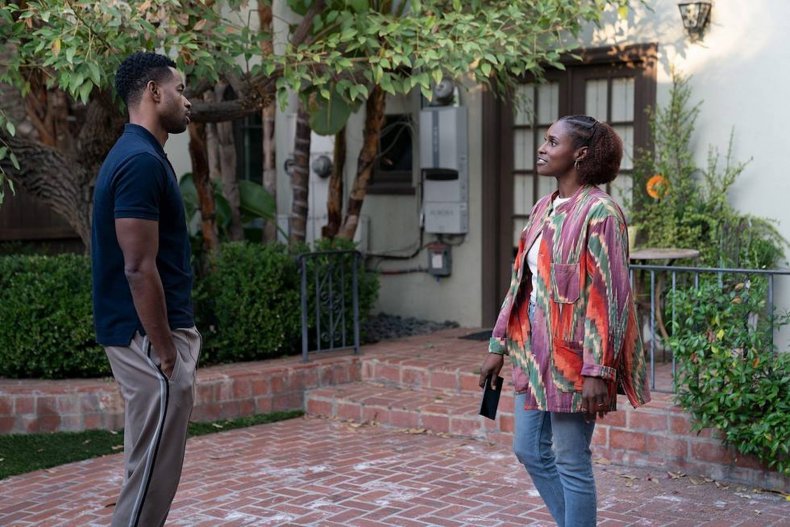 But while she's showing some moments of maturity in the new season, our dear Lawrence confirms that he still can't see anything beyond himself. He gets upset when he hears that Condola and Issa have discussed him, but he won't admit to his new girl how much it bothers him. He still can't address potential conflict head-on, just like how he couldn't tell Tasha (Domonique Perry) that he didn't want to come to her family's barbecue back in season 2.
He's completely fine sharing his true feelings with his friends, though. He lets them know that "hell the f**k no," he's not cool with Issa and Condola talking about him. Now, he couldn't know this, but the ladies only had nice things to say about him! And either way, it's asinine for Lawrence to think that he wouldn't come up in their conversations. He and Issa were together for several years. They lived together, and at one time they loved each other.
The question is whether they still love each other—and Lawrence's continued presence on the show suggests that that might be something the writers want fans to be wondering about. But, please, no. Like we said up above, Ellis is a great talent and we hate to complain about having him around, but Insecure needs to move beyond his and Issa's drama, especially since he doesn't seem to be growing up fast enough. He got off of Issa's couch and has an impressive job, and made the choice in season 3 to pursue something with Condola instead of backsliding to Issa, but he's still behaving like a 30-year-old boy.
Issa, meanwhile, is moving ahead in her life and really trying to make sound decisions like an adult. There's an obvious shake-up happening between her and Molly, who are growing more and more distant with every episode; that feels natural and true to where these characters are in life. They're entering their thirties, which is when some friendships fall away and behaviors change (hopefully for the better). And, yes, it's also natural and true to sometimes keep an ex around longer than you should, but we've already been through that with Lawrence once already.
In all honesty, Lawrence hasn't added much value to the series since the closure we thought he and Issa got in the season 2 finale, when he picked up his final box of belongings from their old apartment. They had a sincere talk and apologized for the mistakes they both made during their relationship. It was clear then that they both needed to move on with their lives separately, even if it hurt to say goodbye.
Yet he's still here.
Insecure airs on HBO on Sunday nights at 10 p.m. ET.