Where Did 'Insecure' Season 3 Leave Off? Catch Up With Issa, Molly, Lawrence and More Before Season 4 Premiere
After 18 long months, Insecure is finally returning to HBO on Sunday with its fourth season.
But because it's been so long since we last saw the young Californians Issa (Issa Rae), Molly (Yvonne Orji), Lawrence (Jay Ellis) and all their friends, you might've forgotten exactly what happened during the hella-dramatic third season. So, we've compiled a simple refresher on each of the main characters to help jog your memory.
Read on to find out where Insecure season 3 left off before season 4 premieres on HBO on Sunday at 10 p.m. ET.
Issa
The series' protagonist experienced many pangs associated with adult-ing as she entered her "30-something" years in season 3. She quit her job at the nonprofit We Got Y'all and became a property manager for the building in which she now resides. She also started driving for Lyft, and it's there where she met her season 3 boo, Nathan (Kendrick Sampson).
At first, Nathan seemed like an upgrade from Issa's ex, Lawrence, and the man she cheated on him with, Daniel (Y'lan Noel). A barber from Houston, Nathan started out sweet, adventurous and seemed very smitten with Issa, who treated him to a grand tour of Inglewood that ended with a steamy, stripped-down swim in a stranger's pool. As the season progressed, Nathan appeared to be a real catch and had many fans wondering, "Is this it? Is this the new man for Issa?"
Well, imagine everyone's surprise when Nathan suddenly started ghosting Issa. No phone calls, no texts—it's as if her new dreamboat just disappeared into the Pacific.
Instead of sulking the rest of the season, Issa threw her attention into a new creative project. She planned to throw a block party to highlight the minority-owned businesses of the community in the midst of a gentrification storm. Pulling off the project is initially harder than expected, but during the season 3 finale, while celebrating her "drama-free" movie-night birthday, Issa runs into Condola (Christina Elmore), whom she previously met at Tiffany's (Amanda Seals) baby shower.
After explaining her block-party idea to Condola, the two agreed to meet later to discuss the project in greater detail. Condola was excited to help out, and Issa was thrilled to work with a new friend—although her feelings for Condola might change when Issa realizes that her new pal has a date lined up with Lawrence. (You'll have to wait until season 4 to start to see how all that goes).
Moving steadily into the "30-something" chapter of her life, Issa ended the season feeling optimistic. That is, until her best friend Molly reveals that Nathan attempted to drop by Issa's place unannounced to mend fences, and that Molly shooed him away. Even though she hadn't heard from Nathan in ages, Issa was livid. The girls have one of their worst fights of the series and end season 3 by exchanging harsh words with each other.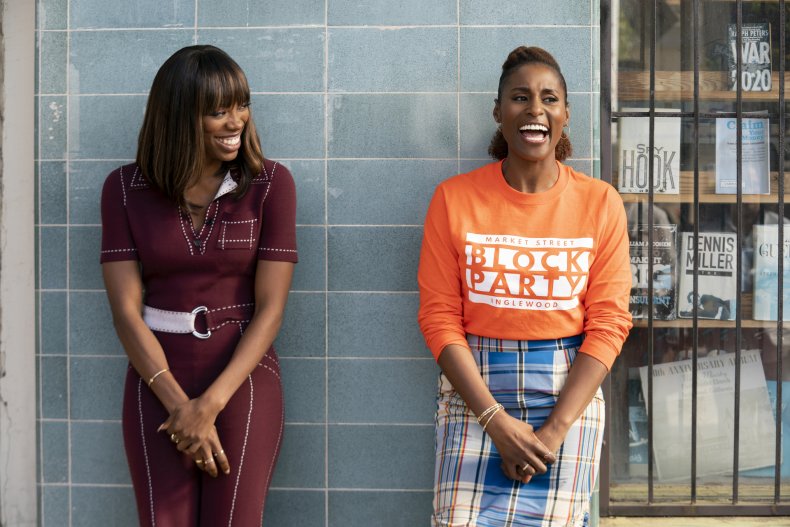 Molly
There's no shortage of cringe-worthy moments in Molly's storyline during season 3. She gets a new job at a predominately black law firm and quickly becomes the big bad wolf of the office when she essentially ousts one of her colleagues off of a case in her determination to become a standout at the firm.
Her love life was also in a weird place after she initially dismissed one of Nathan's friends, Andrew (Alexander Hodge), deeming him less-than, before deciding that she is interested in him after he helps her get through a particularly trippy experience at Coachella. From then on, Andrew is Asian Bae, but Molly sabotages their relationship time after time—just as she's done with many others over the course of the series.
Thankfully, she works up the nerve to call Andrew and apologize for her behavior toward him in the season 3 finale. She admits that she was still burned from her toxic relationship with Dro (Sarunas J. Jackson), but that she does like Andrew and wants to give their blossoming romance another shot. He obliges, and it looks like Molly will start season 4 with a new man, even as she's in a potentially rocky phase with her bestie Issa.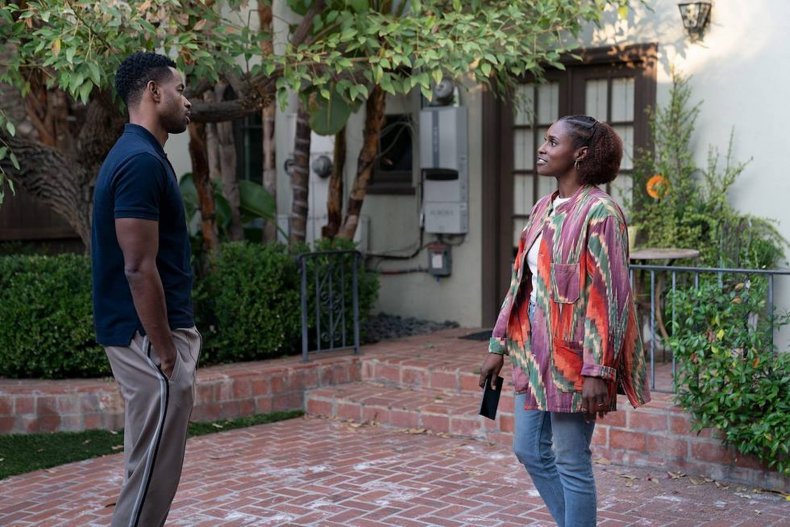 Lawrence
Lawrence resurfaces halfway into season 3, when he and Issa run into each other at a 7-Eleven during Coachella. As the season goes on, we find out that he's living in a lovely apartment and working at a cool tech company—but he still doesn't necessarily have it all together. (Nobody on this show does—otherwise we wouldn't have a show!) During the finale, he complains to his father that he wants to meet a new woman, preferably one "without baggage." Impossible, his father explains.
But Lawrence thinks he's lucked out at the end of the season, when he's going on a date with a new woman he believes has no baggage: Condola, who just hours before met with Issa. (Again, you'll see how it all plays out when season 4 picks up.)
Kelli and Tiffany
Issa and Molly's other gal pals, Kelli (Natasha Rothwell) and Tiffany, had a few bumpy moments of their own during season 3, mostly stemming from Kelli's insecurity about where she'll fit into Tiffany's life once she has her baby.
Kelli worries that the dynamics of their friendship will change forever, but Tiffany assures her that nothing will come between them. And to show this, Tiffany names Kelli the baby's godmother in the season 3 finale.
No matter the promises, though, things are sure to be at least low-key messy when season 4 of Insecure premieres on Sunday.