'Insecure' Season 5: Five Things That Could Happen in the New Season
Insecure Season 4 reached its dramatic conclusion on HBO last night with a potentially mended friendship, a poignant examination of new motherhood, and a gut-punch of a twist.
Season 4, Episode 10, titled "Lowkey Lost," was a suitably fitting end to a series of a show which has arguably gotten better and better over the course of its four chapters. Last night's finale saw the drama unfold to a heartbreaking crescendo perfectly setting up the action for the next run.
Season 5 could be the last installment of the acclaimed Issa Rae series—here is a spoiler-filled look at some of the plotlines we expect to see in Insecure Season 5.
Issa and Lawerence stay together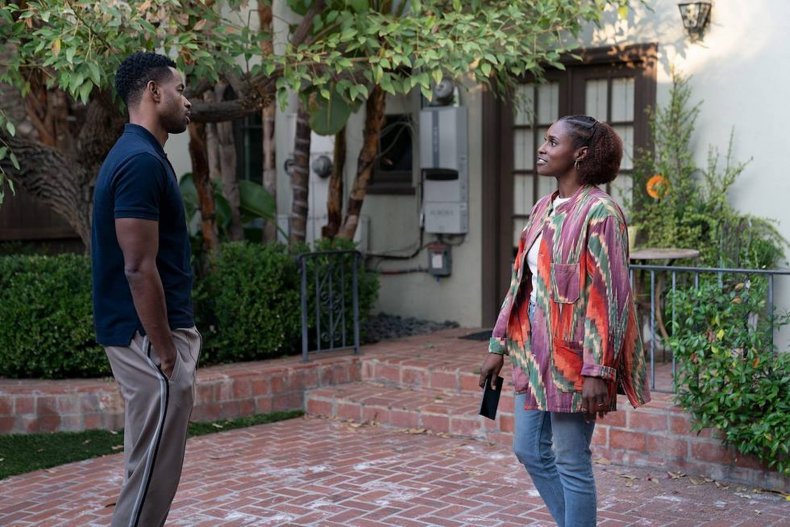 Issa (played by Issa Rae) was dealt a devastating blow in "Lowkey Lost," when Lawrence (Jay Ellis) revealed his ex Condola (Christina Elmore) is expecting his baby.
Lawrence and Issa, having already been together for five years, were just getting into a great place in their second time around. Even Lawrence announcing he had gotten a job in San Fransisco couldn't faze them.
But the fact he is about to become a father with someone else might be too much for Issa to stomach.
Will she stay with him in Season 5? We're not so sure.
Rae shed some light on how her character is feeling in the post-episode Wine Down, saying: "This taints him in a very real way...they've lost a milestone...she doesn't have the firstborn. He's sharing that moment with someone he's not with."
Will there be some sort of reckoning between Issa and Condola? The two were close friends for a short time in Season 4 and Insecure at its heart is a show that upholds the importance of female friendships. Perhaps things could go in a way we wouldn't expect but we're pretty sure we haven't seen the last of Issa and Lawrence.
Issa and Molly patch things up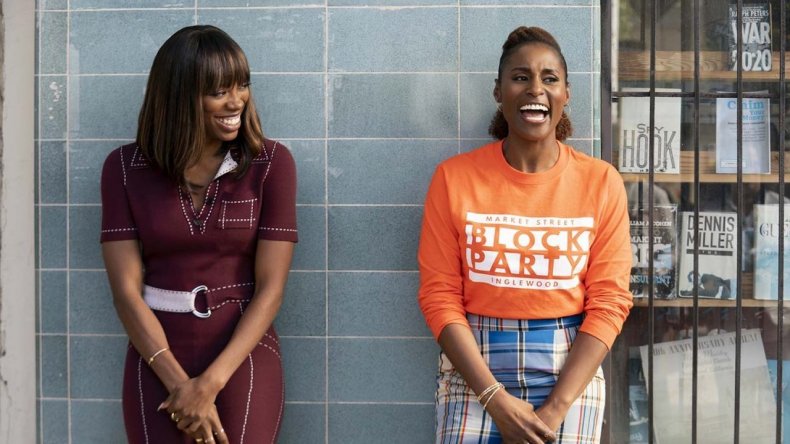 Season 4's finale finally saw the long-awaited reunion of Issa and Molly (Yvonne Orji) despite a few false starts over the last few episodes.
The finale also saw Molly end, what had been her longest ever relationship, with Andrew (Alexander Hope) when he felt he was always making compromises for her but wasn't getting the same in return.
Now that Issa is facing an incredibly difficult situation over Lawrence, the pair may well find themselves bonding again to get each other through this next difficult chapter.
Issa and Molly are the heart of Insecure, and possibly the most important relationship on the show. Seeing them return to each other would round off the narrative nicely and reinforce the importance of female friendship and solidarity the show has always preached.
Tiffany's postpartum experience
The Season 4 finale also focused on Tiffany (Amanda Seales) going missing due to her struggling with post-partum depression.
All season long the signs that she was struggling since giving birth were there—offering an important lesson about recognizing when someone is having a difficult time and may need help.
We expect Season 5 to build on this plot as part of its already tender handling of mental health issues.
Speaking in Wine Down, Rae said she wanted to highlight the realities of post-partum depression.
"Tiffany is the only married one, the only one with a baby in our group of friends, and she already started to feel isolated," she said. "Yes Tiffany is going through this thing but we wanted it to serve as a metaphor for her actual friends missing out, like her friends aren't noticing that she's falling apart."
Nathan is back in the picture
Issa's ex Nathan (Kendrick Sampson) arrived back to the action in the latter part of Season 4.
In Season 3, he ghosted her went off the grid without getting in touch, just as their relationship had started to take off.
Having been painted as a villain, Nathan's return saw him explain he disappeared due to his struggles with bipolar disorder, and that he never intended to hurt Issa.
He revealed he was upset he missed his chance with her, leaving room for a possible Season 5 reunion, especially if Issa is driven away from Lawrence due to Condola's pregnancy.
Lawerence becoming a dad
Lawrence is definitely becoming a father in Season 5, regardless of whether he gets back with Condola or not.
Although the timing couldn't have been worse, the next season will likely explore how Lawrence deals with this unexpected life event. Will he still move to San Francisco? Will he try to stay in a relationship with Issa? Will he want to give it another chance with Condola?
In the Season 2 finale, Issa imagines getting back with Lawrence, and the fantasy includes them having a baby together.
Now she will have to witness him experience that with someone else.
"They just recommitted," Rae said in Wine Down. "So there's things to discuss. How active he wants to be in his child's life."
She added: "Can Issa and Condola be friends again?"
What we do know for sure is that Insecure Season 5's writers' room is already underway with Rae sharing a sneak peek at the process, taking place over Zoom.
Speaking to Variety in mid-May 2020, she said: "We started the writer's room [for Season 5] last week as well, so we are in it. It feels really good to be back. And it's like my only social interaction right now is just the weird virtual writer's room. So that part is really exciting."
Insecure Season 4 is streaming now on HBO Go, HBO Now, and HBO Max. Season 5 is coming soon to HBO.