'Insecure' Season 2 Finale: #TeamIssa and #TeamLawrence Twitter Beef Explained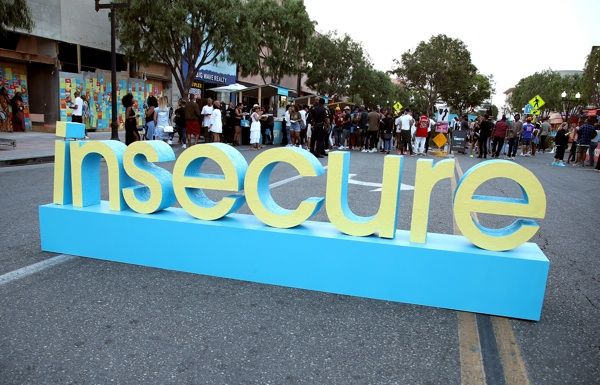 Since the very first episode of HBO's hit series Insecure, there have always been sides: #TeamIssa and #TeamLawrence, also known as #LawrenceHive.
The show primarily follows Issa, played by show creator Issa Rae, and her best gal pal Molly (Yvonne Orji) as they navigate through the finale years of their 20s trying understand their place in the world while figuring out what they want for their lives and overall figuring out who they are as growing women. Issa's ex-boyfriend Lawrence (Jay Ellis) plays an integral role in the course of her life-roadmap, even though he also has to (find another word for navigate) the challenges of being a college educated man with a dream that he's struggling to accomplish.
Just like every other couple, Issa and Lawrence both play a major part in each other's personal development. And just like everyone else who has ever been in a relationship, it's generally their lack of consideration for each other that drives them apart. But since the very first episode, the sides--#TeamIssa and #TeamLawrence--have followed along pointing out, criticizing, supporting and comparing the characters' actions to instances in their own lives.
The massive obsession with the show has led the hashtag #InsecureHBO to rank at the top of Twitter's trending moments every Sunday during the season, and #TeamIssa and #TeamLawrence are never trending too far behind. The reason being is the millions of fans tuning in each week who are simultaneously watching the show each Sunday and giving nearly scene-by-scene commentary on social media from the moment the show first comes on well into the wee hours of Monday morning.
More than likely, if you log on to Twitter at any given moment after 10 p.m. when Insecure comes on, somewhere on your feed you will see fans reactions and commentary on the overall show while others are scrutinizing Lawrence and praising Issa, or being empathetic towards Lawrence and cursing Issa. The social media dialogue surrounding the show each week is so intense that if you're not checked into the Twitter conversation during Insecure, then you probably didn't watch the show.
Initially the division between Issa and Lawrence (and their fans) was subtle. Lawrence was lazy and complacent from the very start. And it was clear that he was too consumed with his shortcomings to give a relationship the energy and dedication it deserved, which #TeamIssa called out from the very beginning. #TeamLawrence were obviously more encouraging of the male lead character, often blaming Issa for the character's lack of motivation.
Issa had her problems too. Her failure to thoroughly address the toll Lawrence's depression was taking on her is ultimately what caused her to act on old feelings she had for the man she cheated on him with, Daniel (Y'Lan Noel). This, of course, infuriated #LawrenceHive while those affiliated with #TeamIssa defended her actions.
The most recent episode titled, "Hella Disrespectful," probably saw the biggest clashing of the season between sides after Issa and Lawrence encountered each other for the first time since he picked up his mail from her apartment in the very beginning of the season. Lawrence came to a friend's birthday dinner, knowing Issa would be there with another woman. After a number of drinks Issa storms out of the dinner, followed by Lawrence, which inevitably results in the two of them throwing vicious insults at one another.
Lawrence calls Issa a "fuckin hoe" for cheating, accuses her of cheating on him more than once (she didn't) and insinuates that she's still sleeping around with Daniel (she is). On social media, #LawrenceHive applauded his fury, agreed with his aggression towards the situation and celebrated Lawrence for calling Issa out on her iniquities.
Issa retaliates by bashing Lawrence's failed app WootWoot, which fans who have taken her side since the show started noted how incredibly low of a blow her attack was but deem her comments justifiable nonetheless.
But for both Issa and Lawrence, their inability to recognize and take accountability for their individual roles the demise of their relationship is essentially what broke them and has kept them apart--a fact that some viewers who identified with both characters have continued to call out throughout the second season of the show.
With the season two finally approaching on Sunday, social media will likely be flooded with more contention between #TeamIssa and #LawrenceHive.
Previews for the finale episode hint at another encounter between the estranged couple, and only time will tell if this final interaction will lead them back in each other's arms or out of each other's lives for good. Either way, the cult-like troupe of followers the show has generated will be following along every step of the way.
Don't miss the Insecure season two finale when it airs on HBO at 11 p.m. on Sunday. Added bonus: It's 45 minutes long!
'Insecure' Season 2 Finale: #TeamIssa and #TeamLawrence Twitter Beef Explained | Culture