Inside America's Opioid Crisis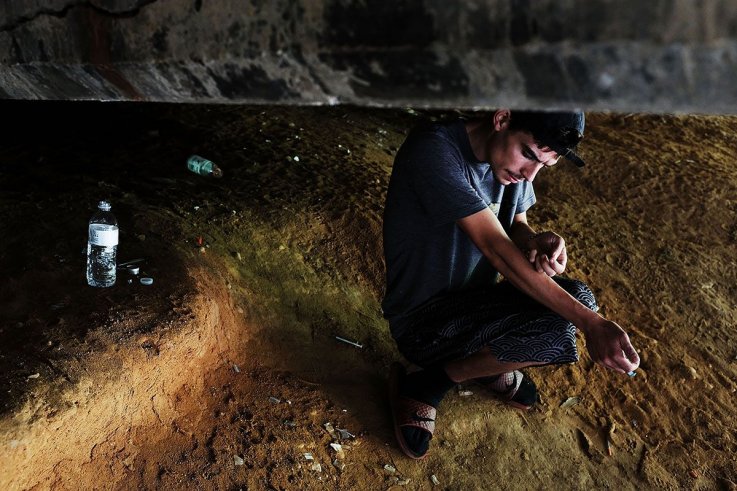 As America's opioid crisis gains traction in the national conversation, the extent of the problem shows little sign of slowing down. According to the National Institute on Drug Abuse, opiate overdoses claim more than 115 lives a day in the U.S.
The problem, which costs the U.S. $78.5 billion a year, stems largely from medical care. About one in 10 people who were prescribed opioids for chronic pain misused them, and 5 percent went on to abuse heroin.
The epidemic has claimed a number of high-profile victims in recent years. The deaths of musicians Prince and Tom Petty were both linked to opioid painkillers.
Victims of addiction, however, range across all income and class brackets, and opiod addiction has reached into every U.S. state. This week, the Department of Health and Human Services granted more than $1 billion to states and local communities to battle the problem.
Getty photographer Spencer Platt spent years on assignment documenting the crisis, and spoke to Newsweek about the worrying reach of addiction, and the humanity he encountered while photographing the people affected.
"Too often in the news business one's subjects are a world away in terms of background, language, tastes and life experience," he writes. "But with this drug epidemic you face your brother, friend, father, neighbor and eventually yourself. I have engaged in more intimate conversations with addicts than I have with many close friends."
The project has taken him across the U.S., from makeshift drug dens in Philadelphia to former manufacturing communities in Ohio. We've collected some of the most haunting images he took while documenting the crisis, which not only show the extent of the devastating problem but also the human suffering it causes.