Inside the Bizarre, Possibly Brilliant 'Burning Man: The Musical'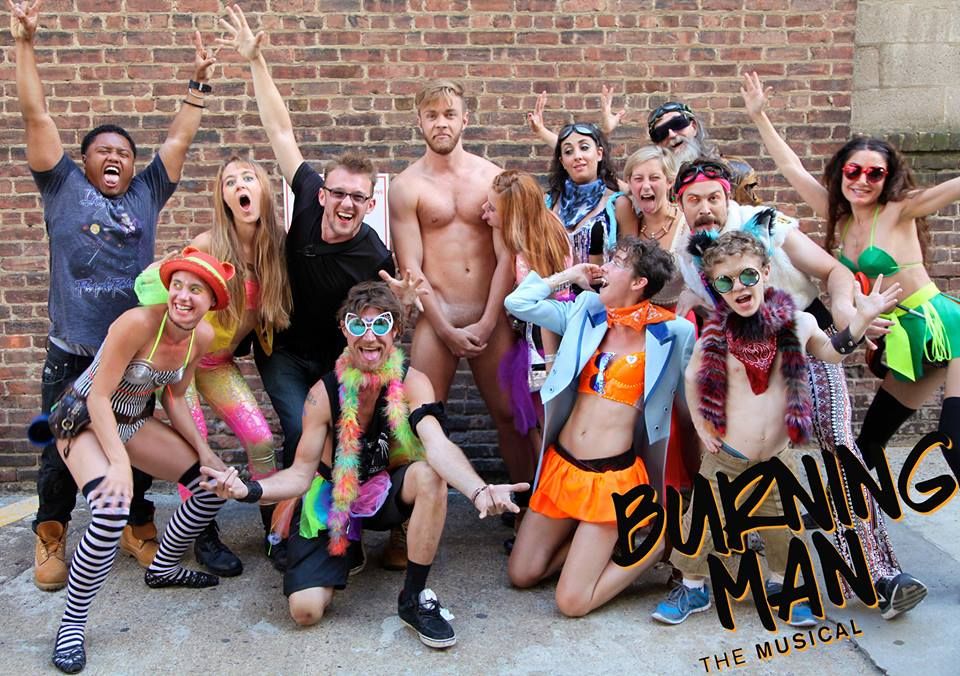 Matt Werner can't hear me very well when I call him. He is in a car, driving through the mountains somewhere between California's Bay Area and Nevada's Black Rock Desert, and the reception isn't the best. In a couple of hours he will arrive at Burning Man, the notoriously hard-to-describe arts festival now in its 25th year on the "playa" of Black Rock. The trip is significant for Werner not only because it will mark his first time attending the festival but because he is currently in the process of producing a Burning Man musical called, naturally, Burning Man: The Musical.
It sounds like a totally ridiculous idea—combining musical theater with Silicon Valley-friendly hippie culture—but when listening to Werner enthusiastically describe his project through spotty cell service, it starts to make sense. "I just thought Burning Man would be a really fun place to set a musical at," he says. "It's very theatrical. There are costumes, there is music, there is a tethered landscape."
Though Werner has never been to the festival himself, he is heading out this year with his sister, who will be attending her 14th consecutive Burning Man. It was through her stories and others in San Francisco's rich "Burner" community that Werner—who works as a technical writer at Google and also has experience in publishing, journalism and lyric writing—first saw the potential for a fictional account of the event. The wealth of secondhand knowledge he's gleaned over the years first manifested itself in 2013, when he wrote a fake news dispatch imagining a former war correspondent struggling to remember what happened during his time indulging in the desert.
"[The dispatch] was shared on various Burning Man websites, and some people commented that it was one of the most accurate descriptions of Burning Man they'd ever read," Werner says. "And I'd never even been."
A year later, Werner attended a meet-up of playwrights in New York City, during which actors read attendees' monologues onstage. Werner didn't have a monologue, so he had the actor read his fake Burning Man dispatch. "People came up to me afterward and asked what it was from, and on the spot I just said it was a monologue from a new [show] called Burning Man: The Musical." When pressed for more information, he simply replied that the production was "very early in development."
In early 2015, he launched a Kickstarter campaign to fund a video of the first five minutes of the musical.
Anti-commoditization has always been one of the core tenets of Burning Man, as has the idea that you can never truly know what the festival is about unless you experience it firsthand. So what, then, does the Burner community think of an outsider trying to make a Broadway-style musical about the late-summer event they hold so dear?
"I haven't encountered any backlash," Werner says. "There have been some negative comments, but by and large the response has been overwhelmingly positive."
"The response from the Burner community has been great," says Travis Kent, who plays the lead, Joe. "Everyone who I have encountered who has been to Burning Man thinks this is a really clever and fun idea. Burners have such a great sense of humor and love to laugh at themselves, so they've really embraced the musicalization of the event."
Part of the reason Burners have taken to the musical is because it is ultimately a critique of the high-end Silicon Valley culture that in recent years has infiltrated the festival. Burning Man has always been a refuge for the San Francisco tech community—Sergey Brin and Larry Page drew the first Google doodle days before they went to the 1998 festival—but this latest startup-centric tech boom has reared its head in the form of an obtrusive, elevated "plug and play" style of experiencing Burning Man that runs counter to the festival's spirit.
At the beginning of Burning Man: The Musical, Joe represents the epitome of this new, naive kind of festival patron and exactly the type of Steve Jobs-worshipper that HBO's Silicon Valley gets in its crosshairs. In the video showcasing the musical's first five minutes, we learn that Joe has developed a Burning Man-specific drone water-delivery app called ePlaya that he feels will make him millions. He represents an emerging demographic of self-important wannabe world-changers ripe for parody, dead set on networking his way to the top once he reaches Black Rock Desert. For someone who lived in a Silicon Valley "hacker house" for five years, it's a characterization that came natural to Werner.
But when Joe reaches Burning Man, things take a turn. He takes a trip with an old-school Burner and begins to get in touch with the true spirit of the festival. This portion of the musical is yet to be developed, and Werner is crowdfunding the production's next two songs through Indiegogo. It's probably for the best that there's still a way to go before the musical can be produced, because, as Werner notes, the rest of the show will be a more intimate look at the reality of Burning Man culture, and he still has yet to attend the festival himself.
"When I develop the full piece, it's going to be a lot more nuanced," he says. "In the opening number it's pointing to a lot of stereotypes. 'What have you heard about Burning Man?' is the chorus. It's a dream sequence. He hasn't gone yet; it's just sort of what he's heard. When he actually gets there, he'll see that it's really quite different."
Though Werner has conducted interviews with different types of Burners and pored over articles written about the festival, he has yet to see just how "different" the actual experience truly is. As I talk to him, he's only a few hours away from finding out.
"I know as much as you can know without having gone there," he says. "But what it reminds me of is that famous speech that Robin Williams gives to Matt Damon in Good Will Hunting where he asks if he knows what it smells like in the Sistine Chapel. He's saying that Matt Damon has all this book knowledge about all these things, but he's never actually experienced anything. Right now, that's how I feel."
The smell of 70,000 un-showered Burners may not be as pleasant as the Sistine Chapel, but it's an odor Werner is excited to take in.