Inside the Campaign Finance Numbers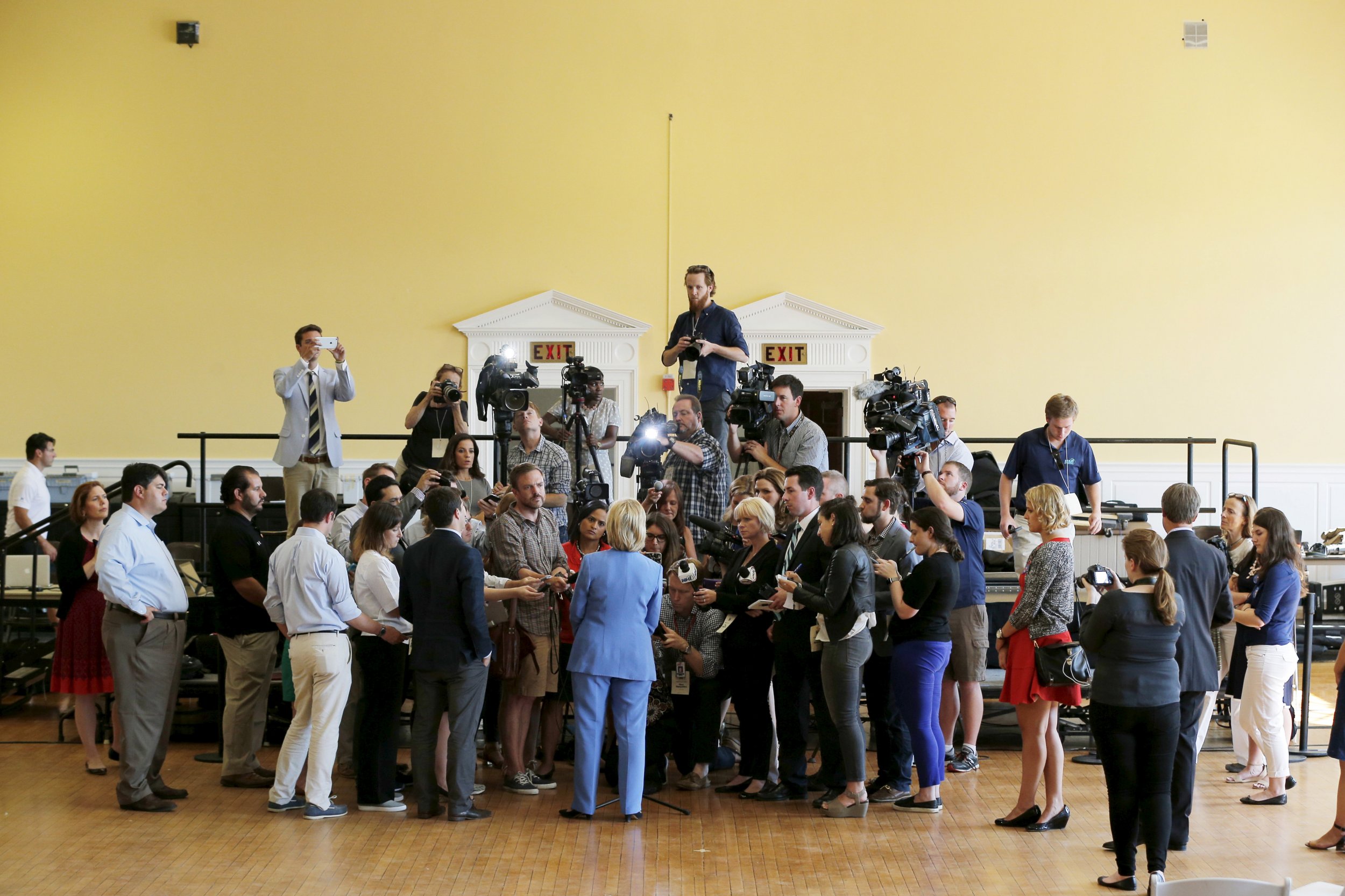 If Republicans were hoping the fundraising hauls in the first half of 2015 would help shake out their absurdly crowded presidential primary, they're bound to be disappointed today.
At least 10 GOP candidates have raised at least $5 million through a combination of official campaign committees and other political operations, according to federally required fundraising reports and campaign announcements. That number could grow, too, by the end of the month, when the (nominally) independent committees that are backing the candidates are due to file their fundraising reports to the federal government.
That includes the committee supporting Wisconsin Gov. Scott Walker, a GOP front-runner who only officially announced his candidacy on Monday—after the July 1 deadline for the campaign fundraising reports. His fundraising remains one of the big question marks in the Republican race.
As expected, former Florida governor and presidential progeny Jeb Bush is leading the way in the money race, with a combined tally of more than $100 million, according to his campaign. Most of that was raised by the so-called super PAC, "Right to Rise," which provided a platform for Bush before he formally declared he was running for president in June. Now that he's declared, he and his official campaign are legally barred from coordinating with that committee in the same way.
Other top-tier GOP fundraisers in the opening months of the campaign include freshman Sens. Marco Rubio of Florida and Ted Cruz of Texas—whose campaigns, PACs and other organizations raised a combined $44 million and $51 million, respectively.
The first round of fundraising reports have provided a bit of clarity on the handful of candidates who are long, long shots at winning the Republican nomination, thanks to a combination of low polling numbers and strapped bank accounts. Despite coming in second in the 2012 primary, former Pennsylvania Sen. Rick Santorum is polling at just 1 percent in the latest national poll and has raised less than $1 million for his campaign. Former New York Gov. George Pataki raised even less—$260,000—and barely registers at all in the same poll. Neither man has disclosed what his super PAC has raised, a sign, perhaps, that they don't have much to brag about. Unless those affiliated committees come up with a surprisingly large haul, they're going to start to feel pressure to drop out sooner rather than later.
The same holds true on the Democratic side. Alarm bells should be ringing for former Maryland Gov. Martin O'Malley, who remains stuck in the low single digits in the polls and pulled in just $2 million for his campaign. What's more, 96 percent of his donations came from large-dollar donors—over $200—which is a bad sign for a campaign that will need an explosion of grassroots support to topple Democratic front-runner Hillary Clinton. Instead, it's Vermont Sen. Bernie Sanders who seems to have captured all that energy. And then there's former Rhode Island Gov. Lincoln Chafee, who's polling at 1 percent and raised a paltry $29,000 (he also loaned his campaign another $364,000). There may be a rationale for his presidential bid, but it remains a mystery to most people.
A few other takeaways from the presidential fundraising reports, filed to the Federal Election Commission Wednesday:
Citizens United has killed the Obama fundraising model.
Hardly any of the top-tier candidates raised significant amounts of money from small donors (less than $200), an approach then-Senator Barack Obama perfected on his way to record fundraising tallies and the presidency in 2008. In fact, just Sanders, GOP brain surgeon Ben Carson and Kentucky Sen. Rand Paul raised a majority of their incoming cash in those kinds of small chunks. Clinton, meanwhile raised more than 80 percent of her funds from large checks and for Bush, they were a whopping 97 percent of his total donations.
We can chalk a lot of that up to the changes the Supreme Court made to campaign finance law in Citizens United and other related decisions, which opened the door for super PACs and gave large donors for more room to run. With a few exceptions, the ability to build a small donor army is simply not going to be a big factor in 2016 the way it once was.
Speaking of Super PACs, they have become a make or break part of the Republican landscape.
Bush's mammoth fundraising total is just one example of the influence these committees are poised to play in the primary. You could also look at candidates like former Texas Gov. Rick Perry or Louisiana Gov. Bobby Jindal, who raised virtually nothing via their official campaign committees, but pulled in millions of dollars via a network of super PACs and other committees. Without that, they would struggle to stay in the race.
They're not proving to be nearly as big a factor in the Democratic race, where Clinton raised the majority of her funds so far in 2015—$47.5 million—via her campaign committee. Sanders doesn't even have a Super PAC. That could be a problem for the Democrats come the general election, however, when the Republican nominee will all but certainly have a well-oiled, well-funded outside political operation just waiting to take their next opponent down.
Hillary Clinton isn't the frugal candidate, Bernie Sanders is.
The Clinton campaign has made much of its penny-pinching ways, including forcing staffers to take buses between New York City and Washington, D.C., instead of the pricier Amtrak. But if you compare the rate at which Clinton is spending the money to Sanders, it's not even close. Roughly 40 percent of the money the front-runner raised in the second quarter (spanning April and June) went back out the door. Sanders, in contrast, spent just 20 percent of his cash over the same time period.
And the least frugal candidate? Trump.
For a fiscally conscious businessman, Donald Trump isn't conserving much of the money he's raised thus far. He spent $1.4 million of the $1.9 million he brought in since launching his presidential campaign in June. Perhaps he figures he has plenty more in his own personal bank account.