Inside The Documentary "Which Way Is the Front Line From Here?": The Life and Death of Photojournalist Tim Hetherington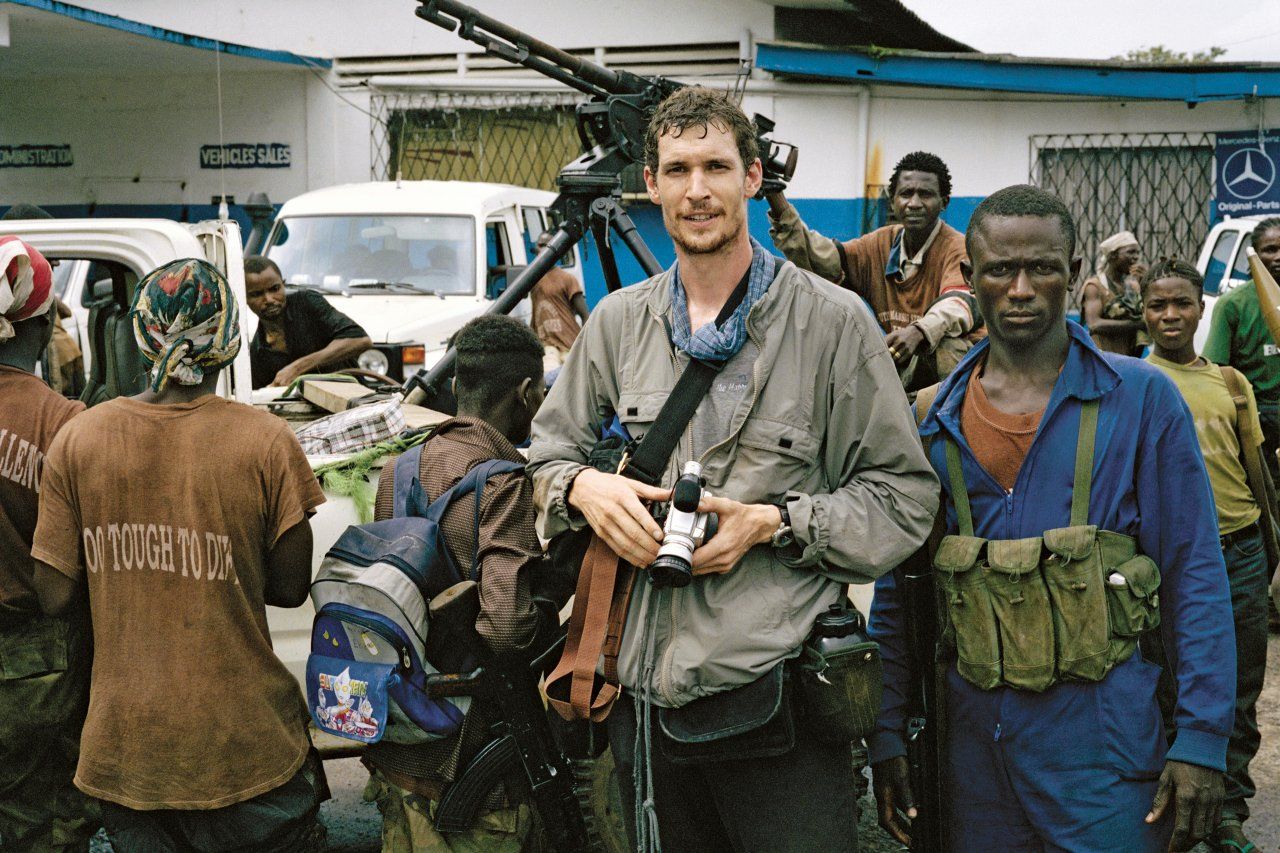 Sebastian Junger's film Which Way Is the Front Line From Here? is ostensibly a documentary portrait of Junger's friend and collaborator, photojournalist Tim Hetherington, who was killed while covering the fighting in Libya two years ago.
But Which Way has a wider lens than that. Returning to a theme he has explored on camera and in writing before, Junger essentially poses the question: What is it about war that exerts such a mesmeric pull? Why do some people run toward combat rather than away from it?
And this shapes the prologue to the documentary with Hetherington himself trying to answer that question: Why is he drawn to documenting the experience of war?
"What's interesting about war is there are all sorts of generalizations made up about it. But in going to these extremities, what's interesting is that you see that—even in these terrible times, these terrible moments, these terrible extremities—people are still human. That for me is the redeeming factor." Hetherington cracks up; then cuts himself off. "No, that's too f--king bulls--t."
The footage—outtakes from an interview with British TV—immediately hooks you to Hetherington's great charm and intelligence, humor and compassion, at least partly explaining why, when the photographer and filmmaker died at age 40, even the most jaded editors and journalists felt such a profound sense of loss —and not just to their profession.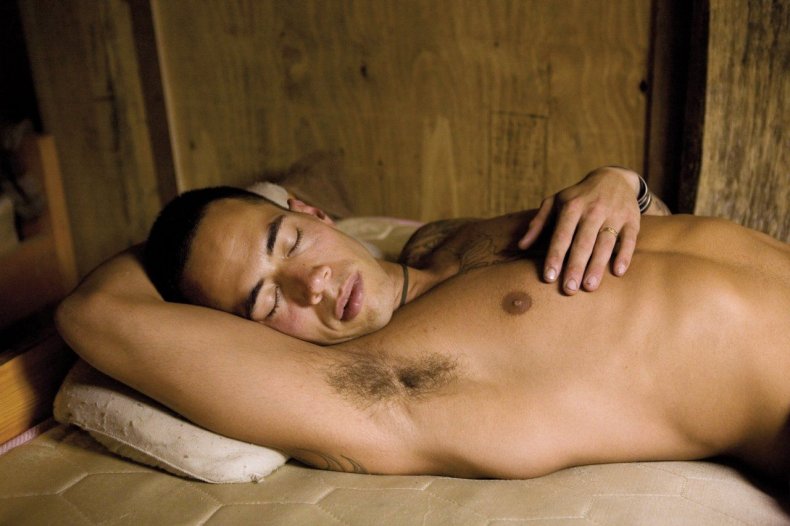 The documentary, which premieres April 18 on HBO, opens the day Hetherington was killed—as seen through his eyes and video camera. On a dusty road in Libya, a car idles in front of a checkpoint. Inside are Hetherington and his colleagues Chris Hondros, Guy Martin, and Guillermo Cervera. Outside, the sun is bright. A Bee Gees song is playing on the radio. The photographers are quiet as their chain-smoking Libyan driver speeds up past the checkpoint. "Which way is the front line from here?" asks Hetherington. The answer is inaudible. But moments later, they are in the middle of fierce fighting, pitting rebels against the soldiers of dictator Muammar Gaddafi. By the end of the day, Hetherington and Hondros are dead, killed in a mortar attack.
Armed with reams of Hetherington's own footage as well as on-camera interviews with Hetherington and his family, friends, and colleagues, Junger lays out the arc of a remarkable life, establishing from the very start of the film the great charisma and appeal that Hetherington possessed.
Born in Liverpool, Hetherington read English and classics at Oxford before studying photojournalism at Cardiff University. His first job was as a staff photographer on The Big Issue—the paper sold by the homeless in London. But in 1999, after documenting a Liberian soccer team traveling around the U.K., he left Britain to follow the team on their home turf. This, his first international project, called "Healing Sport," was the beginning of Hetherington's engagement with West Africa, where he would spend the next many years.
In the film, his colleague James Brabazon describes him as a "teacher, mentor, investigator, and humanitarian," though he was also, as Brabazon puts it, someone "enamored with the theatrics of war."
In the early 2000s, Hetherington looked up Brabazon so that they might work together in Liberia. Brabazon recalls how he was initially skeptical of the lanky Brit, by then still untested and unused to working in war zones. He was soon won over by Hetherington's grace and calm under fire—qualities that echo in Hetherington's photographs, often depicting something, or someone, overlooked in the din of battle.
Working together, Hetherington and Brabazon became the only foreign journalists to live behind rebel lines during the Liberian civil war in 2003, and Junger has interviewed people who met them there, including a rebel fighter, a woman named Black Diamond, who recalls that when she first laid eyes on Hetherington, she thought, What is this handsome, young guy doing in the lion's den?
Though he spent the better part of eight years documenting how people lived with violence and brutality in places such as Liberia, Sierra Leone, and Nigeria, photography and filmmaking were always secondary, somehow not quite the point. As he himself explains at the outset: "The important thing for me is to do work that is connected to people." And that's what Hetherington did—connected with people. He showed us not the great abstract of war—the generic fighter engaged in the fight—but rather how "war happens to people, one by one," as Martha Gellhorn once put it.
Hetherington, more than a photographer, was a humanist and an educator who refracted his belief in the significance of the individual through the lens of war. His colleague Chris Anderson puts it succinctly: "Tim's work was not about war. It was about human nature."
In 2007, Hetherington and Junger began working together on an Afghanistan story for Vanity Fair. Junger, who knew of Hetherington and the work he had done in West Africa, had been looking for someone to spend prolonged periods of time with him and a group of American soldiers in a tiny outpost in the Korengal Valley in Afghanistan. The collaboration was the starting point for the Academy Award–nominated movie Restrepo, and a close friendship between Junger and Hetherington. As Junger described meeting Hetherington in a 2009 interview with the magazine Photo District News: "I felt like I'd climbed into some kind of very high speed sports car and we were screaming around. Intellectually, it felt like that."
In addition to shooting and co-directing Restrepo with Junger, Hetherington also shot a series of still photographs at the outpost in Afghanistan. Titled Sleeping Soldiers, the images show the members of the platoon—many of them heartbreakingly young—asleep on their cots, looking vulnerable and exposed. In an installation piece in New York in 2009, he used those photographs against an audio backdrop, juxtaposing the sounds of combat, helicopters, and crying against the images of the sleeping soldiers. "I like this idea that the project challenges what we think we know war is about," he told PDN. (Sleeping Soldiers is at the International Center of Photography in New York until May 13.)
The documentary does much to bring out who Hetherington was and how much he accomplished in his short life. But Junger can't answer the question that still confounds those who knew Hetherington and Hondros. On the day they were killed, why did these intelligent, thoughtful, and observant photographers who took pride in evaluating and avoiding risk go back to the Misrata front lines, even after they had shot the photos they needed? What drew them back into the fire?
It is an impossible question, of course. And Junger sidesteps it by quoting a letter he received from a Vietnam veteran after Hetherington was killed.
"The reality of war isn't that you might get killed out there," he says. "The core truth about war is that you're guaranteed to lose your brothers."