Inside Egypt's Facebook Revolt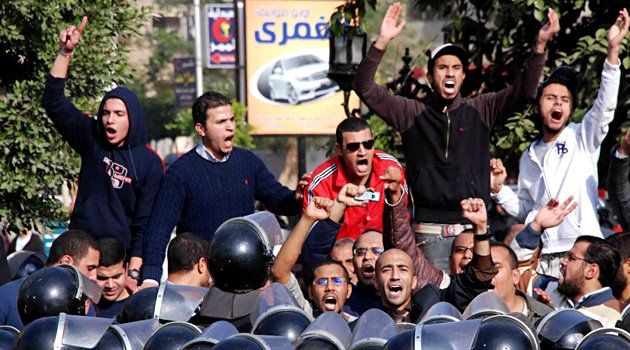 In the days leading up to this week's street protests in Egypt, the largest the country has seen since the 1970s, Ahmed Salah was busy spreading the word around Cairo—"in every possible way," as he put it. A veteran activist who said agitation is his genes, Salah, 45, tapped into his usual network, called family and friends, hit the streets, and posted updates on the Web. "On the 25th, we are trying to give people a bit of hope, and a chance to express themselves," he said in a phone interview last week. But he said the regime would fight back.
Salah had been pulled from demonstrations and arrested in the past. He'd been blindfolded and beaten by police, he said, and staged a hunger strike in jail. He calmly predicted that, this time around, an even worse fate might be in store. "I'm already a burned card. No matter what I do, it's all the same now," he said. "We're all in danger. If I get arrested again, I'm sure I will not come out alive."
Salah kept organizing until the night before the protest, a friend said. On Tuesday morning, he joined the crowds with his fiancée. The two were separated, and Salah hasn't been seen since. His cell-phone number is no longer in service. Friends and family say they believe he's been arrested. "We don't know where he is," the friend says.
The Front to Defend Egypt's Protesters, an alliance of lawyers and human-rights groups in Cairo, lists a man with a similar name among the more than 400 arrestees it had assembled so far, a list that continued to grow Wednesday as protests continued into a second day. "The estimates are much larger," says Sally Sami, a volunteer with the group. "This is not the final number."
In the interview last week, Salah said online activism, such as the push coming from popular Facebook groups, was an integral part of the overall effort. Now, with street organizers like Salah disappearing or under threat, and the police state moving to smother dissent, protesters have come up with a new way to combine online and street activism by issuing a very traditional protest call—to make use of the nation's oldest social network.
After this week's Friday prayers, which are always heavily attended, people will be asked to take to the streets anew. On one of the protest's main Facebook pages, more than 43,000 people have already signed up for the event, which was posted Wednesday. "A lot of organizers are arrested," says "ElShaheeed," the page's anonymous administrator. "We are hoping it will virally spread, and people will assume responsibility [by spreading the word] in their mosques and churches."
Post-prayer protests have been effective in Egypt for years. "It's incredibly smart, because they can't close off the mosques," says Joshua Stacher, a Middle East specialist at Kent State who lived in Cairo for almost a decade. "They don't know who's showing up to pray and who's showing up to protest."
ElShaheeed says that though the arrests could hurt the effort, the protests, which sprouted simultaneously in cities across the country, have lacked traditional leadership from the start—which could make them difficult to stop. "Nobody can think what will happen next, including Mubarak," he said.
This story originally ran on The Daily Beast.