Ellen DeGeneres is a widely beloved talk show host, but her comedic roots have never been forgotten. Her sense of humor is vibrant in everything she does, and it can be expected to be as strong as ever in her upcoming Netflix comedy special, Relatable.
Netflix released the special's official trailer on Tuesday and announced it will premiere exclusively on the streaming platform on December 18. "The woman we love most," the trailer begins. "Returns to what started it all."
With ultimate stardom, married life and The Ellen DeGeneres Show, DeGeneres has not performed a stand up set in 15 years. The trailer opens with DeGeneres explaining how she told a friend she was going to return to stand-up. She was met with a question: is DeGeneres still relatable? So, the special's title was born, as were jokes about DeGeneres's life now, a life of fame and notoriety, though it seems she hasn't drifted far from her comedy roots.
The trailer details a variety of topics, from DeGeneres's signature signing off phrase, "Be Kind," to her experience with coming out. She jokes she's no longer able to do anything unkind in public because of her tagline. "I shouldn't even have a horn in my car," she said. "If someone cuts me off in a dangerous way and I honk, they're like 'Ellen?'"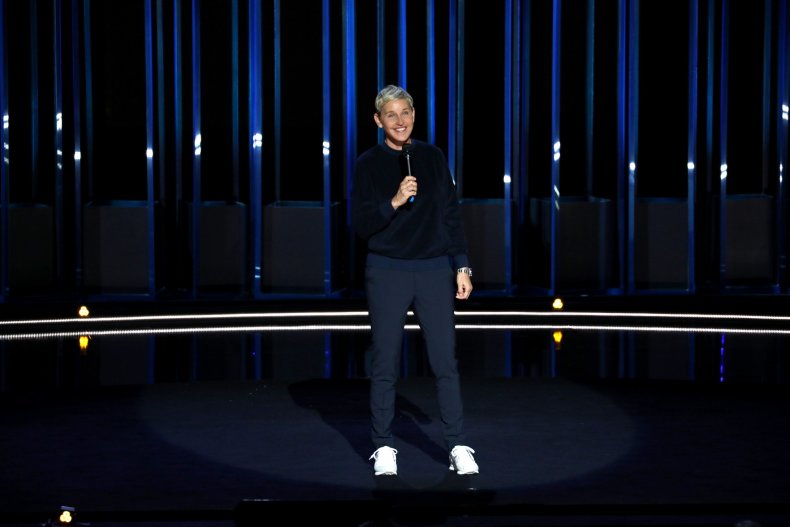 DeGeneres also takes a serious note, when she reminisces on the loss of her sitcom, Ellen, which ended when she came out as a lesbian in 1998. DeGeneres explains it took three years for her to get her career back after the backlash she faced. She notes a roadblock she experienced when trying to plan her comeback.
"There was this one station manager that said no one's going to watch a lesbian during the day," she explained. "And I said, 'Well, they weren't watching me at night. What time of day is good for a lesbian?'"
DeGeneres started her comedy career in the '80s. Her first comedy album, Taste This, was released in 1996. Her last comedy special, Ellen DeGeneres: Here And Now, aired on HBO in 2003. Along with her role as a talk show host, DeGeneres is also a published author, with four books. Her latest release, Home, is a DIY-based book surrounding home design, crafts and art.