Inside Finsbury Park Mosque's Transformation From Extremist Hot Spot to Anti-Radicalization Beacon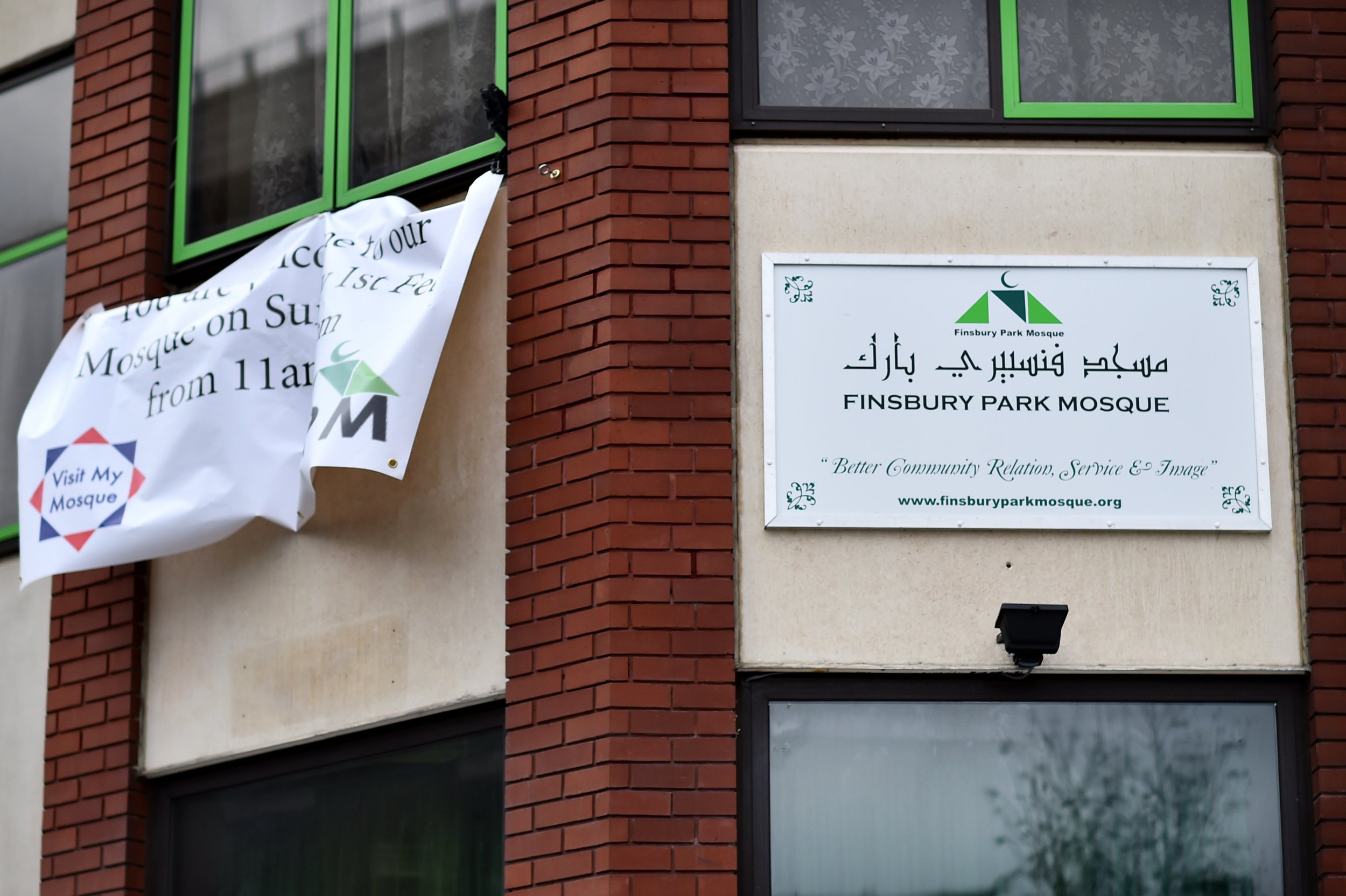 For a long time, Finsbury Park was synonymous with two things: Arsenal Football Club and the radical, hook-handed cleric Abu Hamza al-Masri.
The link with Arsenal—the Premier League football team whose stadium is in the north London neighborhood—remains, but thankfully for most residents, Abu Hamza's tenure at Finsbury Park is long over.
It was worshippers from Finsbury Park Mosque—where Hamza, now serving life without parole in a U.S. jail on terrorism charges, was Imam from 1997 to 2004—who were targeted in an attack in the early hours of Monday, when a white man plowed a rental van into a group that had just left Ramadan prayers.
When Hamza was Imam in the late 1990s and early 2000s, Finsbury Park Mosque became a hub for radical Islamists from across the U.K. Richard Reid, the man convicted of trying to blow up an airplane with a bomb concealed in his shoe, and Zacarias Moussaoui, who was jailed in 2006 for his ties to Al-Qaeda, were both part of the congregation.
In January 2003, police raided and subsequently closed down the mosque, prompting Hamza to start giving his radical sermons on the street every Friday. In the year that followed, he became a British tabloid sensation for his fiery rhetoric against the British state and unbelievers.
In the process, Finsbury Park Mosque, which Prince Charles originally opened in 1994, gained a reputation it is now struggling to shake.
"It was an eclectic mix of worshippers—from Algeria, Morocco, from Somalia—and I remember they were mostly young men... Abu Hamza did preach a message of hate, a message of separation. He spoke between the difference between Muslims and non-Muslims and that was particularly toxic at the time," says Ismail Einashe, a writer who attended Finsbury Park Mosque between 1998 and 2004.
Read more: The media's Islamophobia addiction will only lead to more violence against Muslims
"I remember Abu Hamza was a very charismatic figure, but he led these sermons where he would go on about how young Muslims shouldn't follow the kuffar (nonbelievers) in the habit of having premarital sex. That it was immoral and haram [forbidden]. You know, as a teenager aged 14 or 15, I found it really terrifying. That mosque was outside the mainstream structure of British Islam at that point."
Police arrested Hamza on charges of inciting racial hatred in 2004 (and later jailed and extradited him to the U.S.), but his supporters, including one of his sons, remained in the mosque. By 2005, the local Muslim community had had enough. Led by the Muslim Association of Britain (MAB), they decided to act.
In February of that year, the MAB gathered in a nearby community center—close to the scene of Monday's attack against worshippers leaving Ramadan prayers—before heading to the mosque to confront Abu Hamza's supporters. Taking the caretaker by surprise, they retrieved the keys and quickly had the locks changed. Within an hour, some of the radicals returned and confronted the MAB men.
"[It] was brutal. One of the youngsters got punched in the face, another got kicked in the groin. It looked like it would get very ugly. Their leader was barking in our faces and spitting. But we just laid out the terms. We said this mosque is now ours. There's nothing you can do to change that," Anas al-Tikriti, one of the founders of the MAB, recalled in an interview in 2015.
A decade on, Abu Hamza's exclusionary rhetoric has been replaced with an active effort to engage with the wider community, says the chairman of the mosque, Mohammed Kozbar. The MAB has strong links with its local Member of Parliament, the opposition Labour Party leader Jeremy Corbyn and Arsenal Football Club. Kozbar also points out that the mosque provides shelter and food for the homeless in the area.
That has not prevented the mosque from being a target, however. In recent years, the building was firebombed at least once, someone sent white powder to its Imam and a pig's head was mounted on the gates outside. In December 2015, an attack on the mosque prompted a rally featuring Corbyn, who addressed crowds outside just a few months after winning the Labour leadership.
"If that attack was designed to divide our community between one faith and another, one ethnic group and another, one people and another, it has failed, it will fail—it will always fail because we're very proud of our multicultural community here in Finsbury Park," Corbyn said at the time.
For the writer Einashe, the fact that some British newspapers chose to highlight the fact that Finsbury Park Mosque was once home to Abu Hamza, mere hours after a barbaric attack against Muslims returning from Ramadan prayers, has been a source of frustration.
'The mosque has tried very hard to get rid of the image that it had, the association with Abu Hamza and the bad old days, yet...the first thing you see in the British press is the focus on the Islamic or Muslim terror link in this case. It is worrying today when the focus should be on the victims of this senseless act of violence...yet the focus is on this Abu Hamza link, which is over a decade old," he said.
Kozbar is of the same view, that the "harmony in Finsbury Park and Islington" is what should be the focus, not the mosque's past, he tells Newsweek by phone. "We never had issues. We will work with everybody, especially with the police and council, to make sure that everybody is safe and protected. We will become stronger as a community."
The mosque's website says life post-Hamza has been a "new era" defined by a "new ethos." But as the attack revives memories of a more extremist history, Finsbury Park Mosque's staff will still try to protect attackers from harm—as Imam Mohammed Mahmoud did on Monday morning, to ensure that the suspect faced the full force of the law. In doing so, perhaps they can protect the mosque's image and reputation, too.