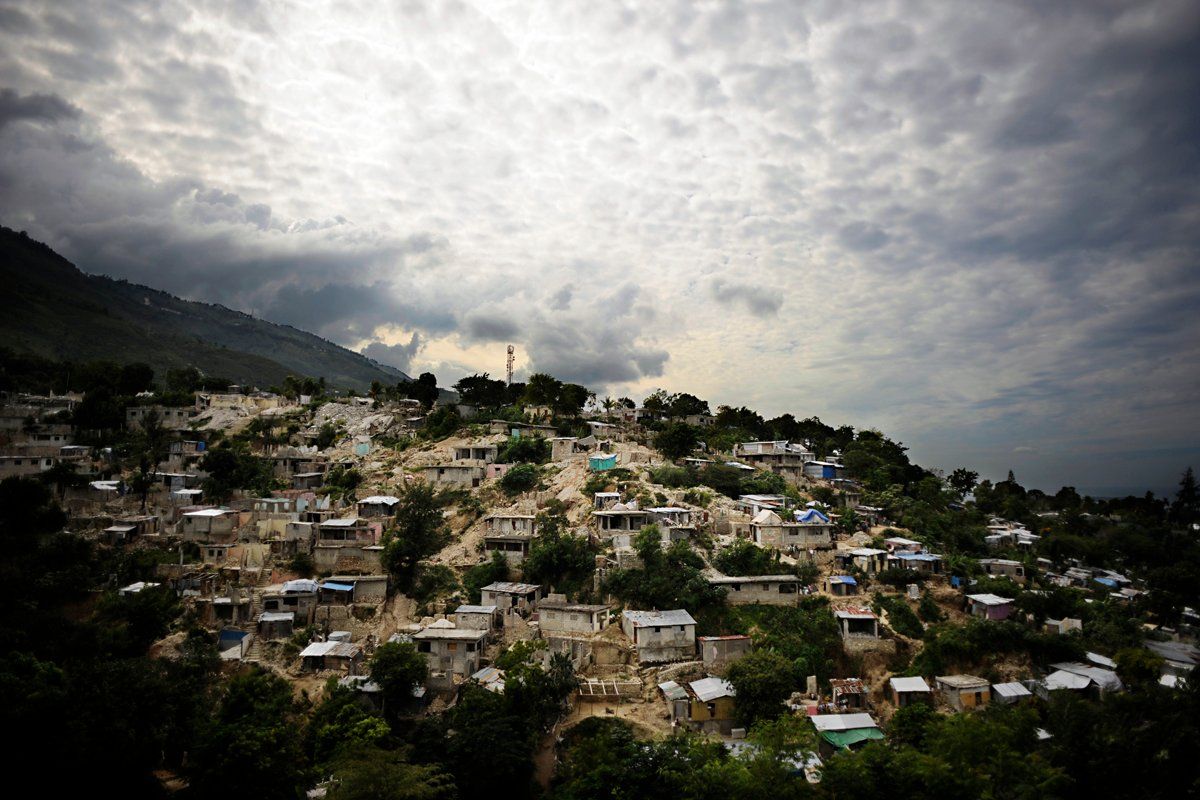 The sand divers of Preval go to work every day in the brown water of the Artibonite River, deep in the rural heart of Haiti's cholera hot zone. Strong men wearing shorts dive under the rushing water, scooping up sand by hand or with small buckets. They dump their gray bounty—the best in all of Haiti for use in making cement—in long wooden boats, held in place in the current by poles. Piles of sand line the shore, and somehow each man knows which one he owns. They also know now that the water might be contaminated. It is "very likely that during the course of their work, these divers could ingest enough water to put them at risk for cholera," says Eric Mintz, an epidemiologist for the Centers for Disease Control. When the men are asked why they don't stop, the answer is simple: "This is how we live."
Unfortunately for the sand divers, Haitians are poor in everything but ways to die. The first case of cholera was confirmed on Oct. 21, and since then 6,742 cases have been reported. More than 440 Haitians have perished from the disease, which anyone can catch by drinking contaminated water, or by coming into contact with the feces of an infected person, or simply by eating food prepared by someone with cholera.
National Highway 1 from Port-au-Prince toward the Artibonite Department is the main route into the heart of the outbreak. The mountains loom larger as visitors head north, and the land is mostly denuded, because of years of deforestation dating back at least to when the French made off with Haiti's prized mahogany. Blue tents and tarps provided by emergency-relief agencies dot the hillsides, but there are fewer of them as the miles click by. Before long, the coast appears, with its blue-water beaches, and the road passes through vibrant villages on the way to St-Marc, eventually reaching the turn to Deschapelles, home of the Albert Schweitzer Hospital. It is one of the main cholera-treatment centers in the afflicted area and serves a region of about 300,000 Haitians.
Young men and women along the road wear T shirts from U.S. high schools that say SPARTANS or REBELS or LITTLE LIQUOR PIGS or CITY OF BOCA RATON HOLIDAY BOAT PARADE, many of them donations that flowed into the country after the earthquake. There are naked boys swimming in brackish streams, and men and women working in the potentially cholera-compromised rice fields. At a popular hotel along the coast, cars cannot enter the grounds until a security guard wearing a mask sprays the tires with a pressure washer. A warning sign on the check-in counter is written in French, but there are two words in English: DANGER CERTAIN.
At Schweitzer, built on the site of an old banana plantation that went under during the great blight in the 1940s, hospital director Ian Rawson recoils from an outstretched hand, offering instead a noncontact fist bump as greeting. What's most jarring about walking into the cholera wings, which held 31 patients last Monday, down from a high of 90 on Oct. 22, is how quiet and organized they are. Each patient has a caregiver sitting by the bed, usually a close relative. No one yells or shouts or complains. Even though some patients are vomiting or have no control of their bowels, they are courageously—and silently—bearing up under the pressure. Rawson says that's because they are "the strongest and most persevering people" in the world. Most of these patients live in tiny cement-and-wood houses in the surrounding area and are accustomed to very little privacy. They've learned to adjust for the dignity of others.
The good news for rural Haitians is that if they get to the hospital, they're probably going to be OK. It's getting there that's the problem. Eximene Pierre, 49, who is from the community of Terre Nette deep in the mountains, said her 16-year-old daughter had died of the disease just a couple of days before, and then she found herself sick not long after. She walked four hours to get to the hospital. Most likely Pierre became infected when she performed the ritual Haitian washing of her daughter's dead body, or from taking care of her when she was dying. In the pediatric wing there was a luckier mother from the town of Coupon. Her 3-year-old daughter, Natalie Milieu, survived her bout with the disease. She and her mom smiled when she was shown a photograph taken by a visitor.
Adults are generally discharged in two days, children in three. That's because it's pretty straightforward to treat cholera, as long as medical workers get involved early. It kills with total dehydration, and it can kill fast. Antibiotics don't work; there is no pill to cure cholera. It requires a hospital bed and then forced liquids and oral-rehydration salts. Seventy-five percent of people who have it don't even have symptoms, but they still can spread Vibrio cholerae.
The battle against cholera is not confined to the hospital. Near the small town of Ti Rivière, or "Little River" in Creole, Dr. Emily Cartwright leads the CDC's "disease detectives" as they go house to house collecting information that might help pinpoint sources of the infection. On Monday, the team visited the home of a 13-year-old patient named Ginette. They interviewed the girl's mom as a baby slept in a basket in the dirt, and another boy, naked and covered in dust, played in a yard strewn with used feminine napkins. But team member Dr. Joanna Gaines tested the water and was pleased to find it properly chlorinated. They took GPS coordinates and headed off again. The CDC researchers were mainly interested in finding other teen girls who might have moved in the same circles or eaten the same things. But they had no leads, so the fallback was to visit a random house. Instead of just walking in a convenient direction, which could bias the study, Cartwright pulled out a water bottle she'd brought along for just such an occasion. She spun it in the gray dirt, and when the bottle stopped, the group walked off in the direction it pointed.
It all seemed so random—where the bottle spun, who lived, who died, who got sick but somehow was spared. The only real constant was the ability of people to persevere. At Schweitzer hospital, Rawson suggested that was cause for optimism. He pointed to a Campeche tree, so gnarled and thick it takes an hour to cut through the trunk. "That's what Haitians are like," he said. "Beautiful and tough."