Inside Britain's Multi-million Dollar Homes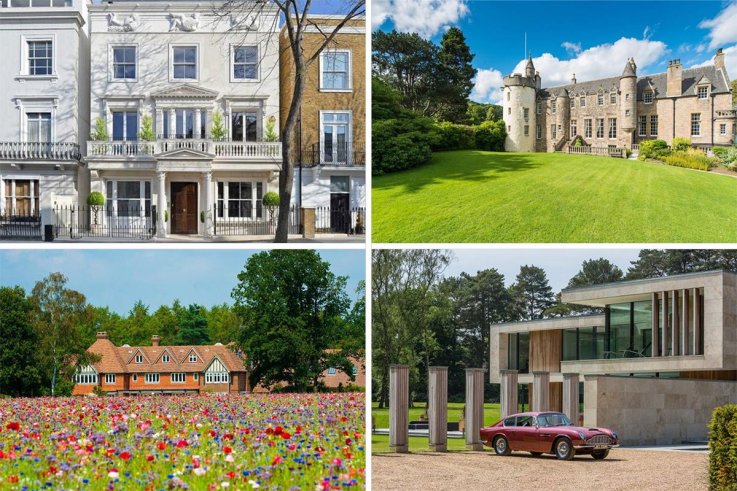 We've always been fascinated by extravagant houses. The obsession can be traced back centuries, with Jane Austen even writing a pivotal scene into Pride and Prejudice in which Elizabeth Bennet pokes around Mr. Darcy's mansion and decides he might actually fancy him after all.
This proud tradition of rubbernecking reaches all the way down the years, through the launch of Vogue Living all the way to Mariah Carey showing off her Tribeca pad on MTV's Cribs.
The plush opulence of luxury houses, often complimented by mad flourishes of personal taste, means that they can either be aspirational or utterly bizarre. Either way, they're rarely boring.
Although Cribs is no longer on TV—replaced, perhaps, by the Rich Kids of the Internet's world of opulent microcelebrity—the palatial house is still very much alive and well.
The Independent reported earlier this year that in the U.K, three percent of houses were valued at a million pounds ($1.3m) or over—that's nearly 770,000 homes. Unsurprisingly, these expensive houses were concentrated in London, which is notorious for its unaffordable real estate.
Now that a million-pound property has become small fry, Britain's ultra-wealthy are having to raise their budget when it comes to finding a dream home. Victoria and David Beckham reportedly splashed out £31.5m on their West London mansion, which has a marble staircase, a Tracey Emin neon artwork and period fireplaces.
Rihanna recently moved to the capital, dropping £7 million on a house in north-west London, making her a neighbor of Paul McCartney. But even these celeb mega-homes aren't the nation's priciest.
Using listings from real estate website Rightmove, we've found houses from across the country that are on the market for between £5 million and £50 million.
It turns out multi-millions give you enormous amounts of choice. Whether you're after a sleek, five-bed apartment in central London, a country pile in the South Downs with your own equestrian center or even a Scottish castle, it can be yours—if your pockets are deep enough.