Inside the 'House the 70s Threw Up On' That Is Delighting the Internet
The decade of disco and flared trousers—'70s style has been a mainstay in the world of fashion for years, but the nostalgic style of the decade that brought us geometric prints and carpeted walls is making its way back into our homes, too.
One throwback-inspired home has caught particular attention online. Sarah Arnold, 26, lives in Nebraska and runs the TikTok account highwaychilevintage where she posts her thrifty vintage finds and dreamy shots of her carefully curated '70s-inspired home.
In one video with 5.6 million views, Arnold wrote: "With a little luck and a lot of thrifting, you too can have a kitchen that the 70s threw up on."
Delighted by the décor, over 82,000 TikTok followers enjoy Arnold's content, with one user writing: "This is what I want my house to look like," another commenter said: "I'm a child of the '70s and this is so awesome."
Arnold told Newsweek: "I was raised by my mother who very much instilled in my sisters and me the importance of thrifting! Secondhand everything was the mantra of my childhood, and I definitely felt the sting of stigma thrifted clothes had in the early 2000s when I was in elementary school!
"But as I got older I grew to love the thrill of thrifting myself, so I suppose you could say I've been thrifting my entire life!"
In recent years, the secondhand market in the U.S. has seen a boom. The secondhand and resale apparel market was estimated to be worth $27 billion in 2020 and trends suggest it could grow to as high as $77 billion by 2025, according to a Thredup survey.
Arnold admits that her style has changed countless times throughout her adolescence and into adulthood, but that the '60s and '70s have been a theme since she was young.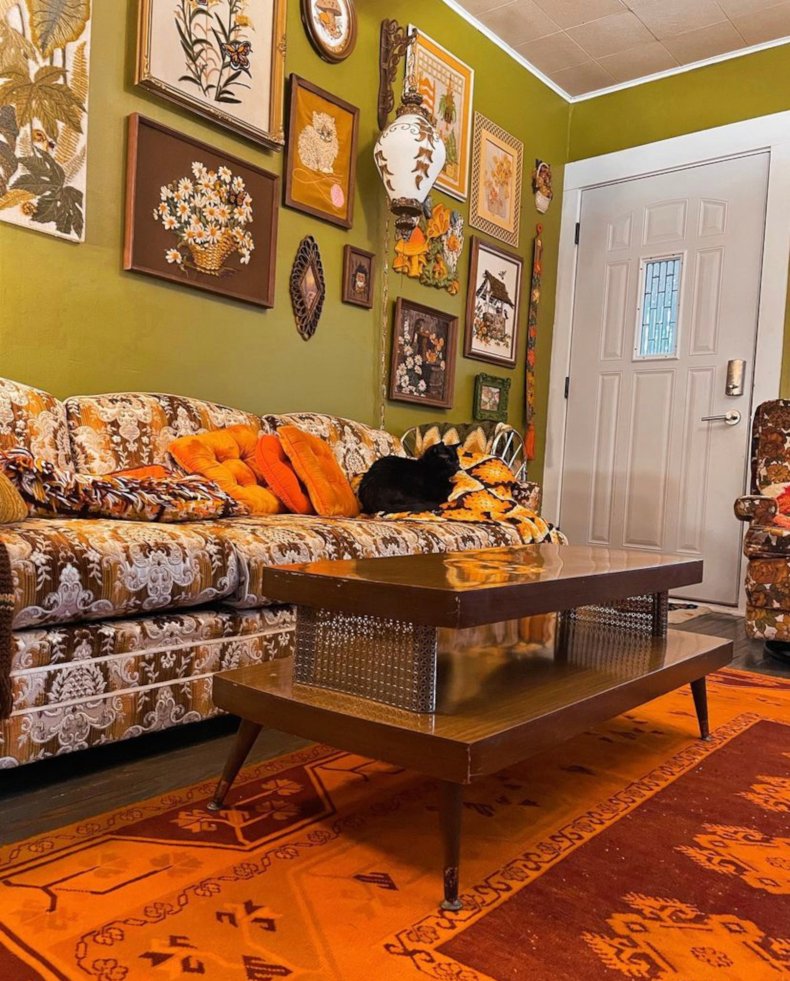 "My high school bedroom was plastered with posters of Jimi Hendrix, Led Zeppelin and psychedelia," she said: "My aesthetic really blew up when my partner and I bought our first home last year."
In October 2021, Arnold and her partner moved to Omaha, Nebraska and the now internet-famous house began to take shape.
"We brought very little with us on our move, and so the vast majority of our collection has been curated in the last 12-24 months. Of course, I've had some staples since I was younger, but I really held off on furniture and large items until we knew we wouldn't be moving too much."
After spending so much time transforming her home into the 1970s dreamland she wanted it to be, Arnold said the COVID-19 pandemic prevented her from showing it off to visitors. "I wanted to badly to be able to share all of my projects," she said. "So finding a whole community of people online with the same aesthetic and vision as me was so special."
A self-confessed maximalist, Arnold's love for '70s décor is considered down to the last detail.
"I thrive on the serotonin that comes from a room full of natural light, and nothing feels cozier than a shag carpet and a million houseplants," she explained. "Bringing all this color into my home makes it harder for me to feel down or depressed, even seasonally, because it always feels so cheery and bright. I feel at home surrounded by meaningful collections and walls full of artwork."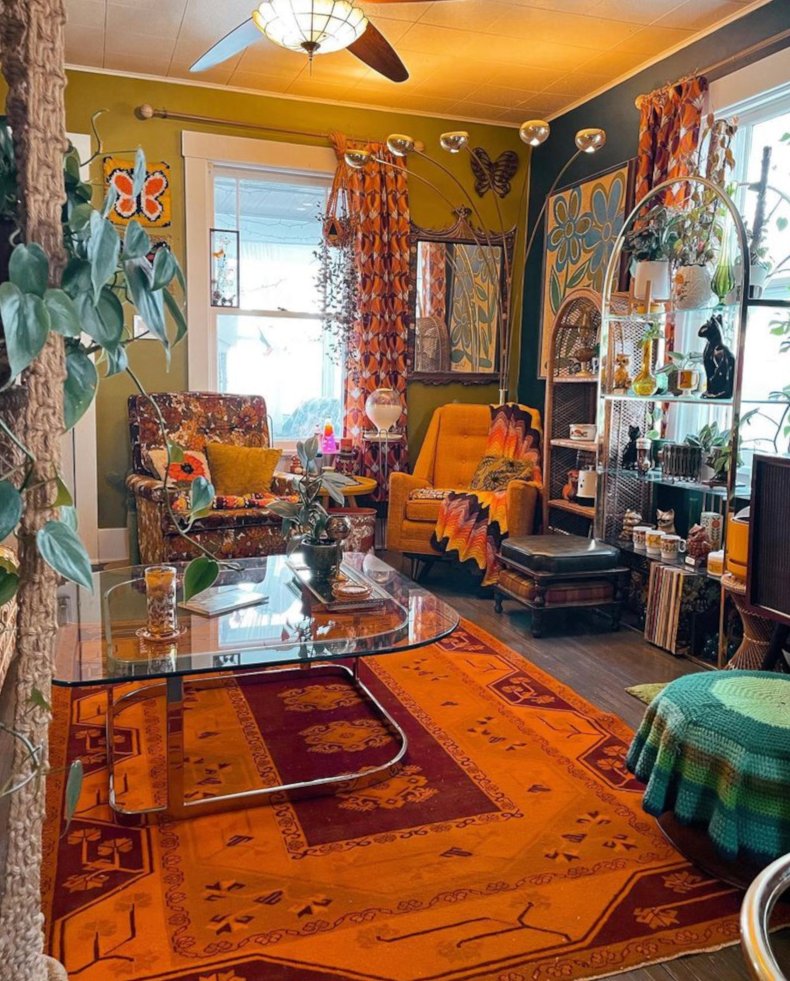 As well as finding her own homeware, Arnold also sells her '60s and '70s finds on her Instagram account—allowing others to benefit from her thrifty skills.
"When I lost my service job during the height of the COVID-19 pandemic, I began selling some of my personal vintage items in order to bring in some much-needed income and I got a ton of support and interest," said Arnold.
"I was originally only selling items from my own home, but quickly was running out of neat vintage, so that's when I expanded to sourcing from estate sales and thrift stores.
"I used to have a very sour understanding of reselling, and while I do still think that there are a lot of unethical practices, I find that I am able to keep myself accountable by only selling items that I'd be happy to have in my own home."
Frequently picking up thousands of views on videos of her home and thrifting trips, it's clear Arnold's passion for '70s decor is shared online. Many commenters frequently gush over the style. One commenter wrote: "This is my dream," while another said: "So cozy! I love a house that looks lived in."
Arnold hopes that her content and shop will open minds to secondhand and vintage homeware. She said: "If I can use my online aesthetic to encourage this more sustainable route, I'm so happy to be able to do so."