Inside Hugh Jackman's Rocky Past With Mother As They Pose for Rare Photo
Hugh Jackman shared a heartwarming photo of himself and his mother, Grace McNeil, hugging as they stood on a street together on Monday.
In the image, the Van Helsing star is seen gazing at his mother adoringly as he smiles broadly and wraps an arm around her.
Letting the snapshot do all of the talking, the Australian screen star added a simple and self-explanatory caption that read: "Mum."
And while the sweet picture attracted a stream of gushing comments from Jackman's army of followers, it also represented major progress for the star and his mother.
Jackman's mother and father, Chris Jackman, migrated with the actor's four older siblings from England to Australia in 1967 as part of a settlement scheme. Actor Jackman was born the following year in Sydney.
The family life the actor had grown up knowing came crashing down when he was just 8 years old, as his mother walked out on the family.
Recounting the life-changing moment during an emotional interview on Australia's 60 Minutes back in 2012, he said, per News.com.au: "I can remember the morning she left, it's weird the things you pick up. I remember her being in a towel around her head and saying goodbye, must have been the way she said goodbye.
"As I went off to school, when I came back, there was no one there in the house. The next day there was a telegram from England. Mum was there. And then that was it. I don't think she thought for a second it would be forever.
"I think she thought it was, 'I just need to get away, and I'll come back.' Dad used to pray every night that Mum would come back."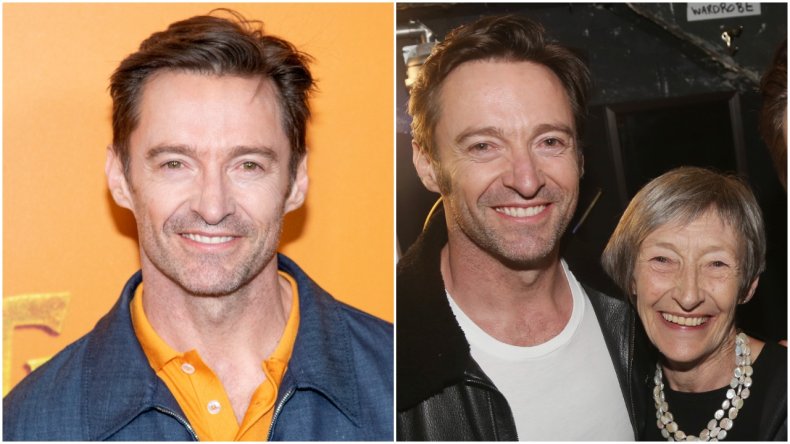 The Les Misérables star, who shares two children with his actress wife Deborra-Lee Furness, also shared how the moment had affected his father.
"My father is a rock. My father is my rock," Jackman told 60 Minutes. "It's where I learned everything about loyalty, dependability, being there day in, day out, no matter what.... It's always about the family.
"It's always, 'How's Deb?' It's not about work. And I think that's him living with probably some of his regrets. And feelings of maybe he at the wrong time put too much in his career. And he doesn't want me to make me that mistake. In his gentle way, he always reminds me this the most important thing."
After Jackman's mother moved back to the U.K., his two sisters moved back to join her, while the aspiring screen star remained in Sydney with his father and two brothers.
In an interview with The Sun, published in October 2011, Jackman revealed that he would later learn that his mother was suffering from undiagnosed postnatal depression.
"As I grew older I gained an understanding of why Mum did leave," he told the publication. "[W]e have definitely made our peace, which is important."
"I was always quite connected with my mum," he continued. I have a good relationship with her."
"The thing I never felt, and I know this might sound strange, I never felt that my mum didn't love me," Jackman told Australian Women's Weekly in 2012, per E! News. "I've spoken about it at length with her since and I know she was struggling.
"She was in hospital after I was born suffering from post-natal depression. There wasn't a support network for her here."
Explaining how parenthood shaped his perspective on his past, he added: "I think having kids of your own just adds another level of empathy and understanding. And there comes a certain point in life when you have to stop blaming other people for how you feel or the misfortunes in your life."