Inside Iran, Human Rights Activists Are Just as Furious With Trump as Their Own Government | Opinion
French President Emanuel Macron has achieved a major diplomatic coup this week by brokering a potential meeting between President Donald Trump and Iranian President Hassan Rouhani.
After speaking with Trump and Iranian Foreign Minister Javad Zarif at the G7 summit in Biarritz, France, Macron declared on Monday, "A roadmap has sort of been set" for diplomacy. He disclosed that "in the next few weeks," he hopes a meeting will take place between the two leaders that he predicts "is going to lead to bringing an end to escalation and reaching a suitable solution to this [standoff]."
For many Iranian human rights activists, the possibility of talks on the horizon is welcome news, but don't expect them to greet the U.S. as some kind of savior. They have railed against the Trump administration's "maximum pressure" policy of economic sanctions and political isolation, which has devastated the Iranian economy and dramatically worsened the human rights situation inside the nation—despite the State Department making "substantial improvements on human rights" a condition of diplomacy.
Iranian political prisoner Farhad Meysami echoed the sentiments of many human rights defenders in January in his firm rejection of the State Department's offer of support for his case. Meysami slammed the abandonment of the 2015 nuclear deal and reimposition of sanctions, saying they have "plunged millions of my fellow countrymen into poverty."
It is undeniable that the Iranian government engages in gross human rights abuses. A new report from Javaid Rehman, the U.N.'s special rapporteur on the human rights situation in Iran, underscores "increasing restrictions on the right to freedom of expression and continuing patterns of violations of the right to life, the right to liberty and the right to a fair trial."
However, Iranian human rights activists, who are often ignored in Washington, have staked everything on striving for peaceful democratic change in Iran while opposing foreign intervention. They are an inconvenient reality for the Trump administration and its quest to appear as a liberator of a grateful Iranian people.
Many Iranian activists and groups have spoken out against the unilateral U.S. pressure policies targeting their country. The Freedom Movement, one of Iran's oldest pro-democracy groups, wrote a letter in February accusing such policies of empowering "domestic hard-liners and warmongers abroad." U.S. sanctions, it argued, have "weakened the middle class and the downtrodden and disrupt Iran's democracy-seeking trend."
In May, students at Iran's Allameh Tabataba'i University similarly protested foreign sanctions, as well as domestic repression. They said they represented a people "stuck between domestic and foreign bullies" and vowed not to "bow to either."
Abbas Abdi, a prominent reformist dissident who has spent many years in jail, has unpacked the notion that popular discontent in Iran does not equate to support for U.S. policies. "The U.S. and Trump don't pay attention to the fact that even if the people are not content with current conditions, this doesn't mean they will cooperate with them," he proclaimed last December.
Opposition to U.S. pressure policies is rooted in their detrimental impact not just on the livelihoods of ordinary Iranians, but on domestic actors who seek a more open political and social landscape and more conciliatory foreign relations. The nuclear deal, or Joint Comprehensive Plan of Action, is a case in point.
The successful negotiation of the JCPOA validated the school of thought in Iranian politics that argues for resolving tensions with the West through dialogue. The deal was greeted by celebrations on Iranian streets and led to hard-line factions suffering defeats in the 2016 parliamentary and 2017 presidential elections to their moderate and reformist rivals, who campaigned on social-political-economic liberalization.
However, the political momentum built by Iranian moderates and reformists was eviscerated by Trump's abrogation of the nuclear deal. The U.S. never met its end of the bargain on sanctions relief, discrediting Iranian moderates and preventing them from delivering on their key promise of economic recovery.
Today, the school of thought in Iranian politics that argues that confrontation is the path to keeping the U.S. at bay is greatly ascendant. These empowered hard-liners are consolidating power and taking advantage of this opportunity to prosecute their political rivals and lock up ever-increasing numbers of activists, dual nationals and persecuted minorities.
The JCPOA created a model for a new U.S. policy on Iran that prioritizes hard-nosed diplomatic engagement. It represented a step away from the status quo U.S. policy of relentlessly increasing pressure and forgoing serious diplomacy. If properly enacted, the nuclear deal would have resulted in years of economic growth and strengthened Iran's educated middle class, which desires better relations with the West. This, in turn, would have shaped Iran's political and social context in the coming years, as the original revolutionary leaders of 1979 pass away.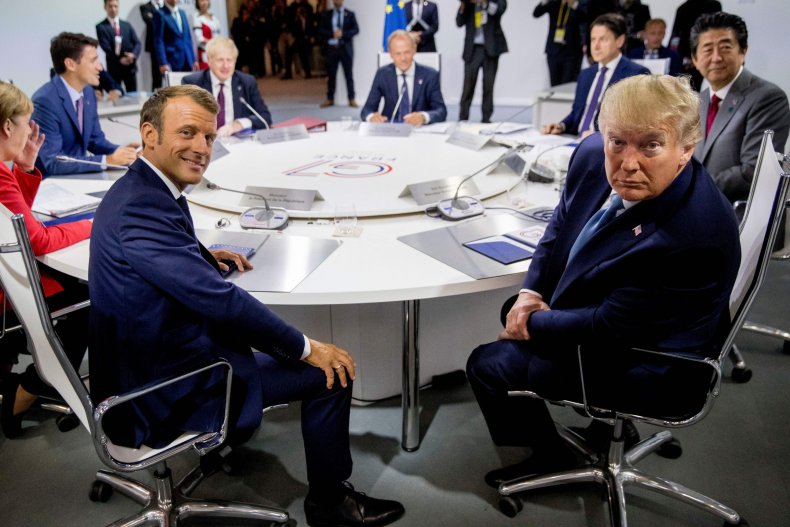 Indeed, after the JCPOA, Iran's moderate President Rouhani shifted his focus internally, describing the victory of reform-leaning candidates in the 2016 parliamentary a "second JCPOA." For this, he immediately earned the ire of Supreme Leader Ayatollah Khamenei, who subtly said that those who believe in a "JCPOA 2, 3 and 4" were wrong to believe that Iran's problems could be resolved through negotiations with the United States. The prospect of improved relations between Tehran and the West terrifies Iranian hard-liners, whose economic and political power depends on isolation.
Trump generally gives human rights a short shrift internationally. Yet on Iran, he has echoed the neoconservative rhetoric of regime change and U.S.-instigated democratization. However, just like his predecessor President George W. Bush, his approach is only hurting the people it professes to help and sowing greater instability in an already chaotic region.
It is thus no wonder that an activist like Meysami, who endured a 145-day hunger strike and has been sentenced to six years of imprisonment, declared he would "rather spend all my life imprisoned by a group of oppressors from my own wrong-doing countrymen and spend my life trying to reform their wrongdoing" than "submit" to support from the Trump administration.
Sina Toossi is a senior research analyst at the National Iranian American Council (NIAC). He tweets @SinaToossi.