Inside the Ivanka Trump Brand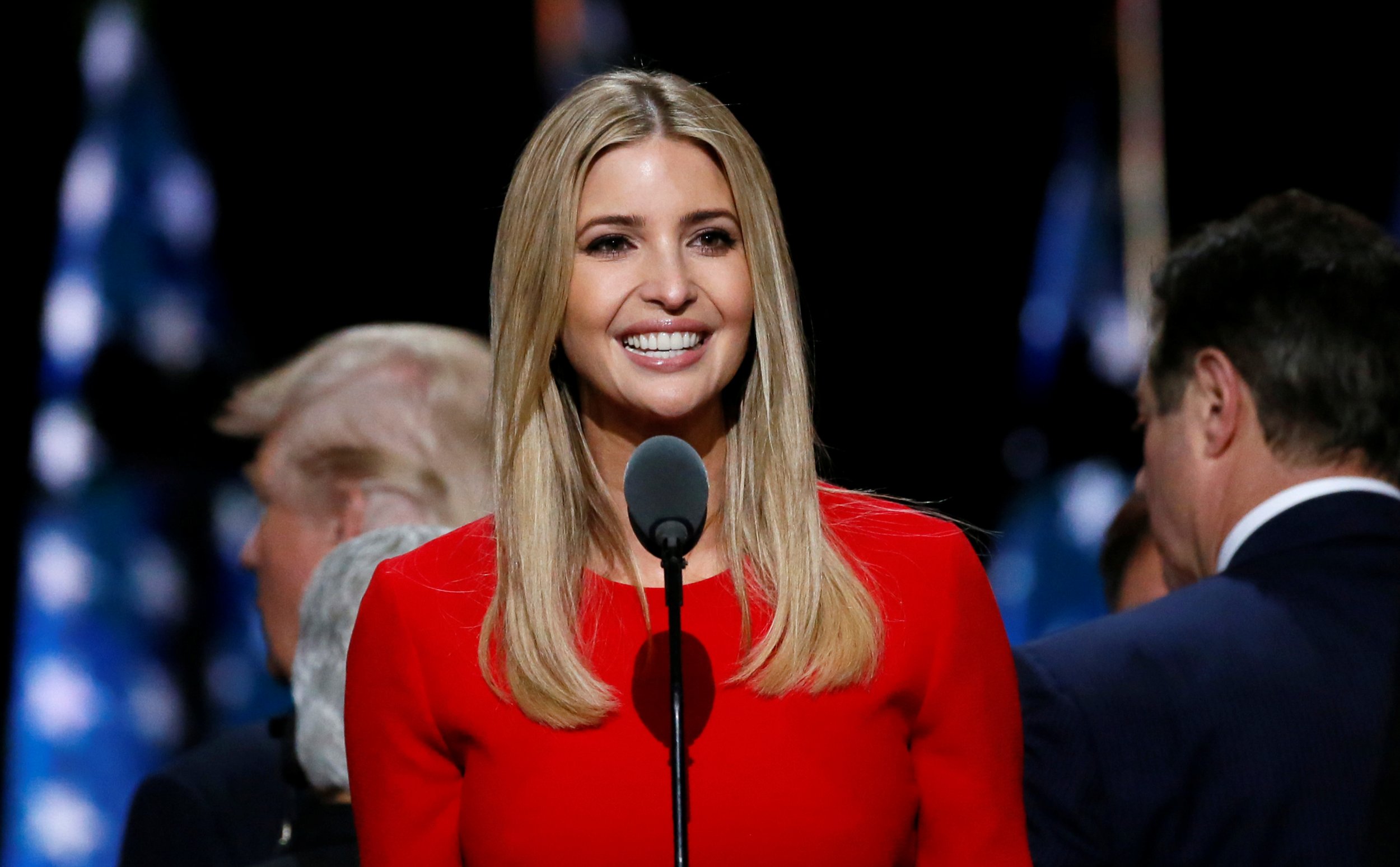 As Donald Trump's convention erupted into chaos during Senator Ted Cruz's rebellion on Wednesday night, television cameras found the presidential candidate standing in the family box between two of his children. A scowling Don Jr. was seen straight on as he said something inaudible to his father; the soigné woman on his left, Ivanka, maintained a tiny smile as she turned the side of her head to the cameras, letting a hank of perfectly blown-out blonde hair shield her face as she whispered in her father's ear.
The difference between the two siblings in that moment of public stress says almost everything you need to know about the Ivanka Trump Brand and why she's rumored to be her father's chief adviser. Her loyalty and her instinct for optics and discretion are chief reasons why she—and not her brothers or other sister—has the honor of introducing Trump Thursday night as he accepts the Republican nomination for president in Cleveland.
Born with the proverbial silver spoon firmly in mouth, schooled at the nation's premier prep and boarding schools and a successful New York businesswoman in her own right, Ivanka was known as "the smart one" of the Trump siblings to people who worked around the family during the Apprentice years.
Her restrained style, natural elegance, upper-crust diction and media savvy all qualify her as "classy" by any definition, not just the ostentatious grotesquery of gold-plated sinks in private jets draped with supermodels implied when her father utters the word.
Raised in the public eye, a self-described spoiled little girl, Ivanka wrote in her book, The Trump Card: Playing to Win, that a pair of pre-teen traumas—her parents' very public divorce and the death of a beloved grandparent—transformed her into a more mature and self-aware person than she might otherwise have been. In the 2003 documentary Born Rich, featuring a pack of New York City mega-wealthy heirs and heiresses, she alone projects a humility that is made more stark against the preening and whining of her peers.
But no one is more surprised than those same society peers to see her wholesale conversion from progressive New York society woman to No. 1 supporter of a man universally reviled by some of those same society swells and progressives as the second coming of Hitler. That conversion—far more than the one she undertook in becoming Jewish when she married Jared Kushner—is the essential mystery of who she is, and it parallels that of her thrice-married father, who in the past has given money to Hillary Clinton and who lived a libertine life totally at odds with the one promoted by his growing Evangelical fan base.
Are these conversions for real? Or are they both as artificially constructed as any other expensive brand?
"She struck me as a liberal New York Democrat and rather typical of her group," says Born Rich producer Dirk Wittenborn. "I don't mean that in a pejorative sense. Like a great many people of her background, she is an informed and intelligent and charming young woman and maybe I misperceived something. Mind you, the word 'Democrat' never came up, but the attitudes and opinions and philosophy she relayed in my presence was more Clintonian."
Her conversion and marriage—and motherhood—all coincided with her becoming more conservative, Wittenborn says. "I think she's someone who understands the responsibility of her position," he says. "She understands the role she has to play. She understood the role she had to play in 2002 and the role changed. I think the success of their reality TV show changed everything. It opened her horizons and the financial shift in the empire."
Sources say she started talking about converting to Judaism about a year after she started dating Kushner, and she takes her conversion very seriously, keeping a kosher home and assiduously following the Sabbath, when observant Jews turn off electronics and take 24 hours off every Saturday. "It was very brave of her," says family friend Nikki Haskell. "And she is very very strict about it and keeps a very tight ship."
Ivanka stayed out of the public fray during the campaign as anti-Semitic trolls went after Jewish journalists who were seen as attacking her father, and as he tweeted what was widely assumed to be a Jewish star in a denunciation of Clinton. Her conversion, meanwhile, enables her father to respond to charges that his campaign is fomenting anti-Jewish sentiment by pointing to his Jewish daughter and grandchildren. In fact, the Jerusalem rabbinate that ultimately determines who is Jewish recently announced that conversions performed by the rabbi who converted Ivanka are not acceptable.
Much has been written about her influence in the campaign. It's been widely reported that she and Kushner were behind the firing of hockey-playing ruffian Corey Lewandowski, the campaign manager who famously shoved a female reporter and who was sacked after leading his candidate through the primary season.
The mother of three campaigned for her father into the final weeks of her third pregnancy. A week after the birth of her child, she was introducing her father on a platform in the white, blue-collar enclave of Bethpage, New York.
Among other things, the election in November will have profound effects on the Ivanka Brand, a project to which she's clearly applied her brains and a lot of money. She has had her own line of shoes and scarves (both of which have been subject to litigation—a Trump family pastime, apparently), but she's also taken a cue from her father and published a best-seller, in the vein of the great male works of business porn like her father's The Art of the Deal.
In addition to advising her father, she's working on a second book, Women Who Work: Redefining the Rules for Success, which is "designed to be the millennials' manual for architecting a life you love," according to her website. "It's an inclusive conversation, recognizing that success looks different to every one of us."
On her blog, she's lately been soliciting input from young women to "Weigh In On Ivanka's New Book!" And on Twitter, she's filing links to tips for working women, with the hashtag #womenwhowork. The public solicitation enables her to create an online community of precisely the demographic her father is going to need at least some support from in order to win the presidency—young, working females.
The book's publisher, Portfolio, declined to share information about the project, due to be published in spring 2017. By then, Ivanka will either be a top—and probably still informal—adviser to the most powerful man on the planet, or she will be back doing the hard #work of burnishing, or repairing, her own brand.