In Kentucky, Fight for a Gay Marriage Certificate Goes to the Courts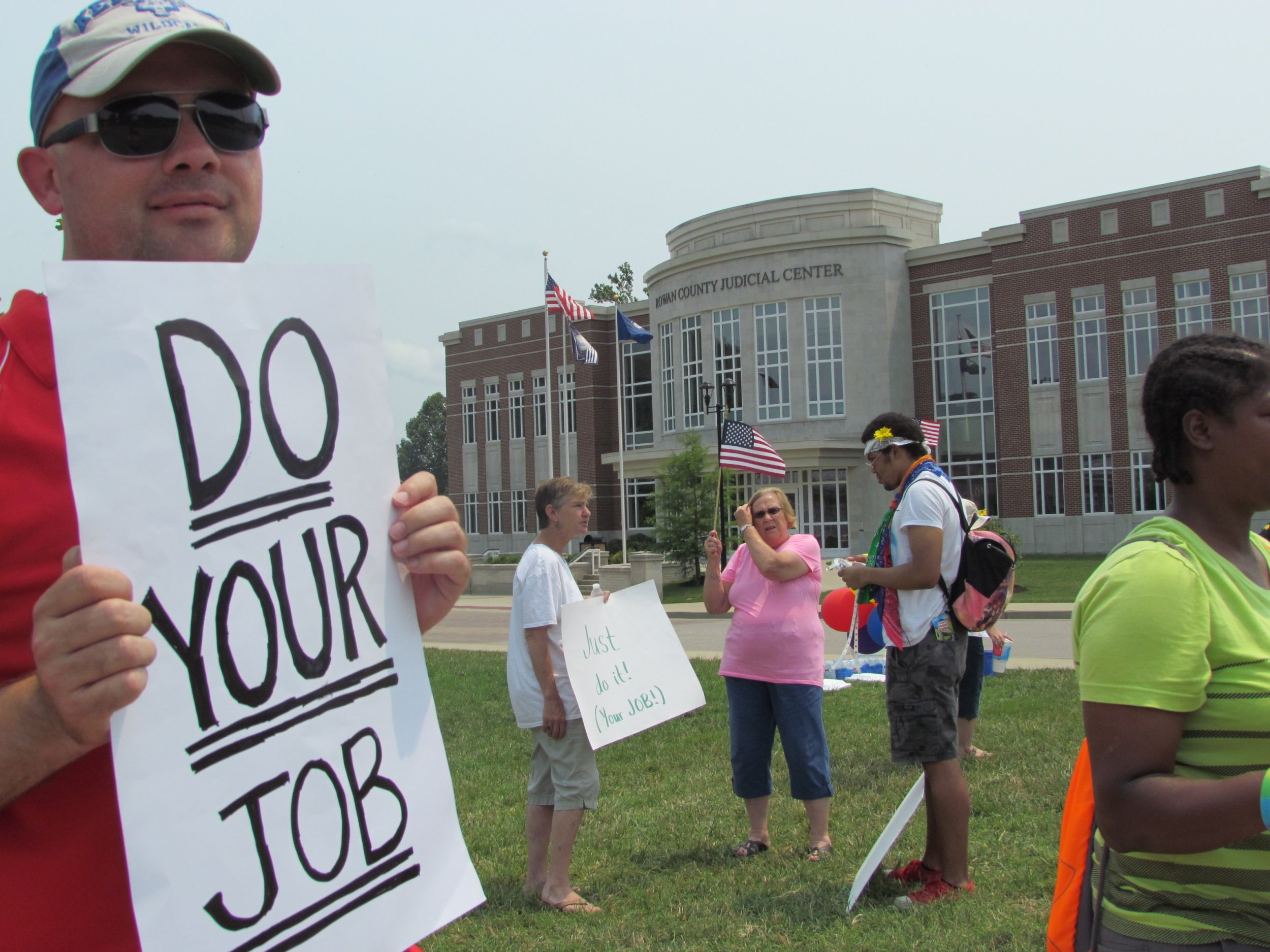 A lawsuit stemming from last month's Supreme Court ruling legalizing gay marriage has brought national media attention to Rowan County, home to 24,000 residents in the forested hills of eastern Kentucky.
The high court's ruling was met with jubilation across much of the country. But in some areas, often where religion is considered fundamental to identity, a handful of elected officials are unwilling to implement the new law of the land.
Kim Davis, the Rowan County clerk, is one of them. In the wake of the Supreme Court decision, she has refused to issue marriage licenses to any couple, regardless of orientation. A video of Davis refusing to issue a marriage license to a gay couple, David Moore and David Ermold, was posted online July 7 and proceeded to go viral, garnering over a million views.
Davis has stated that her "deep religious convictions" prevent her from carrying out same-sex marriages, reported The Courier-Journal, and she and her supporters believe that any obligation to do so would be an infringement upon her religious liberties, guaranteed by the First Amendment.
Although Davis is among several clerks refusing to issue marriage licenses, she was the first to be sued: The American Civil Liberties Union (ACLU) filed a lawsuit against her alleging the unconstitutional denial of same-sex marriages on behalf of four Rowan County couples, gay and straight.
The case is seen by some as pitting the First Amendment, guaranteeing freedom of religion, against the 14th Amendment, guaranteeing the right to equal protection of the law, and as one that will set a precedent for similar lawsuits to come. And so a spotlight has been focused on a county that is not used to the glare of national media attention.
The lawsuit's proceedings were resumed on Monday in front of U.S. District Judge David L. Bunning in Covington, Kentucky.
Explaining the decision to file the suit, the ACLU of Kentucky Cooperating Attorney Laura Landenwich stated, "Ms. Davis has the absolute right to believe whatever she wants about God, faith, and religion, but as a government official who swore an oath to uphold the law, she cannot pick and choose who she is going to serve, or which duties her office will perform based on her religious beliefs."
April Miller, who is a plaintiff, along with her partner, Karen Roberts, in the case against Davis, believes it is important that people in the county realize same-sex marriage advocates did not file the suit simply to cause trouble. "We're not trying to bring negative feelings about each other. We're trying to get our rights to be permitted to marry as the Supreme Court said," Miller tells Newsweek. "It's not like we heard that three counties over a county clerk wasn't issuing marriage licenses. We live here; we work in this county; we pay our taxes here."
Jody Fernandez is another plaintiff, along with her partner, Kevin Holloway, in the lawsuit against Davis. "We just didn't understand why we should have to drive to another courthouse because she was not doing her job," she says. "If she cannot do her job, then she should not be working there."
Although she's straight, Fernandez, says she is acting in solidarity with the gay community.
Kentucky Governor Steve Beshear told the state's county clerks on July 9 to start issuing marriage licenses to all couples, whatever their sexual orientation, or resign. Three Tennessee clerks from Decatur County have already resigned rather than issue same-sex marriage licenses, but Davis has not shown signs of following suit.
Kent Ostrander, executive director of the Family Foundation of Kentucky, a "family values" advocacy group, argues that the governor has no right to force clerks to issue marriage licenses. He believes that in doing so, Beshear is preventing those with religious convictions from holding public office.
"All Judeo-Christian believers, maybe even Muslim believers, would not be able to hold that office, and that office would then be banned from them, and that's not constitutional," Ostrander says.
Aeron Akers, a representative of the Rowan County Rights Organization, a local civil rights organization that has been leading protests against Davis, says in Appalachia, "we are generally shielded from a lot of the other ideas that the rest of the country is tossing around. It's not that we're backwards; it's not that we're behind the times; it's just that this is a very homogenous area in many ways, and the ideas that flow through here tend to have their own type of strength."
But Akers adds that Rowan County is not necessarily representative of Kentucky and Appalachia as a whole. He says its main city, Morehead, is by no means singular in its set of social and political values, and says he believes Morehead State University has a progressive influence upon the town. "You have a lot more exposure to having gay, lesbian, bi, transgender people that are out. There is a more opportunity for these two opposing viewpoints to meet."
The divide between city and county is illustrated by another, older conflict of social mores: Alcohol sales are banned throughout the county, with the exception of Morehead.
Shayla Menville, a reporter with The Morehead News, says there is some resentment in the community about the intense media scrutiny surrounding the issue. "We have in Rowan County so many wonderful things to offer the world," says Menville, "Rowan County is being known for a controversial issue, and I think that's been a big strain."
The community has seen regular protests over the lawsuit, with supporters and opponents of Davis coming out to voice their opinions outside the county courthouse.
"I've been very happy to see that everyone is peaceful, that everyone is more than willing to hear the opposition," says Menville.
Akers also sees a strong community despite the political divide: "After this is settled, no one is moving away. No one is going here or there. We're going to have to live together in this community."