Inside Mama June's Intervention:Honey Boo Boo Cries For Mom To Change In Emotional Video
Honey Boo Boo wants to move back home, but her mother's lifestyle has seemingly trumped their relationship. In an emotional intervention video, the former pageant star begs her mother, Mama June, to take care of her health. The intervention, which will premiere on Mama June: From Not to Hot, was posted on TMZ Thursday and shows the aftermath of the reality mother's arrest for drug possession.
In the clip, which is nearly one-minute long, Honey Boo Boo, whose real name is Alana Thompson, has been living with one of her sisters in order to be away from her mom. "Do you not realize I'm living with my sister? And that's not by choice." Mama June, real name June Shannon, reacts: "Yes it is," she responded.
From there, the intervention seemingly becomes aggressive, as Mama June storms out of the house. Her family members show grave concern for her well-being, and claim things will only get worse for the reality star, both personally and legally, if she doesn't hear their concerns.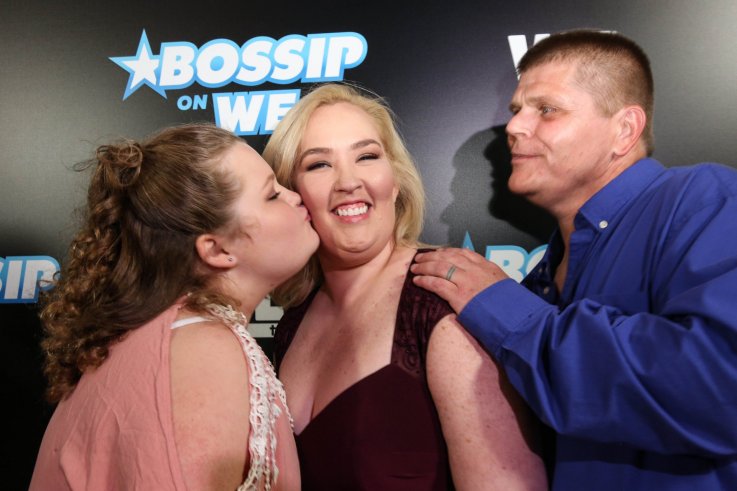 The trailer shows the Daily Mail headline surrounding Mama June's March arrest, where she was said to be found with crack cocaine, needles and a pipe. She was charged for the incident after the story broke and could face one year in prison. The police report, which was obtained by TMZ, showed the arrest came after a domestic dispute with Mama June's boyfriend, Geno Doak. At the time, he was also arrested for crack cocaine possession and had added charges of domestic violence.
No family member or commenter in the trailer denies that Mama June has a drug problem. As the trailer goes on, she collapses outside while seemingly storming away from the intervention. The reality mother is heard making a statement later on, as her mug shot appears on the screen: "I hate my f****** self. I want to kill the person I am now."
Since her arrest, Mama June has often been seen by TMZ gambling at an Alabama casino. She has not issued a formal statement on her arrest or intervention. Mama June and family first appeared on screen in Toddlers & Tiaras. From there, the spinoff, Here Comes Honey Boo Boo was created. The show, which aired on TLC, was canceled when Mama June started a second relationship with an ex-boyfriend, who had allegedly sexually abused her daughter.
Inside Mama June's Intervention:Honey Boo Boo Cries For Mom To Change In Emotional Video | Culture