Inside the Magic of 'La La Land' with Music Director Marius De Vries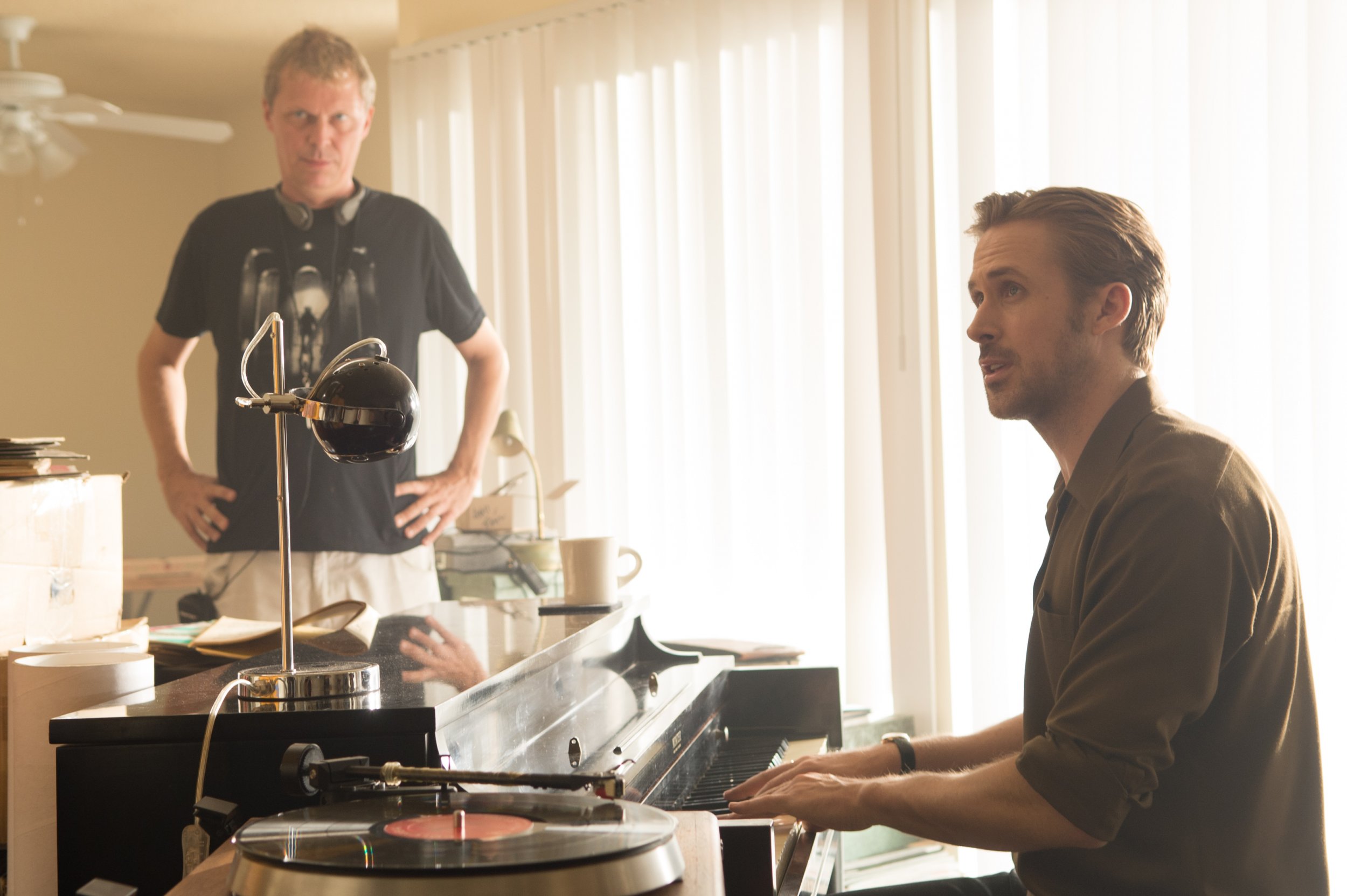 La La Land, a toe-tapping ode to old Hollywood which reunites Crazy Stupid Love stars Ryan Gosling and Emma Stone, is "a musical that people who don't love musicals can love," the film's music director Marius De Vries says. He isn't wrong.
In 2014, director Damien Chazelle's Whiplash achieved the feat of weaving music coherently into the narrative of a film. That paid off, earning actor J.K. Simmons an Oscar for his portrayal of an abusive drum instructor. Now, Chazelle is building on that success, creating an entire world around his protagonists, aspiring actor Mia (Stone) and struggling jazz pianist Sebastian (Gosling).
Chazelle sweeps the viewer up in beautiful cinematography, piercing moonlit backdrops with vibrant pops of color, and his charming script about two dreamers whose lofty career ambition consumes their relationship is heart-swelling. Then there's the music. These aren't song-and-dance numbers for the sake of them; when Stone performs "Audition (The Fools Who Dream)," the movie's signature song, it is as impactful as any word spoken by her character.
To achieve the music's emotional resonance, Chazelle hired De Vries, a record producer and accomplished music director on Baz Luhrmann's Oscar-winning Moulin Rouge and, before that, a composer on the auteur's Romeo + Juliet.
Here, the La La Land music impresario tells Newsweek about working with demanding directors in Chazelle and Luhrmann, his cameo in the film and how he helped Emma Watson land the part of Belle in Disney's upcoming Beauty and the Beast.
How does the music director job work on a film?
There's a custodial role to understand the musical universe of La La Land and help nurture it as best as possible. Then there's the nuts-and-bolts of getting it made. In contrast to a movie where it's a case of pasting a score over a completed edit, in this case [the music] has to be preconceived and pre-recorded, actors and musical performers have to be rehearsed and ready to be on camera, the musical structures have to be in sync with the visual structure.
It's also working with the performers as talents in my role as a record producer, to elicit the best performance that they're capable of. Damien wanted to record the vocals live where possible, so there was an additional pressure on the crew and performers because of that.
How do you train an actor to tackle a musical role—especially an actor who isn't used to singing?
The most crucial thing is to forget you're singing, to understand there's no difference between the singing voice and speaking voice in terms of its impact on your acting performance. There is no change of perspective or personality as narrative drifts into song, or song drifts back into narrative...it's one continuous acting performance. If you nail that trick, singing becomes less scary—all you're thinking about is communicating your emotions through the camera.
A perfect example of that is Emma's performance in her last song, "Audition," which was recorded live on set. Emma's ability to [forget she's singing], you don't notice a change of atmosphere or context as the song drifts from words into song. It's one seamless piece. She mastered the technique. She acted the song.
Did you have to help them loosen up with the singing, or did they already seem comfortable doing that?
[Emma and Ryan] are both incredible professionals and self-confident in their own creativity. You're very much there with them, you're standing close, and try to be a supportive presence so they can just emote. It's just being there at the side that's important.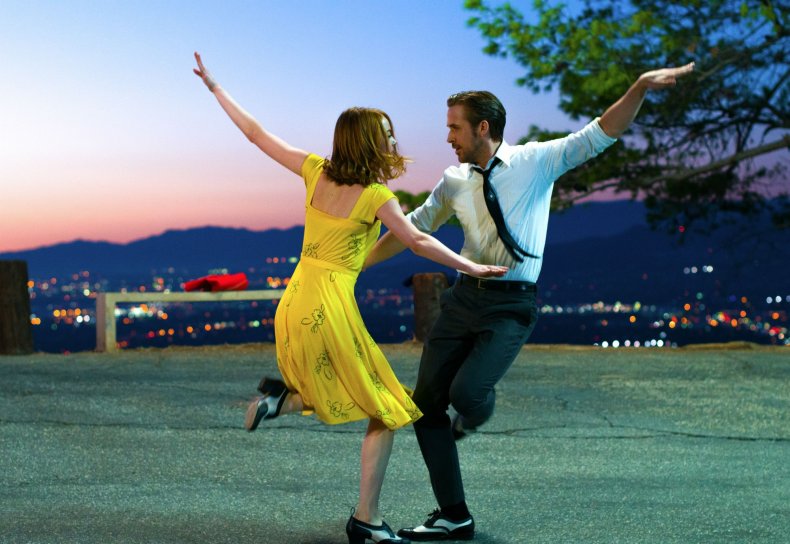 Were the songs already written when you joined La La Land?
No. A lot of the key melodies were in place but the songs didn't have any words. I got to sit through the entire songwriting process and had a hand in guiding it and shaping it. The applause has to go to the lyricists, Benj Pasek and Justin Paul. They conjured up so much effective poetry.
Damien was very demanding—and rightly so—in the tone of the lyrics. Both actors give a naturalistic performance in spite of the emotionally heightened universe of the film—there's a core of believability at the heart of their performances. That had to be reflected in the lyrics as well.
You said Chazelle is very demanding. You get a sense of that from Whiplash—he is so precise with his vision. Did you have any preconceptions before working with him?
I hadn't seen Whiplash when I first met him, it was just freshly out [on general release]. After the second meeting I saw Whiplash and thought: "Hmm, this makes sense." I got a sense of raised stakes in terms of what I was going to get into.
He's not like J.K. Simmons' character in Whiplash [a demanding drum teacher with a fiery temper], because he's also the kindest, gentlest and most generous person I've met...but there's a part of him that is equally as rigorous.
Chazelle seems to understand how to use music in a film narrative better than any other contemporary director. What do you think of his musical ear?
He's so evenhanded. You can question details as you go through the process, but you always trust his central instinct for the musical. We were always guided by having Damien there as a calibration of where we were. He sees it all and hears it all in advance. The difficulty is getting access to him when he gets crazed in the middle of his shoots, which sometimes can be problematic. But you can always go back to [him] to help you realize whether you're on or off-track.
You worked with another formidable director, Baz Luhrmann, on Moulin Rouge. Is there a strange enjoyment in working with filmmakers who are so demanding?
There are so many remarkable similarities and remarkable differences between those two. They both carry a world inside their heads from an early stage...they have a self-created universe which they're pretty good at communicating. The precision of the vision is something everyone can latch on to.
The difference is one of perspective. Moulin Rouge makes such a virtue of its eclecticism and fearlessness of raiding culture wherever it can lay its hands, and unlikely combinations of styles and origins for the music. Damien's process is much more focused and rigorous and coherent. Making a film with Damien is like looking at the universe of love through one very finely crafted, meticulous microscopic lens. Working with Baz is like viewing the same thing through as many different colored lenses from different angles.
What were the challenges of teaching Ryan Gosling to play an accomplished pianist?
I realized this was going to be an issue from the moment I signed on to the movie. There was a piano virtuoso in the script and I knew they would cast someone who wasn't a piano virtuoso. I realized we needed a team in place so I suggested we hire Randy Kerber, the best piano player in the world, to be our director of piano development. I found an amazing piano teacher from the Colburn school in Los Angeles, Liz Kinnon.
When Ryan came in and showed us what he could do on the piano—which, by his own admission, was not very much—I had a [team] for him to fit into. They worked two hours a day for four months. It shouldn't be possible to cram the learning of a lifetime into four months but somehow they did it. Ryan's very quick on the uptake.
What you see on the screen is 100 percent Ryan's hands and body and performance. We had a hand double as insurance, but that poor hand double sat in his trailer all day because he wasn't called upon once.
At one point, Miles Teller and Emma Watson were linked to play the lead roles. Did you meet with them?
I was looking forward to meeting Miles. Emma [Watson], I spent some days in the studio doing preparatory work on her voice. We had "City of Stars" written at that point. We decided to leave it lyrically neutral so she sang "la de da" [to the melody of "City of Stars"]. It was very early in the process.
She came in, we had fun, and I liked her enormously. I'm sure I'll get to work with her another time.
How did her singing hold up?
We would have got her there, for sure. She went on to do Beauty and the Beast and I've heard great reports of what she's achieved there.
In fact, I did her first two or three demos for Beauty and the Beast in my studio. She was doing this exploratory work for La La Land and said, "There's this other thing I want to try out for." I did a couple of Beauty and the Beast songs for her and all of a sudden she was working on that. I had a very early hand in that. I'm looking forward to seeing it.
How did your cameo as the casting director in one of Mia's early auditions come about?
We had a series of table reads to test the scripts and we never had enough actors to read all the parts. So they would say: "Oh Marius, can you read this part?" For some reason, whenever I opened my mouth, the room would dissolve into laughter. I found out later it was not because of my comedy genius but because my British accent sounded so funny to them.
Nonetheless, because of that, I was given the part of casting director No. 2 and my performance was so stellar they decided the film wouldn't survive without me.
La La Land is out now in the U.S. and released in the U.K. on January 12.