Inside North Korea: Pyongyang's Candy-colored Skyscrapers and Grandiose Monuments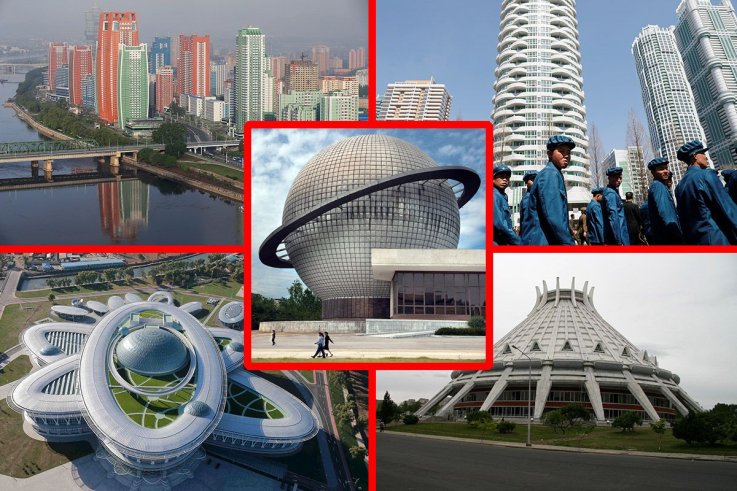 Traditional Korean architecture is known for its elegant convex roofs, economy of shape and a fine balance between design and the natural world.
Yet ever since the country was divided in 1945, the once Soviet-occupied north has pioneered its own unique architectural style.
Seemingly placing a premium on displaying the nation's wealth and glory rather than achieving aesthetic harmony, North Korean architecture has since become synonymous with high-rise housing and mega monuments.
In the capital, Pyongyang, candy-colored apartment buildings line wide boulevards. Bars and pool halls have a distinctly 1980s color scheme and design, and the sparse number of cars on the vast roads look similarly retro. One of the 1974 Volvos they bought from Sweden—and never paid for—was spotted running as a taxi in 2016.
The country is also known for its showpiece buildings, often designed to provide a very literal representation of their function. Pyongyang's Museum of Natural History allows guests to walk into the mouth of a giant tiger which surrounds its front doors.
In 2015, the Korean government unveiled a technology center, the Sci-Tech Complex, which is shaped like a giant, silver atom. Visible from space, it was widely seen as a reminder that, at the time, North Korea was refusing to abandon its nuclear ambitions.
The road to creating these showcase buildings can be bumpy. Construction on the 105-story Ryugyong Hotel began in 1987, but the building has yet to be completed. The project was intended to top the world's tallest hotel at the time, The Stamford in Singapore.
The countryside does not seem to have received the same investment. Photos show dilapidated suburbs, which stand in sharp contrast to the capital's display of wealth.
Singapore-based Calvin Chua, who has worked with local architects, told CNN in 2016 that Pyongyang is going through a design boom: "The architecture is evolving… North Korean architects are inventing more individual qualities in their buildings."
It's certainly intriguing to imagine what's next for North Korean architecture. Until then, we've collected the most eye-popping examples of the country's idiosyncratic buildings, as well as the less spectacular reality of life in the countryside.