Inside Pakistan's Decision to Ban Facebook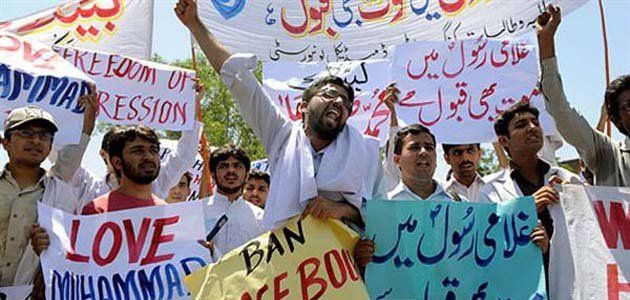 Inside the Lahore courtroom, spectators burst into applause. Judge Ijaz Chaudhry had just ordered a ban on Facebook for "deliberately and recklessly" posting "very blasphemous content"—a proposal for an "Everybody Draw Muhammad Day" on the popular social networking site. It was an ironic—and probably difficult—decision for Chaudhry. Back in 2007, when he was among more than 60 judges ousted and arrested by Pakistan's then-military-led government, he was returned to his job largely because of a popular movement that used, yes, Facebook, to mobilize support.
The day after Wednesday's court order banning Facebook, Pakistan's regulatory communications body blocked another 450 Web sites, including Wikipedia, YouTube, and Flickr, for "growing sacrilegious contents." Thousands marched in the streets of Lahore, Islamabad, and Karachi decrying what they saw as yet another American treachery and hailing the court decision.
What made the Pakistani authorities decide to crack down almost a month after a Seattle woman, Molly Norris, proposed the Draw Muhammad day? (Norris has since disavowed the project, which she began in protest at a decision by U.S. television network Comedy Central to censor a South Park show satirizing the ban on images of Islam's prophet.)
The government's action was probably a combination of self-preservation, appeasement, and genuine anger. Certainly Pakistan's leaders want to appease the Islamists and avert the kind of street violence that engulfed the country several years ago. One set of protests involved a 2005 NEWSWEEK report—subsequently found to be erroneous—alleging that a guard at the Guantánamo prison camp had desecrated the Quran; the next outburst came in 2006 after a Danish newspaper published cartoons showing the face of the prophet.
Chaudhry's court ruling was in response to a petition filed by a lawyers' group called the Islamic Lawyers' Movement arguing that the contest was "blasphemous." Still, it wasn't only the Islamists that were angry at Facebook. Even liberals like Shahbaz Khosa were among those "posting angry status updates on Facebook about this group," says Khosa, a legal consultant to Pakistan's government. Nor does Khosa see this as a freedom-of-speech issue. "The president and government are criticized and ridiculed every day in the media, but tolerating that is very different from tolerating attacks on the prophet," he says. In another move, the privately owned corporation Brain Telecommunication, one of Pakistan's earliest Internet-service providers, said it blocked the Web sites voluntarily, "in protest," according to its message to viewers seeking to access the banned Web sites.
Pakistan's Telecommunication Authority (PTA) also said the blockage was in accordance with "the wishes of the people of Pakistan." PTA chairman Mohammad Yaseen says phones at the crisis cell set up to handle the Facebook controversy have been ringing off the hook. "People are appreciative [of the ban]," says Yaseen.
Not everyone is, of course. A recent entry by one of the anonymous writers on Pakistan's popular Café Pyala blog described the government's response as "cretinous." "Why, oh why, does everything in Pakistan boil down to banning this or that?" bemoans the author. "Will Pakistanis not being able to access Facebook in Pakistan stop this campaign?" Indeed, the ban wasn't even enough to stop Pakistanis accessing the now forbidden sites. With an estimated 19 million Internet and some 10 million smart-phone users in the country, there was no shortage of tech-savvy users able to visit them through proxy servers. Those proxies may be kept busy for some time: Yaseen says it's "very difficult" to say when Facebook will be allowed back into Pakistan.
Husain is a writer for Newsweek Pakistan.