Inside Patrick and Brother Jackson Mahomes' Relationship
Kansas City Chiefs quarterback Patrick Mahomes and his younger brother, Jackson, appear to have a close relationship and have celebrated together the many successes that Patrick has enjoyed.
The brothers were certainly living it up in the wake of the Chiefs' Super Bowl win over the Philadelphia Eagles in February, but Jackson was trolled viciously on social media, with some Chiefs fans accusing him of trying to share his older brother's limelight.
They both had a similar upbringing and schooling, but when it came to sports, they took different paths. Now, one is the NFL's Most Valuable Player, while the other is a social media influencer with more than a million followers.
The brothers were born to Patrick Mahomes Sr. and Randi Martin. Patrick arrived on September 17, 1995, and Jackson came about five years later, on May 15, 2000.
They both attended the same high school, and while they both showed sporting abilities, they didn't want to follow in the footsteps of their father, who was a professional baseball player.
Patrick had an eye for football, and Jackson, who towers over his older brother, went for basketball. But while Patrick excelled, Jackson didn't show enough talent to make professional sports a career goal.
After high school, Patrick shone while playing at Texas Tech University before being drafted by the Chiefs in 2017.
Jackson graduated in 2022 from the University of Missouri, where he studied marketing, and got praise from his mom when he graduated. "Time flies!! Graduating college!! I'm so very proud of you Jackson!! I love you! 1st in the fam," she tweeted.
While at college, Jackson launched his influencer career and was soon becoming popular on TikTok, as well as growing his fan base on YouTube.
He admitted that having Patrick as his brother, who by then was a big star in the NFL, has helped him on social media. Earlier this year, he said: "Do I use him for clout? No.... I mean I don't necessarily use him for clout, but there are a lot of advantages and I get a lot of opportunities by being his brother, so that's pretty cool."
Speaking on his YouTube channel, Jackson opened up about being the "unathletic" member of the family.
"My whole life, it has been compared to my dad, who was a major league baseball player, my brother's in the NFL, my godfather was a major baseball player and then there's me," he said.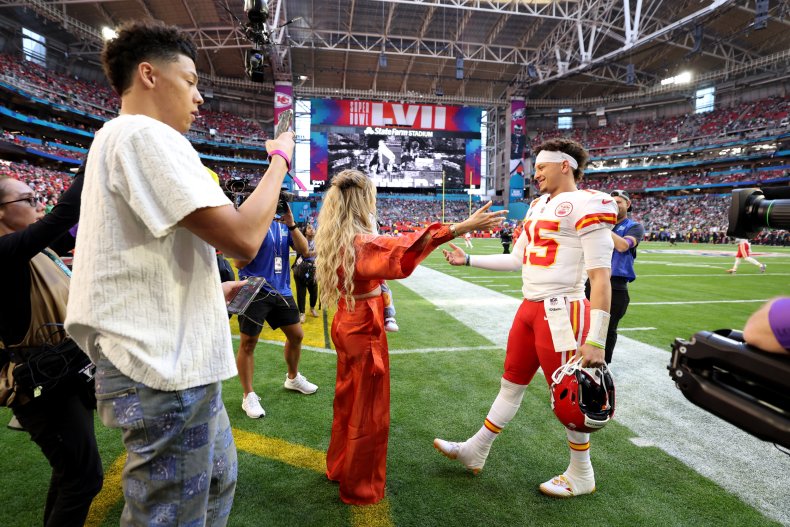 Jackson has since found himself at the center of a few controversies online, with Patrick having to make statements about the incidents.
In September 2022, Jackson caused some consternation over being caught on video pouring water on Ravens fans for heckling him after his brother's team lost.
Speaking to reporters after the game, Patrick said: "Obviously, it's something that we don't want to necessarily do.
"There was things said to him, and [Patrick's wife] Brittany, that you don't see, kind of, on the clip. But, I mean, he's been good at it, at not trying to respond to that stuff. He takes a lot, and he's usually pretty good at it. And he'll learn from it and just try to stay away from those people as best he can."
Since the Super Bowl win, Jackson has been at odds with trolls online. After the game, he made sure he celebrated the Chiefs' victory. He was seen dancing in the background as Patrick gave a TV interview on the field after the game, before producers waved him out of view. Jackson then riled Chiefs fans by dancing onstage, near Patrick, during Kansas City's victory parade for the team.
Do you have a tip on a sports story that Newsweek should be covering? Do you have a question about the Mahomes brothers? Let us know via entertainment@newsweek.com.