Inside Oregon's Tastemaking Pickathon Music Festival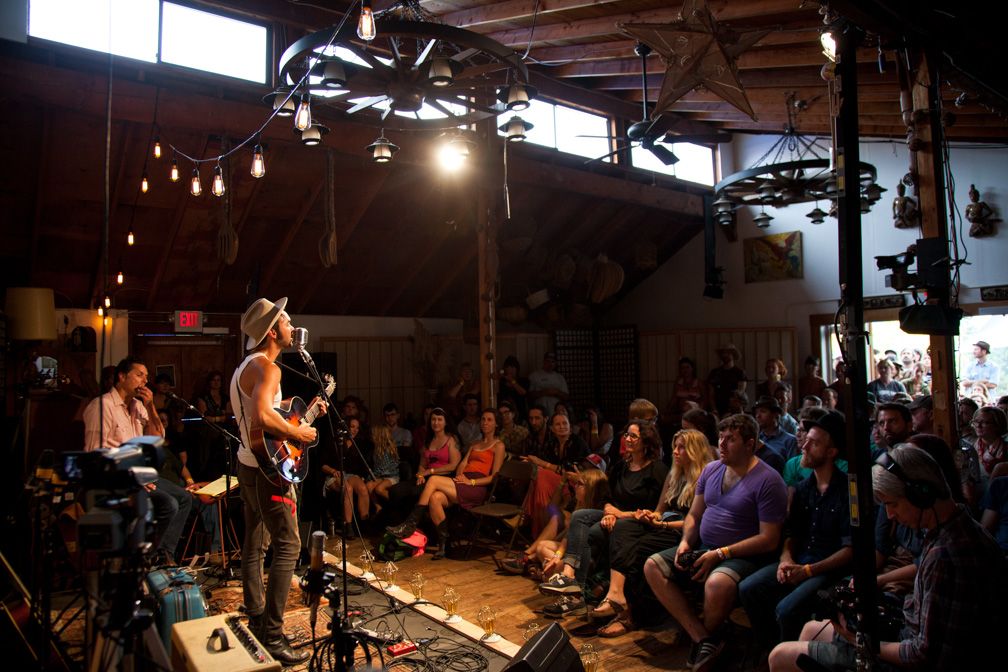 There are no headliners in the lineup for this year's Pickathon Music Festival, held from July 31 to August 2 on a farm in Oregon's Happy Valley. Instead, the bands are listed in alphabetical order, from A Giant Dog to Wolf People. Sure, there are a few moderately well-known acts, like Ty Segall, tUnE-yArDs and DIIV. But they all get equal billing at Pickathon, jostled in among a roster of artists who are practically unknown. For now.
Seventeen years ago, a merry band of music lovers in Portland decided to throw a party for their friends and invite a few bands to play a small venue called Horning's Hideout, a half-hour drive from the city. They weren't thinking about "draw" or making money; it was all in fun. Somehow, that fledgling effort morphed into a full-fledged music festival, one that's become increasingly respected throughout the west as a proving ground for emerging artists. Play Pickathon well, the story goes, and you just might make it big.
You've heard of the Avett Brothers? Shakey Graves? Sturgill Simpson? Future Islands? Chances are you hadn't before they journeyed to Happy Valley and took to one of Pickathon's small stages (one of them is crafted almost entirely from downed tree branches.) How about Whitey Morgan, Sinkane or Weather Station? After this weekend, when they entertain a crowd of 3,500 at the 2015 event, chances are they'll be coming to a larger venue near you in short order.
It's a stretch to give any one music festival too much credit for putting a band on the map. The Avett Brothers were destined for greatness with or without the Oregon endorsement, a word-of-mouth campaign that began after they played Pickathon in 2006 and was renewed when they played again in 2007. And you could never really prove that Shakey Graves (aka Alejandro Rose-Garcia) wouldn't have become the rising star he is now without mesmerizing Pickathon's crowds in 2013 and 2014. But the event has an uncanny knack for picking obscure artists who don't remain obscure for long—one of the reasons Pickathon can afford to cap capacity at 3,500 and ticket prices at $260 for a weekend. The proceeds could never pay for an appearance by Arcade Fire or Kanye, but by scouring the Web and grilling a cadre of bloggers for up-and-coming talent, Pickathon attendees have learned to trust that they'll be treated to a set of bands that are every bit as lovable as the Billboard charters.
"We've had this rule that good music should matter," creator Zale Schoenborn told me in an interview at Pickathon's Portland headquarters in early July.
The festival has been building a track record of smartly curating good music for 17 years. Schoenborn and other festival organizers have, over time, developed a really hard-core network of music lovers, many of them bloggers. When it comes time to put the festival lineup together, Pickathon's founders reach out to everyone they know in search of an artist with a record coming out that year, someone "you know is going to be creatively on fire." He shies away from stars of yesterday, even if that might be an easy way to lure thousands to Happy Valley. That, he suggests, "Is the boring way 95 percent of music is programmed in festivals," he says. "It's super not fun. For us, draw is irrelevant."
The result, for most attendees, is that 80 to 90 percent of the lineup is bands they haven't heard before. "That's crazy for a music festival to approach it that way," Schoenborn says, but it's the Pickathon way. And it only works because the people who attend the festival trust that they're going to see good music. "You have to experience it to believe it," Schoenborn says. "And we have to demonstrate this year after year for people to believe in it."
Schoenborn says he discovered Shakey Graves playing small venues in California and Texas, "making nothing, traveling in his car. I found him through a really obscure blog and started following him." The two met at a show at Bunk Bar in Portland—Graves was the "unknown opener, and he was totally amazing. I knew he was going to be amazing. We hired him for a pittance, but from the second we brought him out that first year he was a big hit."
Graves tells Newsweek that his first Pickathon was "a turning point," not necessarily because Pickathon put him on the map, per se, but because he'd hit something of a rut before landing in Happy Valley. "I had gotten kind of robotic," he says. "My showmanship was playing the same show over and over again, and just kind of delivering the goods. Pickathon reminded me what I set out to do in the first place. I started taking more risks, pulling out songs I would worry were too quiet for a show." Looking back, playing the festival "revitalized me," he says. "After that, when I did get festival offers, I showed up able to kill it, rather than just play it. It made me a better musician; washed all the commercialness off."
After that, Graves played Mississippi Studios, one of Portland's most beloved venues. He returned to Pickathon the following year and then "blew up," Schoenborn says. He played Crystal Ballroom, Newport Folk Festival, and now he's booked for Terminal 5 in New York. He's also playing Lollapalooza, the same weekend as this year's Pickathon.
Schoenborn can rattle off similar trajectories for many other bands, like Sturgill Simpson, Shovels and Rope, Future Islands—and yes, the Avett Brothers. "They were nobody," he says, before a friend suggested Pickathon book the band, which was enjoying some buzz back in their North Carolina hometown, despite being virtually unknown on the West Coast. They played two years in a row, 2006 and 2007, and "by the second year, they were launching into big festival circuits," Schoenborn says. They've since played Bonnaroo, Coachella and Sasquatch, and they have toured arenas nationwide.
This year, Schoenborn predicts a few bands in the Pickathon lineup are on the cusp of stardom. The Turnpike Troubadours of Oklahoma, "completely unknown in most of the country but with every ingredient to blow up nationally"; Mandolin Orange, whose 2013 album This Side of Jordan was dubbed "effortless and beautiful" by NPR; Leon Bridges—"he's going to be ginormous"—and Whitey Morgan, a silver-tongued country singer from Dallas, who's about to release a "killer record," Schoenborn says.
Up-and-comers all, so catch them at Pickathon and you'll one day be able to crow that you knew them when. Or you could wait till they land at Lollapalooza.