Inside the Trauma of Ukraine's Women and Child Refugees
As large numbers of women and children pour across the Ukrainian border into Romania and Poland fleeing the Russian invasion of Ukraine, humanitarian aid workers are relating first-hand accounts of the pain and trauma created by Vladimir Putin's campaign.
For refugee mothers who must explain what is going on to their young children, sometimes honesty is the only answer.
"They feel like they just have to be as honest as they can with their children," Dan Stewart, a communications manager for the international humanitarian aid NGO Save the Children, told Newsweek. "They're telling them that they are under attack and that they're going to have to leave the country for safety."
"One mum told me how she explained to her 4-year-old daughter why they were having to hide in their grandma's basement and what all of the bangs were off in the distance," Stewart, who has been stationed at the Ukrainian-Romanian border providing support to those who have fled the war, said.
It is mostly women and children who are crossing the border to escape the brutal war in Ukraine. Last month, Ukrainian President Volodymyr Zelensky said that martial law was going into effect, and as part of that, all men ages 16 to 60 were banned from leaving the country.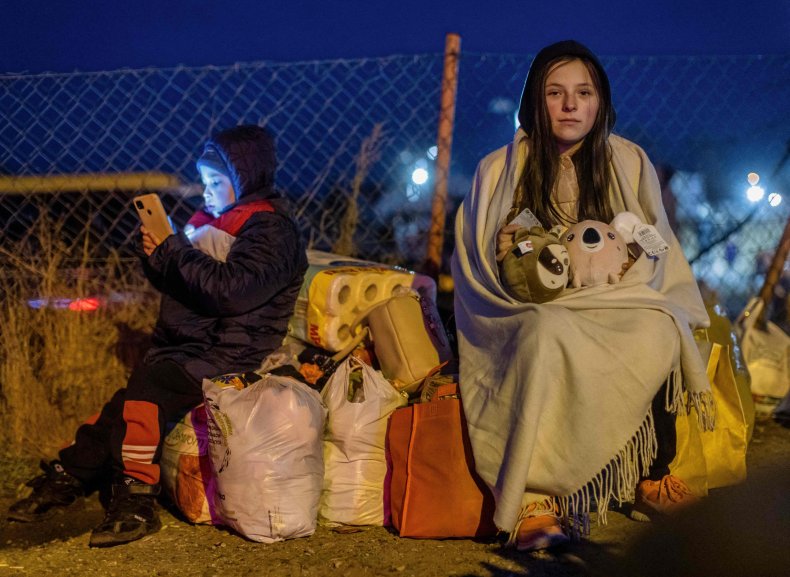 Some of the people Stewart has helped have plans after getting out of Ukraine. They'll go live with family or friends somewhere in the European Union, they tell him. Others show up with no idea of their next steps, just feeling thankful to have made it out. Aid workers with other organizations are hearing similar stories.
But amid all the pain, there have been signs of hope as people come to help the victims of the Russian invasion.
Nancy Dent works as a communications officer with the International Rescue Committee (IRC), a global humanitarian aid NGO. Like Stewart, she has been offering support to those fleeing Putin's war.
Dent said that in her work, which has taken place at the Polish side of the border, she has noticed something remarkable, something that has shown her the good that humanity has to offer, and has given a spark of optimism regarding the state of an uncertain world.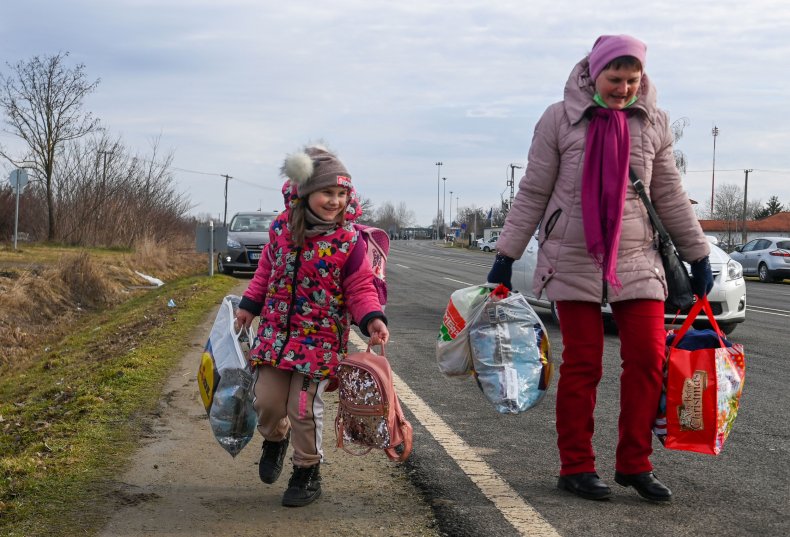 "I think one thing that is quite interesting is the volunteer-led nature of the response," she told Newsweek. "Obviously, we've got NGOs, like the IRC, coming in to bolster that response, but there're lots of volunteers who are there at different points, providing hot food, water, shelter, donations, and baby kits."
"When I was on the plane from Frankfurt and landed in Warsaw, it was a fully-packed plane, and I remember being quite cross because this plane was so full," Dent said. "But I sort of looked around me, and I noticed that people really looked like they were here to do something. One girl had a Ukrainian flag tied around her shoulders. The guy next to me was texting in a WhatsApp group that was just titled 'Help.' And I kind of looked around and got the impression that people were traveling from all over to come and support."
Dent has continued to see an outpouring of support since she arrived in Poland. She has moved to a town closer to the Ukrainian border, and there she has seen a wave of volunteers committed to providing the Ukrainian people with not just essential items but also kindness, a gesture that all too often can become a casualty of war.
Back in Romania, Stewart has also witnessed that sort of healing that can come through interpersonal relationships, and how that process can become a bit less unbearable thanks to a kind gesture from a stranger.
"One mum was really struggling to carry on. She was really getting emotional thinking about the things that she'd left behind and her fear and uncertainty for the future," Stewart told Newsweek. "At that particular moment, her four-year-old daughter came up, and her mum was just telling me how she's scared, but she doesn't comprehend fully. She had just been making friends at our child-friendly space with another girl of about the same age who was also a refugee that they had met that morning. And while their mums were trying to process everything that'd happened, I saw the children were as well, in their own way."