Inside the Trump-Bannon Feud: Science Explains the Meltdown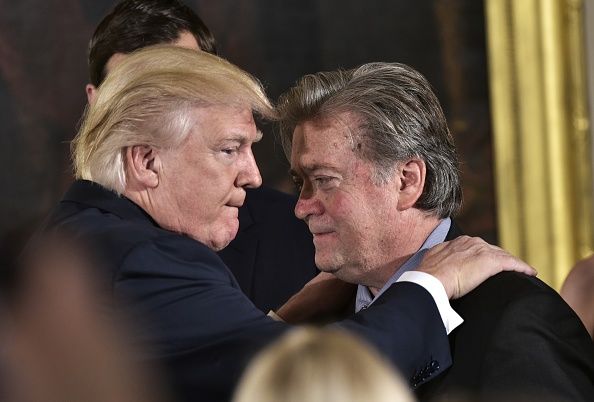 On January 3, New York Magazine published a book excerpt in which former White House chief strategist Stephen Bannon referred to Donald Trump Jr. as potentially "treasonous." President Trump promptly responded with a statement saying Bannon had "lost his mind," according to The New York Times, and denying he'd made any contribution to the administration and wanted to "burn it all down"—the "it" here being America.
Bannon has been a "guiding figure" for Trump, and over the course of Trump's political career the two have become "ideological soulmates," as sources close to the two confirmed to the Washington Post.
"It was a very healthy, highly engaged, intimate relationship that you would expect to see between the person who had just won the presidency and the person who had run the campaign," John Thornton, a former co-worker of Bannon's at Goldman Sachs whom Bannon has described as a "mentor," told the Washington Post. "There's no question he was clearly a central figure helping the president achieve his goals."
Beyond the political turmoil may lie a dynamic familiar to psychologists. Shimul Melwani, an assistant professor of organizational behavior at the University of North Carolina at Chapel Hill, told Newsweek that the current feud illustrates a psychological phenomenon often referred to as "social allergy." When we are exposed to someone's negative behavior for a while, we learn to adjust and normalize, but eventually, after suffering so much repeated, accumulated exposure, "just a tiny bit more" sets off an abrupt explosion.
Despite Trump's threats of legal retaliation, Bannon has said he still supports the president, according to NPR. In familial relationships, Melwani said, loyalty is often enough to overcome such a response; a workplace relationship, though, often can't recover.
"When people lose a workplace relationship because of personal betrayal, they tend to act very deviantly," Melwani told Newsweek. "Against the person [who committed the transgression] but also to the organization. They experience less commitment to the job and become very focused on themselves."
Melwani, who is currently studying friendship dissolution in the workplace, said her research has suggested two main causes. The first, structural loss—less face-to-face time due to a transfer, promotion, etc.—isn't especially applicable here. The second is interpersonal transgression, and the Trump-Bannon feud is a "perfect example," said Melwani.
"Interpersonal transgression comes directly from betrayal, often when someone gossips or says something negative about you, either to your face or to other people," Melwani said. "When people are in a situation where they feel like they're being unfairly treated or they're feeling betrayed, they experience a high appraisal of anger."
According to Melwani, research in this field consistently demonstrates that anger is extaordinarily conducive to "spiraling"—we just get angrier and angrier. Much more than feelings of loss, feelings of anger create the urge to respond with some form of action. And more than any other emotion, anger is associated with aggression and "trying to correct the unfair situation." For some people, this drive can manifest in a positive form, like calmly talking out their issues with the offending party.
"More often than not, trying to correct the 'unfair' situation when you're angry and not seeing things clearly takes the form of saying things that are very hostile, very malicious," Melwani said. "Or tweeting things."
SaveSaveSaveSave
SaveSave
SaveSave
SaveSave
SaveSave