Inside Trump's Virus-hobbled Campaign, Kushner Takes Helm After Parscale Demotion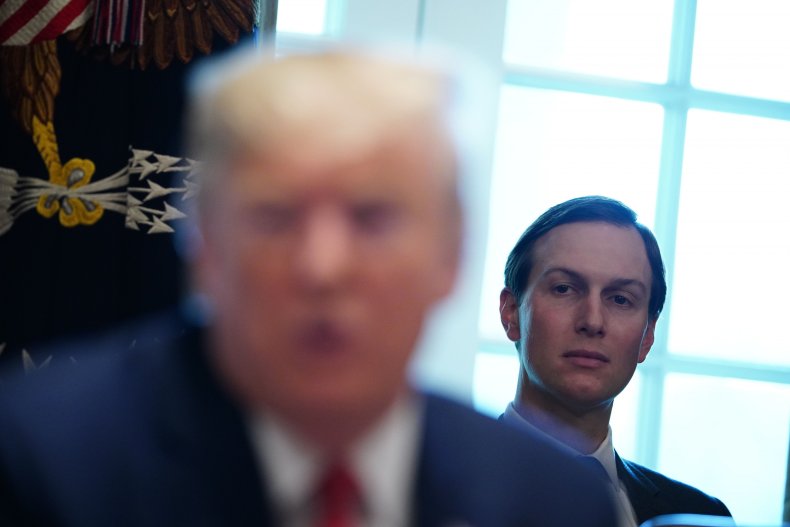 If the first step toward fixing a problem is admitting you have one, the White House took that key step Thursday when it demoted campaign manager Brad Parscale. Many officials in Donald Trump's circle found it odd when he featured himself in an early campaign advertisement, but Parscale didn't lose what one senior administration official called "the mandate of heaven"—Donald Trump's approval—until the disastrous June 20 rally in Tulsa, Oklahoma.
After that day, Parscale began talking more and more with Trump son-in-law and senior adviser Jared Kushner. Kushner's support had been a key reason why Parscale, who ran the 2016 campaign's digital strategy, had been elevated to the top job this time around. But according to the senior official, who requested anonymity in order to speak frankly about internal White House matters, Kushner came to the "reluctant conclusion"—shared by others in the White House and in the campaign—that Parscale lacked the overarching strategic vision needed to run a presidential campaign. "He's better suited focusing on the data and digital side of things, which is what he did brilliantly in '16," says the official.
He was replaced by his deputy on the campaign, Bill Stepien, who had been the White House political director. Stephen is a longtime ally of former New Jersey Governor Chris Christie, and before coming into the administration did not know Trump well. That means Kushner's influence over campaign matters—which was already significant—has increased. The senior administration official tells Newsweek that Kushner now convenes a daily morning meeting with the president and campaign officials. The agenda: get Trump focused on the campaign and what he needs to do to revive it.
The options are limited by the intensifying COVID-19 crisis. Trump has chafed for months at being unable to do the kind of large-scale rallies that fueled his upset win (and buoyed his mood) in 2016. Those are now off the table at least until the end of summer. He's relegated to a Rose Garden strategy, and current and former advisers are telling him that the way to revive his political fortunes is to be seen doing the job of president—and doing it effectively. "It's not so much about a campaign," says Steve Bannon, who ran Trump's 2016 race. "People want to see he's on top of what you're doing in the Oval Office. It's about action, action, action."
Kushner is said to share that sentiment. The question is, what "action" related to the virus can the president now take? In March, after the national lockdown went into place, Trump's numbers briefly went up when he appeared most days in briefings with his coronavirus task force. But those quickly devolved into slanging matches with a press corps he loathes (and which loathes him). The campaign doesn't want to go down that road again.
Trump's advisers reject the idea that they don't have a coherent national strategy to deal with the virus. They say the administration's job is to support the states that need help, because the virus waxes and wanes geographically. "The national strategy is what it's supposed to be: we help the states, facilitate their needs, whether it be PPE [personal protective equipment] or more medical personnel," says the senior official. "And that's what we've been doing."
In fact, that's what Kushner was focused on this past spring and early summer. In mid-June he was cautiously optimistic that the coronavirus crisis was abating, and he started spending more and more time on the campaign. Now, a source close to him concedes, he's been drawn back into issues around the pandemic, including fielding phone calls from governors who need help.
The campaign's dilemma is acute. Trump remains strongly resistant to the idea of renewed widespread lockdowns, even as governors in the new hotspots move that way. The campaign to date has been based on the message that Trump rebuilt the economy once already, after coming to office, and now would do it again. "There's no question he's better equipped to handle the economy, and we'll make that case," says a key campaign official who requested anonymity. But if there is little evidence of economic progress come November, that case may be unconvincing.
That leaves law-and-order as perhaps the last best hope for Trump. The unrest and violence plaguing U.S. cities in the wake of the George Floyd murder gave the campaign an opening. New ads and talking points cast Biden and Democrats as weak on crime and in favor of "defund the police" movements around the country. (Biden has said he does not support defunding the police.) They released one tough ad earlier this month, approved by Kushner, and have a couple of more ready. Internal polls suggest the message is already resonating in the suburbs across the country, where Trump has been lagging badly relative to his 2016 performance. "People are watching this [unrest] and it seems out of control. They're scared," the senior administration official says.
Trump, aides say, is eager to send federal law enforcement into some troubled cities. But here, too, federalism is an issue: governors in several states including Washington, Oregon and New York have said they are not interested in federal law enforcement help. Trump can talk about law and order but what action he might actually take is unclear.
As recently as a month ago, Kushner was optimistic about the campaign, saying there was "an eternity of time" and dismissing polls showing the president trailing as "b.s." Now, aides acknowledge, things have changed. Team Trump knows it has a problem. The challenge now is figuring out a fix—and getting the president to go along with it.