Why Was U.K. Election So Weird? A Muppet, a Bucket and a Fish-Finger All Stood as Candidates
That a man dressed as a giant fish-finger can share the stage with an unfazed Tim Farron, leader of one of Britain's main political parties, is a wonderful quirk of British democracy.
Prime minister Theresa May, a serious and sober woman, spent her evening sharing a platform with a man wearing an enormous black bucket called "Lord Buckethead," who describes himself as an "intergalactic space lord". He battled May for her seat in Maidenhead, hoping to win votes in a strong Conservative constituency.
Viewers around the world were also startled by the appearance of the Muppet character Elmo and a man from the Monster Raving Loony Party — motto: vote for insanity, you know it makes sense — standing shoulder to shoulder with the British PM.
Oddball candidates standing for election has been a quirky feature of the British election process for decades, but who were most bizarre candidates taking on the status-quo in 2017?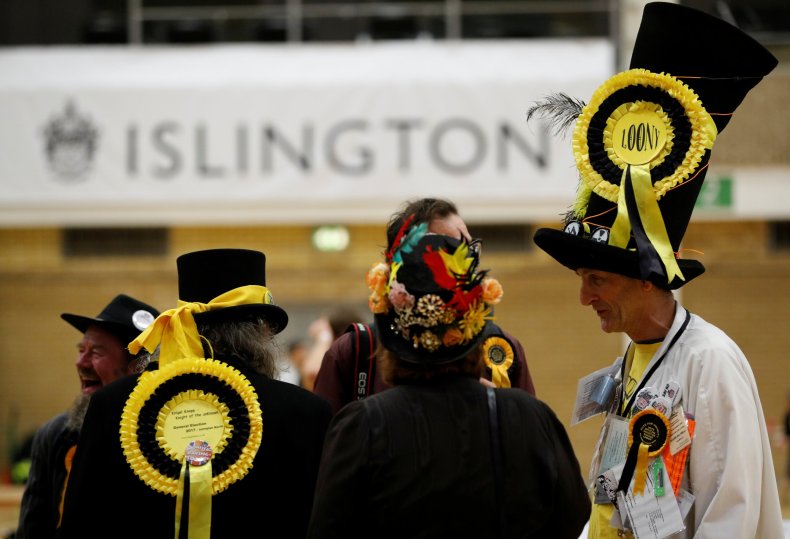 Lord Buckethead
The candidate that raised most eyebrows was Lord Buckethead, who challenged Theresa May in Maidenhead. He seemed to creep closer to Theresa May in every photo shoot, almost as if he knew that appearing in every election photograph with her would be bad for her PR. If she looked tired at the end of election night, it was probably because she spent the evening doing her best to evade the two men dressed like Darth Vader and Elmo.
Lord Buckethead's appearance last night heralded his return to politics after 25 years. He last stood for election in the 1980s, standing in opposition to Margaret Thatcher and John Major and returning this year because "it is 25 years later, and Britain sorely needs effective opposition. So I have returned," according to Buzzfeed. Buckethead took his name from the 1984 film Gremloids and lists "full facial coverings to be kept legal, especially bucket related headgear" as the second point on his manifesto.
He promised a "strong and not entirely stable manifesto" as a take on May's "strong and stable" campaign slogan. Other promises on his manifesto included "A referendum should be held on whether there should be a second referendum on Brexit."
Buckethead delighted everyone by doing the dab onstage, and won 249 votes.
Elmo
Theresa May standing next to Elmo had Stateside viewers adjusting their sets.
The one-man Elmo party was founded by Bobby Smith, fighting for the rights of dads in Britain. Smith's mother Sheila commandeers the Elmo costume, while Smith pledges to reform the family courts to regain access to his daughters.
By now a familiar character at elections, this year was his third election attempt. Smith stood against previous conservative prime minister David Cameron in Witney, Oxfordshire in 2015, and in a Sheffield by-election last year.
The name Elmo is a portmanteau of his daughters' names, he said.
Monster Raving Loony Party
Founded in 1982, and headed up by Howling Laud Hope, the Monster Raving Loony Party exists purely to lampoon British politics.
Hope has stood in 25 elections since 1983, and lists "removing letters from the alphabet" as a key campaign target in his manifesto. He pledged to cut the letters NHS from the alphabet, protesting against the Conservatives' cuts to Britain's free health service.
Laud said his party "very rarely comes last" which was certainly the case this year: MRLP received 3,890 votes, ahead of the Women's Equality Party and the Pirate Party.
Key takeaways from the MRLP's manifesto include suggestions that all taxpayers receive Nectar Points [store card points] from HMRC [tax office], replacing the Trident nuclear missile program with a three-pronged fork, and proposed changing the English "three lions" symbol to three badgers: "How often do you see lions running round the countryside?"
Perhaps his strongest pledge: " We will nationalise crime to make sure it doesn't pay."
Mr Fishfinger
As the leader of the Liberal Democrats, Tim Farron, began his speech about the dark times that lay ahead, a man who legally changed his name to Mr Fishfinger, stood behind him, visibly making faces.
Farron's fishy rival decided to run in the election after doing a quick Twitter poll, where he learned respondents would rather be ruled by a frozen fish finger than Farron. Motivated, he changed his name to Mr Fishfinger and began his battle against Farron in the Westmorland and Lonsdale Seat. He received 309 votes compared to Farron's 23,686, a win by 777 votes.
His "manifishto" included providing free fishing rods for students, free fish for NHS workers and unrestricted fish migration.
He also stated how he "intends to swim against the stream by stamping out council waste and inefficiency. And eat more fish fingers." Mr Fish Finger was at pains to point out that he is "not a supporter of quotas. Except fishing quotas, that is." However, his 'manifishto' stance on education is a little vague. "Schools. Very important. Very important indeed."
Other parties promising obscure things include the "Young People's Party" which wants to legalize drugs and brothels, and the Animal Welfare Party which promotes "plant-based diets."