Inside Yo La Tengo's Eclectic, Covers-Heavy New Album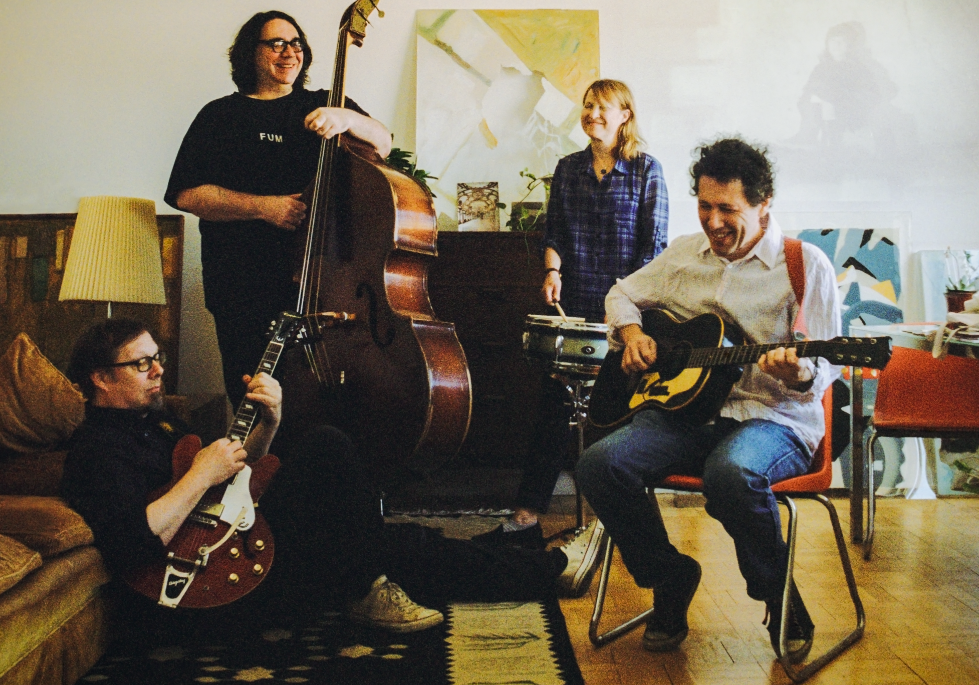 For years, Yo La Tengo has filled its expansive shows with eclectic covers and reinterpretations of original songs from the band's own back catalogue.
The indie-rock godparents of Hoboken, New Jersey are now bringing that spirit to the studio. On Stuff Like That There, Yo La Tengo's forthcoming 14th album, the group takes on a curious assortment of covers—artists ranging from The Cure to Hank Williams, as well as new originals and several reinterpretations of old originals. It's a subdued affair, shorn of vocalist/guitarist Ira Kaplan's familiar feedback lurches, and it's being presented as a sequel to the similarly organized Fakebook, which turns 25 this year. (To that effect, Yo La Tengo reunited with former member Dave Schramm, who played on Fakebook.)
Ira Kaplan, who plays in the trio with his wife Georgia Hubley (drums, vocals) and James McNew (bass), called Newsweek to discuss Yo La Tengo's relationship with the songs, artists and spirals of influence that make up the new record.
"Friday I'm In Love" (originally by The Cure)
Ira Kaplan: "Years ago, the year that The Onion wrote that article about us with the collapse at the club killing people, they asked us to perform at their Christmas party in New York. They started telling us the money they had available to pay us and we said the money is less important—what we really want is if you'll help us reenact that article. It took some convincing. The difference was we wanted to be killed instead of people in the audience. So they ended up getting very enthusiastic, setting up fake rigging on the stage and at a certain point the lights flickered and the equipment went off and all these fake speakers fell from the rafters and landed on us, killing us, and we were carried off on stretchers.
"But that night we did 'Friday I'm In Love,' and it seemed like a good party song and that was it. We didn't play it again until one day we were on a radio show in London and got asked to take audience requests, and one of them was for 'Friday I'm In Love,' which we didn't exactly remember—we had to kind of teach it to ourselves again...
"I loved when [The Cure] first started, those initial singles. Not quite 'Killing an Arab' as much as 'Boys Don't Cry' and 'Jumping Someone Else's Train.' I loved those songs and I loved the Three Imaginary Boys record. I kind of quickly stopped listening to them when the singles got less poppy. When the singles got poppy again, I became a fan of all those songs."
"I'm So Lonesome I Could Cry" (originally by Hank Williams)
Ira: "'I'm So Lonesome I Could Cry' we've played from time to time for over 20 years....I know we did it in '94 when we opened for Johnny Cash. It's possible that we did it before, but I don't remember. I'm not sure he [Johnny Cash] heard that song specifically. James [McNew, bassist] has a recollection of looking up at one of the shows and seeing Johnny watching us from the wings and almost dropping his bass."
"I Can Feel the Ice Melting" (originally by The Parliaments)
Ira: "All the records they did as The Parliaments before dropping the 'S,' those were great songs, great singles. It was something we wanted to try [to see] what it would sound like taking the song out of context and trying to do it in a different way.
"When we started doing these acoustic shows—just Georgia and I—a long time ago, there were a couple of doo-wop-era songs that we used to play that were never captured for all eternity on record. We like so much stuff. When we put the songs together, we recorded 22 songs and figured out which ones would go on the record. We want the songs to cross genre. I don't think we would want to do a record of 14 doo-wop-era songs or 14 songs from the early '90s or something. We like the idea that The Parliaments and Great Plains are sitting across one album flip from each other."
"Somebody's In Love" (originally by The Cosmic Rays with Sun Ra and His Arkestra)
Ira: "We made a 45 of 'Rocket Number Nine' as well. There's so much of [Sun Ra's music] to choose from. I actually know exactly the night we did ['Somebody's in Love'] for the first time. We did it at the 9:30 Club. We drove to the show in separate cars. I can't remember why. I was driving by myself, and Georgia and James were traveling some other way. I was listening to the Sun Ra 'Singles' collection on the way down. That song came on. 'We should maybe give that a shot tonight!'
"So I just kept hitting rewind, trying to memorize the lyrics as best I could. Just be prepared to make a solid presentation to the group when I arrived at the 9:30 Club. There's not a ton of songs where the three of us sing in three-part harmony throughout the song. We've done that one quite a bit over the years. It makes a good encore."
"Butchie's Tune (originally by The Lovin' Spoonful)
Ira: "That's a more recent one for us. We did that while we were touring behind [2013 album] Fade. Joe Butler's voice is so low, and we thought it would be nice to hear what it would sound like if Georgia sang that song. It's a beautiful song."
"Before We Stopped to Think" (originally by Great Plains)
Ira: "That's another one we had done over the years. Not often and not recently, but at a certain point we learned that song. I think that was one that James suggested bringing back, and we tried and liked it. Our version is extremely different from their version. We played with them [Great Plains] quite a few times over the years. In fact, I think I booked their first New York show at Folk City. My friend Michael Hill and I did a weekly series for more than a year, and Great Plains played at that."
"My Heart's Not In It" (originally by Darlene McCrea)
Ira: "We obviously like the song—otherwise it wouldn't really be on our radar—but mostly we like the way we do it. A lot of times we'll hear a song and just kind of think, 'Oh wow, that'd be great if Georgia sang that song.' Or 'Here's a song that doesn't have harmony in it that might sound nice with a harmony.' It ends up being that we like the angle that we can take on the song. One thing that's a tricky aspect to a record like this is that even though we certainly feel very positively about all of the songs, it's not like a tribute to our favorite songs. [With] many of the artists, there's probably songs that I would pick as liking more than the song that we decided to cover."
"The Ballad of Red Buckets" (originally on Yo La Tengo's Electr-O-Pura)
Ira: "We started doing certain songs when we were on the Fade tour; that was one of them. We were doing it where I was playing the bass notes on electric piano. I think we've done it electric closer to the Electr-O-Pura version. Georgia had started singing on it a long time ago. It's been a long time since we've done it any other way."
"Deeper Into Movies" (originally on Yo La Tengo's I Can Hear the Heart Beating As One)
Ira: "The appeal is to take away one of the defining elements of a song or the defining elements of a song and see how it changes. When we were touring on Fade, we were doing one quiet set and a loud set. There were quite a few songs that could be in either set. 'Big Day Coming'—we have three different versions of that song. From the very beginning we've been interested in not having a song go any single way but being open to trying different ways. In the case of the Fade tour, the first set we did, we were set up a certain way. Georgia and I both had keyboards on stage. And even that very aspect lent to some songs being played differently. We thought, 'Oh, we should take advantage of these instruments.'
"And in the case of 'Deeper Into Movies,' it probably is traced back to our [2007–09] 'Freewheeling' Yo La Tengo shows. It's sort of similar format-wise, except Dave Schramm's not there, but I'm playing acoustic guitar, Georgia's got just a little drumset and James is playing electric bass. Mostly, we talk to the audience. We get questions and let those questions steer us to a song. Almost invariably, we would be doing an impromptu arrangement of a song that is played a different way. At some point, I'm sure we tried 'Deeper Into Movies' that way—quiet, bringing out Georgia and my singing. It seemed like something we wanted to hear again for this record."
"All Your Secrets" (originally on Yo La Tengo's Popular Songs)
Ira: "We like the idea of surprising people. There's a lot more of a harmony between me and Georgia in that song. On Popular Songs, that's more of a keyboard song. We just wanted to hear what it would sound like if we played it a different way. We did another song from the 2000s that we haven't figured out what to do with yet. There's eight outtakes from this record."