Insider Ted Cruz Embraces the Conservative Outcasts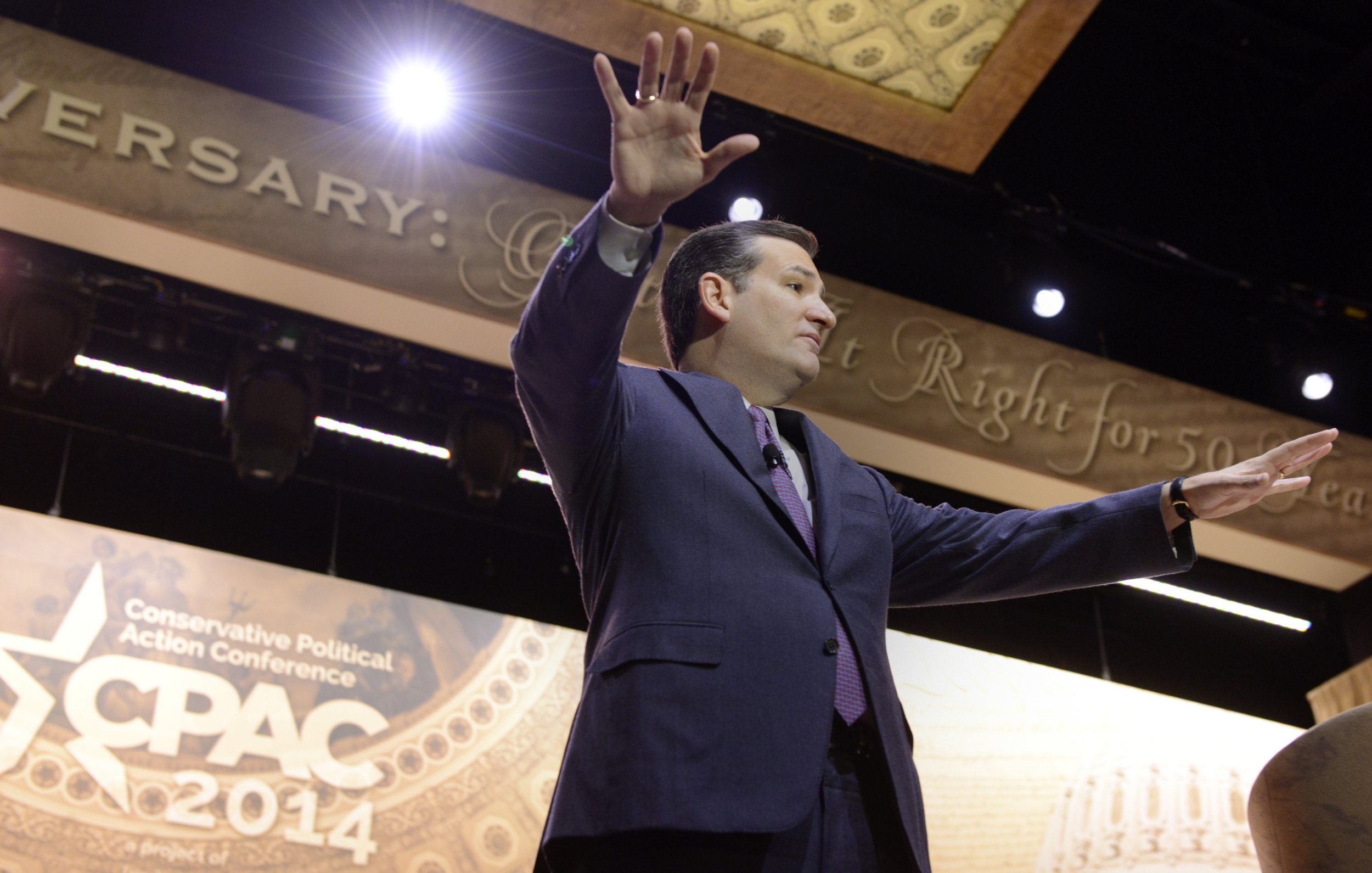 National Harbor, Maryland - Senator Ted Cruz, the tea party rock star from Texas, had a busy day Thursday. At 9 a.m., he addressed adoring fans at the Conservative Political Action Conference, an annual event outside of Washington, D.C.where passionate conservatives converge to listen to the heroes of the conservative movement.
In addition to politicians and activists there are panels on topics like "The American Dream vs. The Obama Nightmare: Income Inequality," and receptions with seductive titles like, "Celebrating American Entrepreneurship: Reception with Donald Trump."
But Cruz had another group of fans waiting to hear from him. A little after noon, Cruz delivered a nearly 40-minute stemwinder attacking President Obama's foreign policy, delivered to a group whose concerns are not often aired at CPAC.
The Obama administration is "hiding behind diplomatic babble" when the world needs another Ronald Reagan, Cruz told the second crowd. "Tear down this wall," he said, quoting Reagan, to thunderous applause.
Cruz was speaking to a group of foreign policy hawks, many preoccupied with worrying about what they believe to be members of the Muslim Brotherhood inside the U.S. government. These activists say CPAC has become too liberal and shut out important foreign policy voices.
So they organized their own conference, attended by those not welcome at CPAC or not given a prominent enough speaking role there. They've dubbed their fringe event "Uninvited II."
This year's CPAC, a three-day affair hosted by the American Conservative Union (ACU), is at the Gaylord National Resort and Convention Center, a massive complex overlooking the Potomac River. Down the street, at the far less luxurious Westin, is the "National Security Action Conference."
"Conservatives – and Americans more generally – must be informed about the various international challenges confronting the United States Thursday and in the years to come, and what we can do to address them," said Frank Gaffney, the event's moderator, a "birther" known for questioning where President Obama was born and doubting the president's religion.
"The National Security Action Conference is a much-needed corrective to the failure of CPAC to cover such topics," he said.
The topics in question include a panel on the Muslim Brotherhood, another on "Amnesty and Open Borders," a third on "Benghazigate: The Ugly Truth and Coverup," after which Ginni Thomas, wife of Supreme Court Justice Clarence Thomas and a conservative activist, asked whether the Obama administration had broken the law by providing material support to terrorists. The panelists thought it probably had.
In addition, the conference featured star tea party speakers, including Representatives Steve King, R-Iowa, and Louie Gohmert, R-Texas. And of course the biggest tea party star of them all, Ted Cruz.
This isn't the first year these foreign policy renegades have gathered to form their own alternative CPAC. But it's the first time they've offered an all-day counter-conference. This year it's hosted jointly by the conservative Breitbart News Network and a group called EMPact America, which raises awareness about the possibility of an electromagnetic pulse attack on America.
Gaffney runs the Center for Security Policy and raises alarm bells about the influence of Islam in American politics. This has led to a long-simmering feud between him and anti-tax evangelist Grover Norquist, an ACU board member and CPAC panelist.
"Grover Norquist is credentialing the perpetrators of this Muslim Brotherhood influence operation," Gaffney wrote in 2011. "We are in a war. And he has been working with the enemy for over a decade."
Gaffney's accusations got him banned from CPAC in 2011. Since then he has been trying to get Norquist and another ACU board member, Suhail Khan, kicked out of CPAC.
Gaffney's event didn't have the flash of CPAC, where music blares in the main ballroom between the short and sweet well presented speeches. At the Westin the program was running at least 30 minutes behind. At CPAC, thousands of attendees fan out over much of the massive resort. The "Uninvited" event crammed about 100 people in one room.
Cruz, a potential 2016 presidential candidate, both embraced and backed away from his renegade hosts. He embraced Gaffney as "my dear friend" and an "incredible voice for strength and principle."
But he was careful to make his own foreign policy views both vague and beyond reproach.
"Why are folks here and not at CPAC?" Cruz asked the conservative contras. When conservatives are in doubt, they appeal to the ghost of Reagan.
The GOP, Cruz said, is on a spectrum that stretched from the libertarian Rand Paul and neoconservative John McCain. "I would note, with respect, my views are very much the views of Ronald Reagan, which I would suggest is a third point on the triangle," he said.