How to Spend a Perfect Day in Tokyo
The authors of 'Tokyo Pocket Precincts' give us the lowdown on where to eat, shop, party and more in the Japanese metropolis.
Tokyo is a place of eye-popping fashion, incredible food, animal cafes, hole-in-the-wall bars and train stations as big as city blocks. There are towering buildings with neon signs next to warren-like alleys full of tiny, old-world eateries and the shopping is dangerous! You'll be cramming your bags with toys, the latest gadgets, homewares and beautiful crafts. There is so much to love here, and we hope you'll uncover your own treasured places.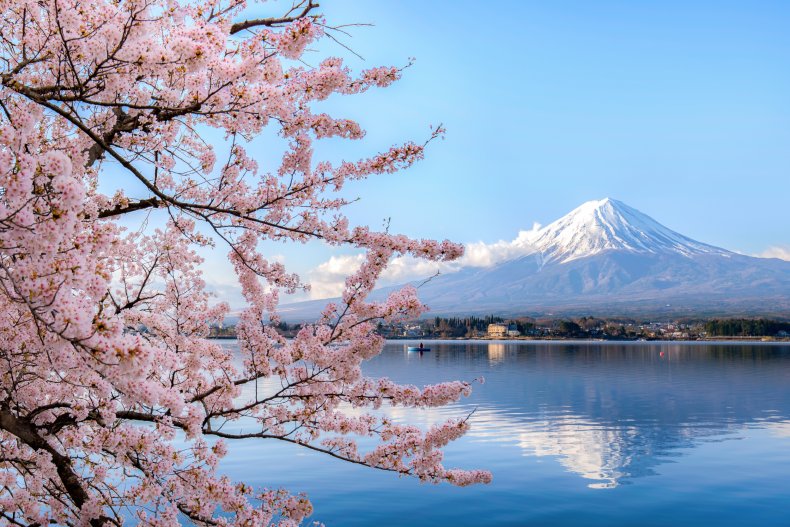 Tokyo is a gigantic metropolis made up of smaller cities, each with their own unique feel. If you tackle Tokyo one part at a time, you'll get a handle on it quickly. Our new book, Tokyo Pocket Precincts ($14.99, Hardie Grant Books), offers a guide to 15 of Tokyo's best precincts, and we've picked our absolute favorite neighborhoods for you to dip in and begin exploring below.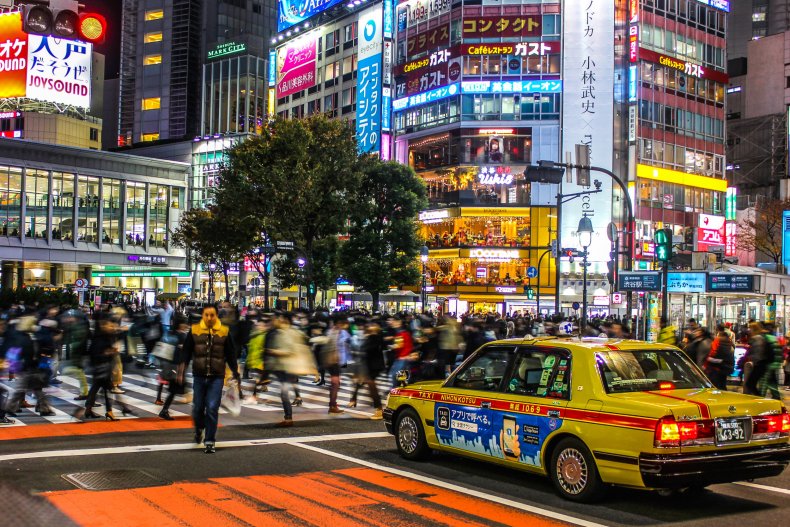 Newsweek subscription offers >
This is our personal take on the city, which we hope you can use as a springboard for your own adventures. In the book itself, we've included train station exit information for each place and useful maps at the back to help you find your way. (It's easy to get lost). You'll also find some handy tips on navigating Tokyo, local etiquette, food, drinks and more travel tips.
Once you get your bearings, there's no end to the amazing shopping and eating, friendly people and unforgettable adventures. There is simply no other place in the world like Tokyo, and we hope you love it as much as we do.
A Perfect Tokyo Day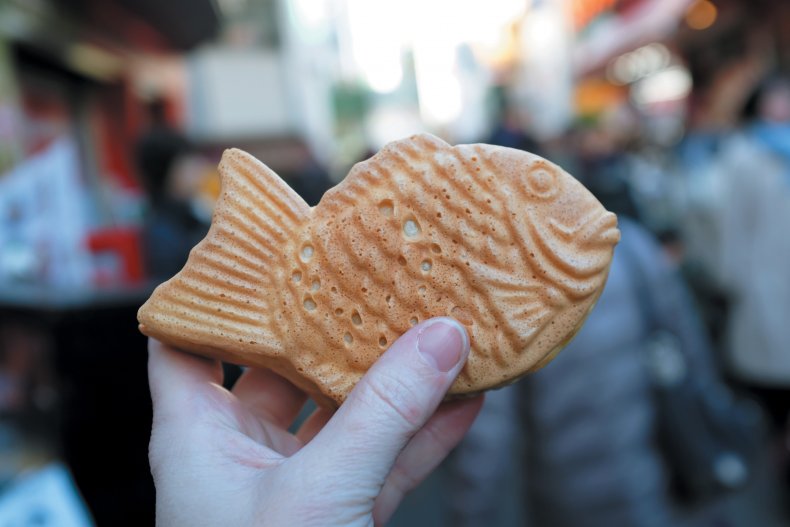 Newsweek subscription offers >
There are hundreds of perfect Tokyo days. Sometimes an unplanned day, just drifting off the grid, is amazing.
Up early? Head to Yoyogi Park for a jog and visit the Meiji Shrine to start off the day in a spiritual way. The shrine opens at 5am, magical as the sun creeps through the clouds. Shibuya's shopping is unmissable for the latest fashion, music, gadgets, homewares and general trends. Loft, Tokyu Hands and Hikarie ShinQs will satisfy the most hardcore shopper.
Stroll along Cat Street, browsing small boutiques and vintage fashion, before emerging onto bustling Omotesando Dori. A delicious tonkatsu (deep-friend pork cutlet) lunch awaits at Maisen, and nearby Koffee Mameya serves up some of the city's best brews. Head up to Harajuku with its swarming crowds and arresting fashions, or down to Aoyama for art and design at Spiral Design Market, and some of the world's finest retail architecture including Prada, and Comme des Garçons. Pop into Higashiya Man for wagashi (Japanese sweets), before making your way down to the serene Nezu Museum.
Lose yourself in the beauty and old-world charm of Yanaka before a stroll though Ueno Park or a ride on one of the famous swan boats on Shinobazu Pond. Head to Meguro and stroll through the beautiful building and gardens of the Tokyo Metropolitan Teien Art Museum.
For a breezy afternoon head to Kichijoji. Explore the design and vintage stores in Nakamichi Dori and the market stalls of the Sun Road Arcade. Then, wander over to peaceful Inokashira Park, and the joyful Ghibli Museum. As the light fades, head to Roppongi and ride the elevator to the top of the Mori Tower to catch an exhibition at the Mori Art Museum and stunning dusk views of the city.
As hunger sets in, head to Ebisu, get amongst the salary men and fill up on beer, ramen or yakitori. Koenji's Live Houses will cap off your perfect day. Sit back with a beer and listen to some edgy music.
Shibuya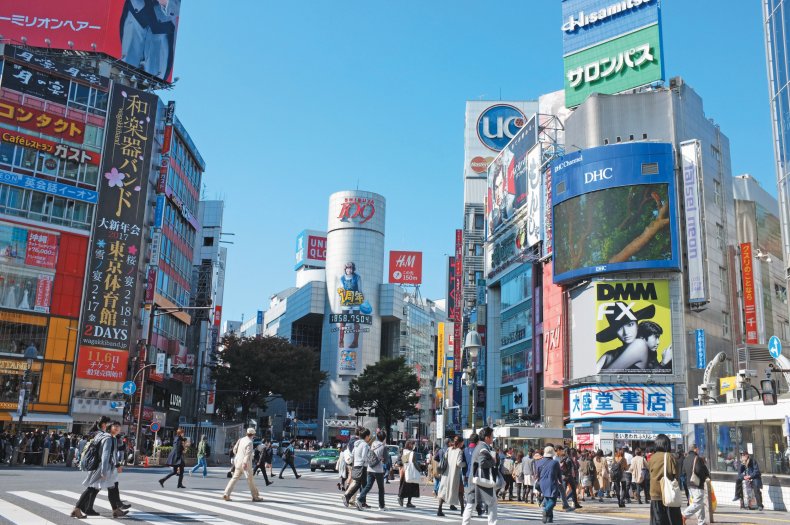 With its flashing neon lights, giant TV screens and chaotic crowds, Shibuya is an up-late precinct with a serious shopping addiction, where worldwide trends, youth fashion and lifestyles are born. Shibuya Station's Hachiko Square serves as a jump-off point for exploring.
To the west, you'll find everything from seedy love hotels and games parlors to some of the world's best music venues, blockbuster art and oh, did we mention serious shopping?
To the east, chic department store, Hikarie ShinQs, has brought a calm and refined air to the madness. A stroll down languid Cat Street towards Harajuku changes the pace even more. As the TV screens and noise fall away you'll also discover a thriving network of backstreets, where coffee stands seem to sprout daily and vintage stores and edgy new fashion boutiques sit alongside Tokyo stalwarts.
Shibuya Shopping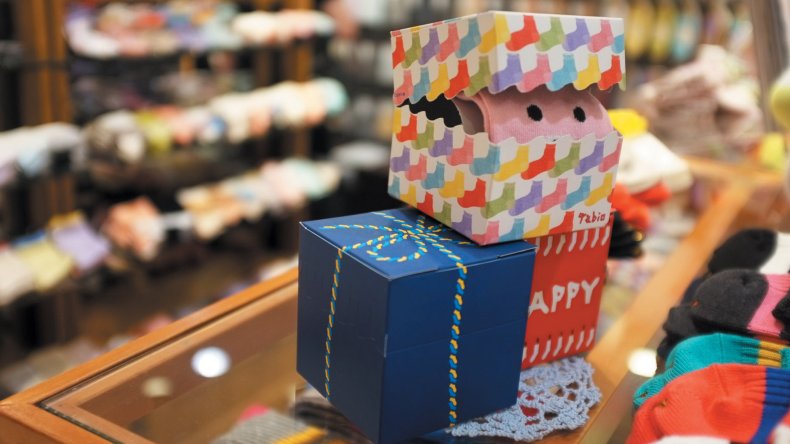 Shibuya station, Hachiko exit
Shibuya can keep even the most savvy shopper occupied for days. A good place to start is at the Shibuya 109 building, an absolute fashion mecca, especially for the younger set. Newcomer Modi offers a mix of Japanese fashion and lifestyle brands, including HMV music and books (complete with an English section). Also check out bespoke Kimono shop The Yard, the great range of organic cosmetics at CosmeKitchen, and stop for a drink at Streamer Coffee Company on the sixth floor.
Across the road you'll find the brightly colored retro futurism of Tower Records, a musical playground set over nine floors. Jinnan is a cool enclave with casual chic fashion stores such as Beams (note: Beams Boy is actually a boyish girl's label), Journal Standard and United Arrows. Tokyu Hands is a famous lifestyle megastore, while conjoined stores Muji and Loft have inspiring homewares, stationery and everyday goods. Scour this area for amazing new and vintage records, toys, manga and figurines.
Koenji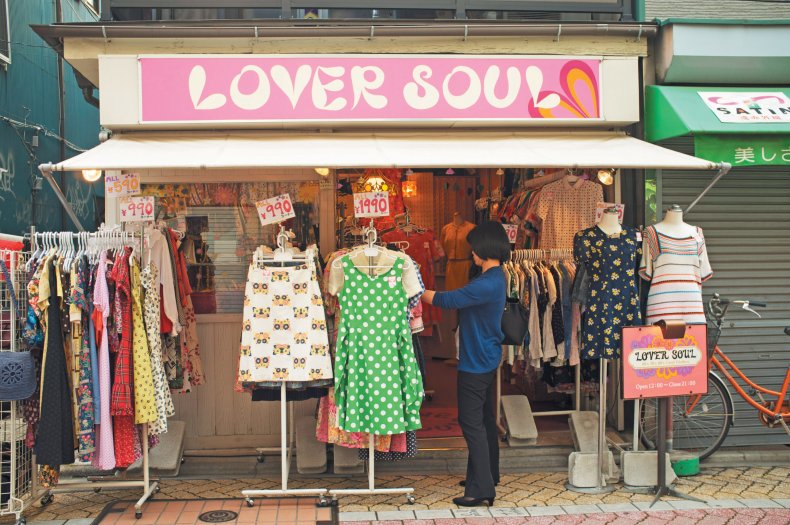 Largely unaffected by WWII bombings and the construction frenzy of the 1980s, Koenji has the charming look and feel of pre-boom Japan. Its relaxed atmosphere hides a swirling youth undercurrent, and Koenji's late-night bars and 'live houses' (live-music venues) generate a vibrant music scene. There are also more than 70 vintage stores on Koenji's crisscross network of streets, making it a great place to spend the day trawling for retro gear.
Take a coffee break along the way: Koenji has some of Tokyo's most unique cafes. Ramen and yakitori joints crowd the streets around the station, and you'll find some of Tokyo's most creative types playing up a storm in tiny, hidden bars late at night
Live Houses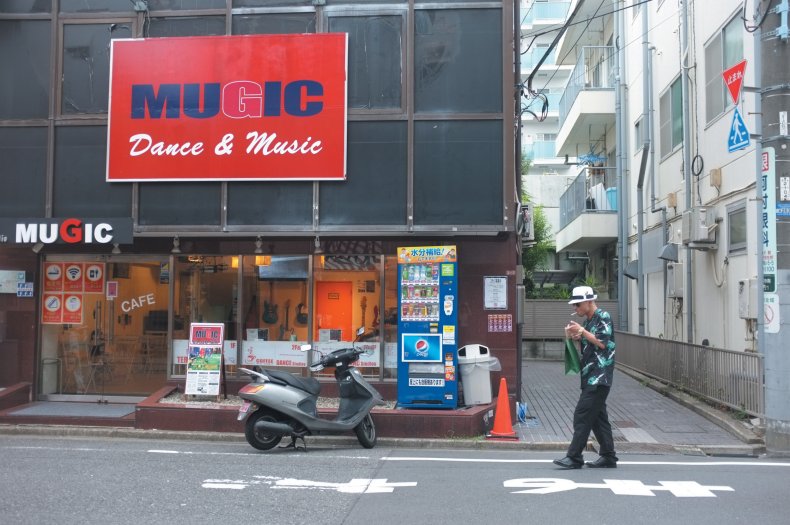 Koenji is well known for its live houses—underground dive bars and music obsessed watering holes where bands sweat it out on small stages, giving their all for punters who enthusiastically swill booze and immerse themselves in the sounds. Punk, electronica, jazz fusion, progressive metal, jingly-jangly cute pop, jingly jangly cute pop metal—it's all on display (and changes dramatically from one day to the next in different venues).
You won't know what you're getting, but you know it will be great, or at the very least an experience! Popular joints include Koenji High, UFO Club, 20,000 Den Atsu, Penguin House, Sound Studio Dom and Muryoko Muzenji.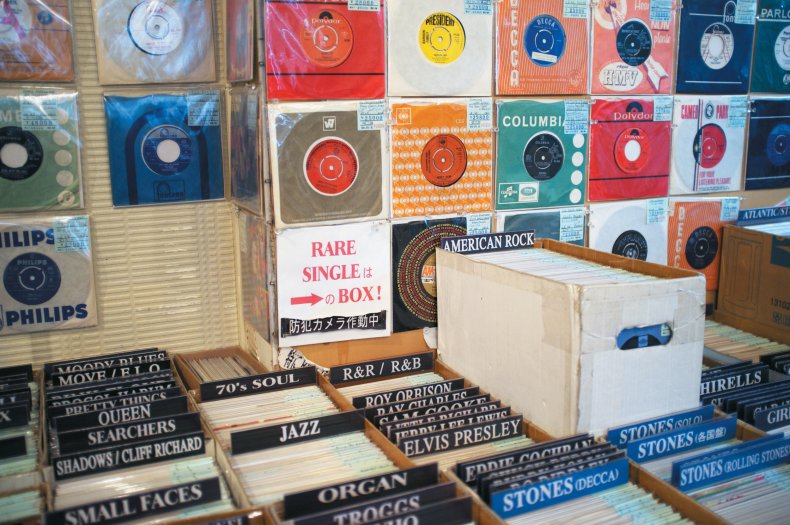 Be-In Records
2F, 3-57-8 Koenji, Suginami-ku 3316 3700
Open Mon–Sun 12.30pm–8.30pm
Koenji station
Be-In Records is a treasure trove of collectible vinyl, a haven for the obsessive fan of first releases and test pressings. Music aficionados will have a minor meltdown here as they madly rifle through the amazing collection (Beatles and Stones fans, in particular, will be in seventh heaven). When they finally raise their heads, hours will have past, food will be needed and bored partners will be long gone. Boxes crammed with records take up most of the room; there's barely space to squeeze between them, but true music lovers won't be bothered by that.
Most genres are covered, including rock, pop, punk, R&B, soul, jazz and heavy metal, plus psych, garage and '60s freakbeat. (There's plenty of indie music, as well.) Prices for the premium products can definitely be on the steep side, but serious collectors shouldn't mind paying. And for music buffs with limited funds, there are still some great affordable finds amongst the impressive range.
Vintage Shopping in Koenji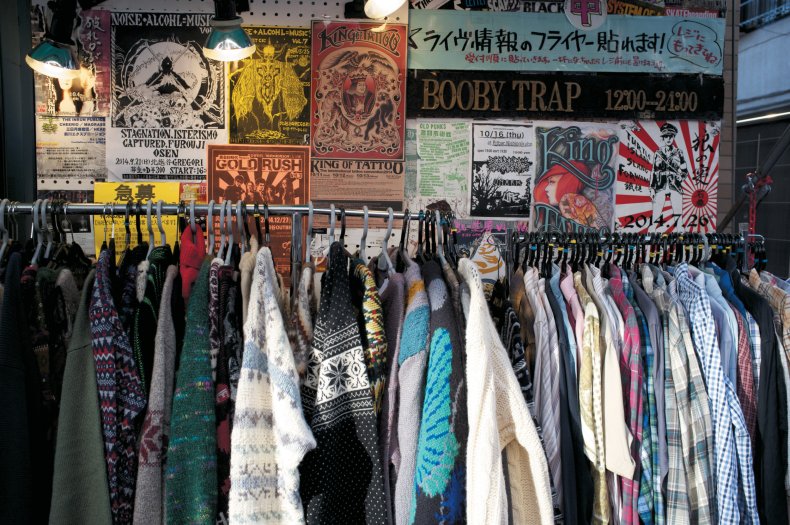 Koenji station, south exit
Vintage hunters beware: you'll be hyperventilating on every street corner in this pre-loved paradise. If you want to dress like Jagger, swing in '60s London gear, groove like a San Francisco hippie or put your hands in the air at a '90s rave, someone in Koenji will have your subculture covered. At last count there were over 70 vintage stores in this small precinct, with a staggering diversity. And it's not just clothes either. If you are looking for that Raggedy Ann doll to add to your collection, a classic Pyrex mug or a Beatles test pressing, we'll be surprised if you don't come up trumps.
The best way to tackle shopping in Koenji is to set a few hours aside and just wander, popping into stores as you come across them. Look Street and Central Road are good places to start. Most importantly, remember to look up, as many stores are on the second and third floors. Side streets and alleyways are also worth peering down in search of an alluring sign.
Ueno, Asakusa and Yanaka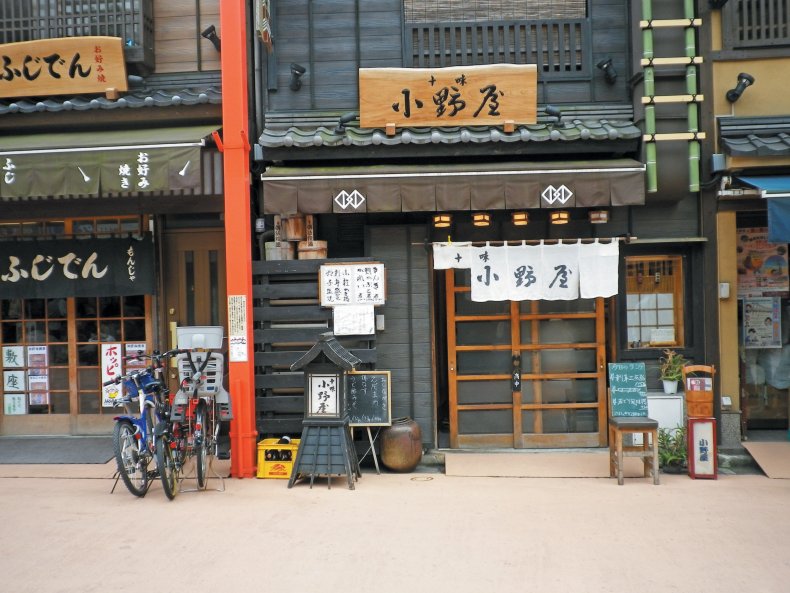 If you're after a taste of traditional Japan, head to Asakusa, whose temples and shrines give an impressive glimpse into the beauty of old Japan. It's also a tourist mecca where traditional Japanese culture meets contemporary madness. Grab a grilled octopus tentacle on a stick and fire up your camera—photo opportunities are everywhere here, from the majestic temple Senso‑ji to the towering new kid on the block, the Tokyo Skytree building.
The streets and walkways are dotted with long-standing eateries, specialist snack stands and established souvenir shops. The surrounding areas of Ueno and Yanaka are rich with history and have some of the finest museums, parks and traditional paper stores in the city.
Kappabashi-dori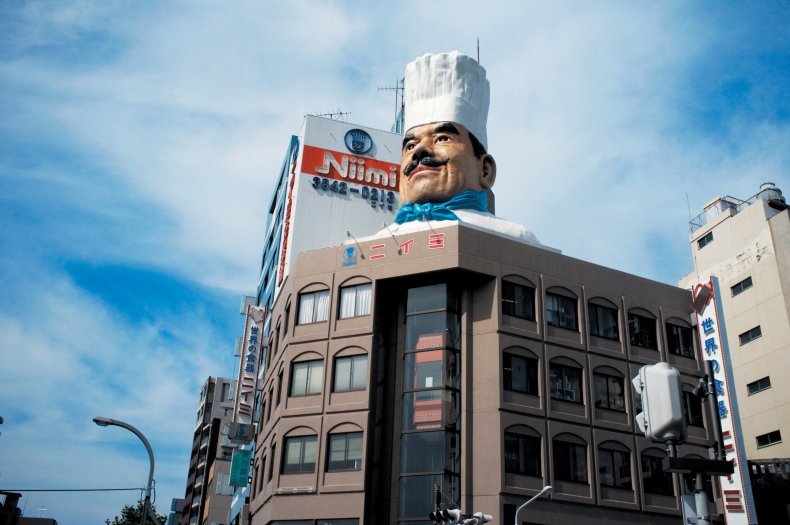 Between Asakusa and Ueno stations, Tawaramachi station, exit 3
The thoroughfare of Kappabashi-dori will "cater" to your every need: Look up to see the giant chef's head with the perfectly coiffured mustache and you'll know you're entering the biggest cookware market in the world. Tokyo has some 80,000 restaurants, and this is where their chefs shop. Each shop has a mind-boggling array of ceramics, cutlery, crockery, utensils, chopsticks, chef uniforms, tableware and everything else relating to the art (or business) of cooking.
Make sure you check out the famous sampuru (from the English word 'sample') – the plastic display food that adorns the windows of many Japanese restaurants. Like '70s frozen moments, sampuru range from the functional to the fabulous, the comical to the disturbing – they're like little bits of pop art and make for interesting souvenirs. Now's the time to start your obsession for Japanese home cooking. At the very least you'll find some pretty things to beautify your home.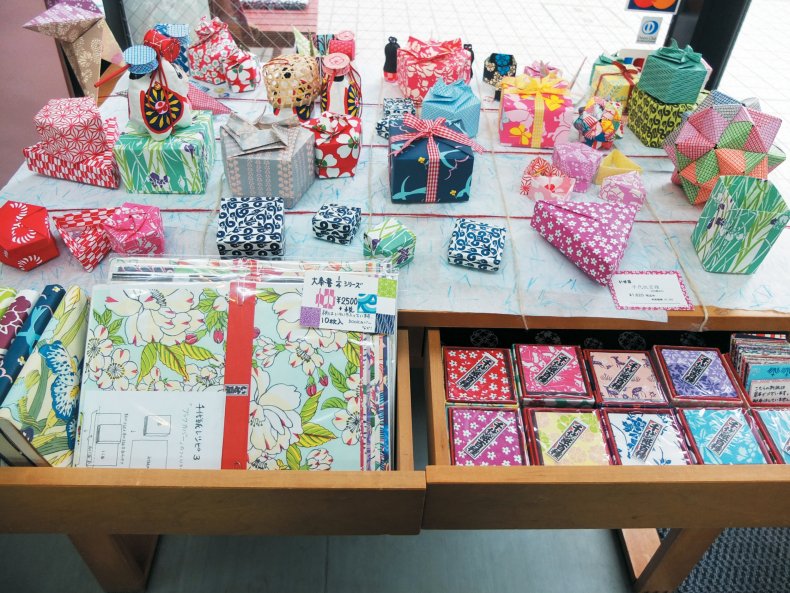 Isetatsu
2-18-9 Yanaka, Taito-ku 3823 1453
Open Mon–Sun 11am–7pm
Sendagi station, exit 1
Established in 1864, Isetatsu is still owned and run by the same family, now in its fifth generation. It's actually two beautiful stores just a few doors away from each other, which use traditional methods to make chiyogami (wood-block-printed paper). Paper lovers will be in heaven with the stores' endless array of beautifully printed and patterned paper, kept in large wooden drawers and bought in large sheets. Themes usually relate to nature: brightly colored flowers, leaves, seasons and fanciful tableaux of animals doing people-type things. Chiyogami used to be made into toys for children, but now it's best framed and transformed into high art.
If you are looking for souvenirs, the two stores also have a range of delightful stationery, paper fans, mobiles, greeting cards and good-luck charms.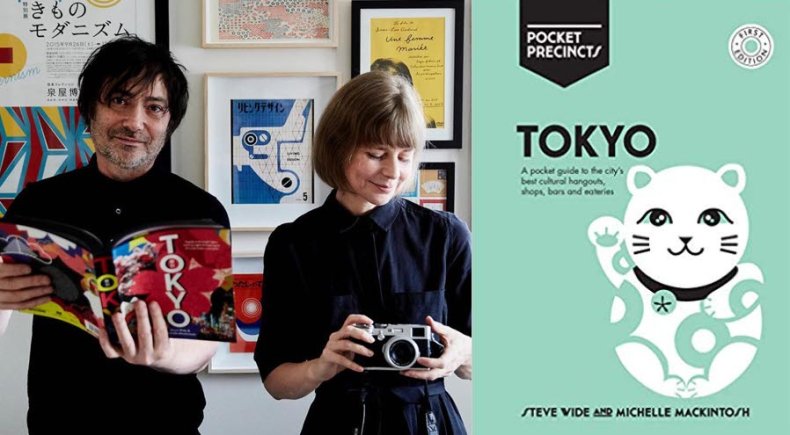 Steve Wide and Michelle Mackintosh have been obsessed with Japan since their first visit in the late 1990s. Since then, they've been saving up all their pennies to travel to Japan twice a year. Steve is a passionate writer and DJ with a local radio show and Michelle is a book and stationery designer and illustrator. Together they have created all of the text, photography, illustrations and design for this new-age travel guide, the fourth Japan guidebook they've authored together, following Tokyo Precincts, Kyoto Pocket Precincts and Onsen of Japan. Michelle also won a 2015 Australian Book Design Award for her work on the Precincts guidebook series.
How to Spend a Perfect Day in Tokyo | Culture