An Insider's Guide to Stockholm
The Swedish capital is a treat for the senses - full of beautiful architecture, tasty restaurants, and history.
Stockholm is a visual delight, both in the way it's situated – spread across 14 islands, with its neighborhoods often literally defined by water – and because of its trademark Swedish style. Public spaces are designed and lit to cinematic perfection; the average person on the street looks like (and might well be) a fashion social-media influencer; even coffee shops have perfect lighting and enviable furnishings. Everything you see looks art-directed, down to the subway stations, which are famous for the murals on their walls.
Walking around Stockholm, it's hard not to be struck by something gorgeous every time you turn a corner. Maybe it's catching the last ray of golden sunlight glittering across the water as you walk along the cliffs of Södermalm; or noticing an ancient runestone embedded in the corner of a building; or stretching out your arms to touch the red-and-ochre buildings on either side of a narrow, cobblestone street, then looking up at a slice of blue sky between them; or stopping for a break in a square where shiny modern buildings frame statues of water sprites, and feeling astounded all over again at the effortless style of the beautiful people around you.
But the city's appeal goes beyond surface level. The food is spectacular, particularly in recent years, thanks to the welcome influence of immigrant cultures and the dedication to using hyperlocal, seasonal, sustainably produced ingredients. Shopfronts double as inspirational design spaces. Museums and cultural attractions are must-sees: well-funded, high-quality, interactive and informative. Everywhere you go, green spaces abound and people spend time in them.
Immerse yourself and see why Stockholm is a place to be inspired – with a view at every turn.
Best Places to Eat
At some point on any trip to Stockholm, you really should sit down for a plate of Swedish meatballs, traditionally made with beef and pork (and sometimes veal) and served with mashed potato, gravy, and lingenberries. This low-key but pretty spot in a tree-lined courtyard is one of the more comfortable (and affordable) places to do that – its daily lunch specials are all about husmanskost, or humble (though elevated) traditional Swedish home cooking, and meatballs are a permanent menu item. Other good choices include any of the soups, baked salmon and sirloin steak – and potatoes with everything. As the day goes on, the café turns into a wine bar, with a super-romantic little outdoor courtyard. In between, it's great for coffee and pastries.
Kindstugatan 1
Open Mon–Fri 8am–11pm, Sat 9am–11pm, Sun 9am–9pm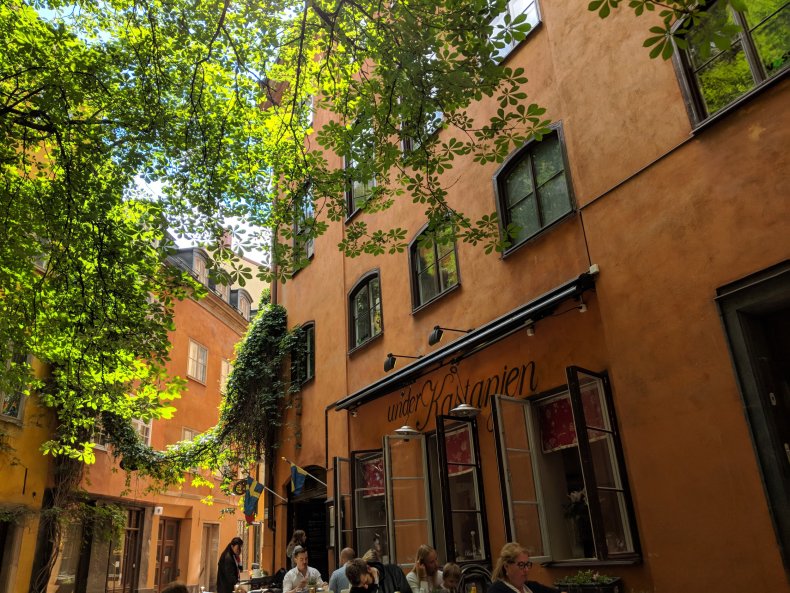 This is one of my favorite Stockholm rituals: on a cold day, or really any day after walking around the city, I'll head underground to the food market inside Hötorgshallen. In the tiniest back corner is a little galleon-shaped fish restaurant, one of my grandmother's regular lunch spots (although she would always go late, close to 4 pm, to avoid a wait). Everything on the menu is perfect – it comes straight from the fresh fish counter next-door – but I always order the enormous bowl of fish soup, scooped out of a vast tureen and topped with aioli. It's crammed with salmon, prawns, mussels and whatever other exotic sea creatures turned up in the day's catch; served with bread and salad, maybe a glass of white wine if you're feeling decadent, it'll warm you for the rest of the day.
Hötorgshallen Food Market, Hötorget
Open Mon–Thurs 11 am–6 pm, Fri 11 am–7 pm, Sat 11 am–4 pm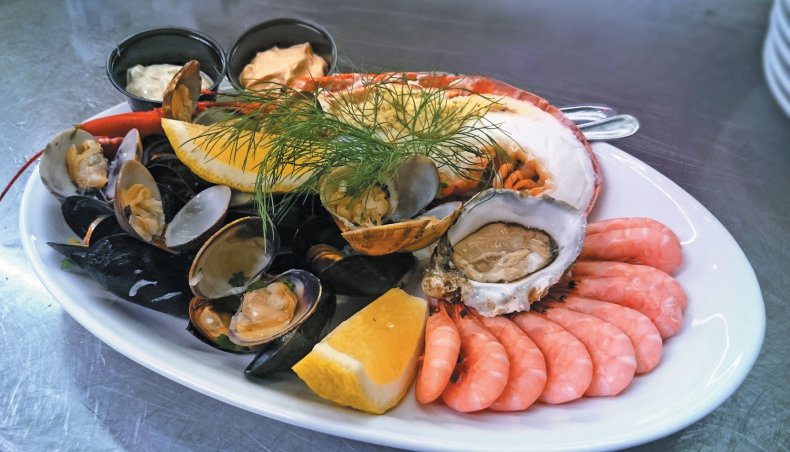 I bring people to this friendly vegetarian cafe all the time, and it's not because you get a huge amount of really good food for not much money. That's true, but it's not the main reason. Nope: it's the bread. Chutney's meals – which mostly involve massive heaps of vegetarian stews and curries served over rice or potatoes – include self-serve bread and salad, and I don't know what they put in the bread but it is like candy: dark, sweet and dense. There's also a case full of lovely-looking desserts but just give me the bread. At the salad station, choose from pitchers of water flavored with 10 different floating fruits. Or a mix – cucumber–pomegranate, why not? The place is done up in slightly religiously confusing art with an overall vaguely Indian vibe. There's plenty of seating inside and out and very cheerful staff.
Katarina Bangata 19
Open Mon–Fri 11am–10pm, Sat 12pm–10pm, Sun 12pm–9pm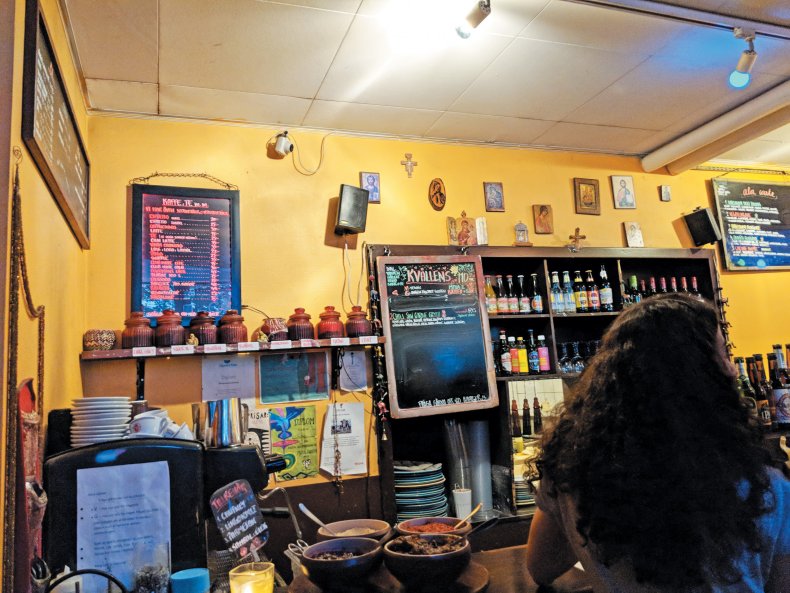 A beloved neighborhood restaurant, Tranan is known for gorgeous classic Swedish dishes in an elegant setting that somehow also feels relaxed and casual: think fine china and candles on red-checked tablecloths, and sharply dressed staff in vests and ties. Specialties include Swedish meatballs (not always on the menu, but ask as it's always available) and fried herring, a house specialty since the restaurant's earliest days – it opened in 1929. Back then Tranan was an occasionally rowdy beer hall – the kind of place that wasn't allowed to have its curtains closed, by order of the police. The clientele were builders and other workmen (pretty much exclusively men). Reached by a separate entrance to the right of the main cafe, the cellar was originally a place for fine dining; these days, it's a dance club that opens late at night, with frequent live music.
Karlbergsvägen 14
Open Mon–Fri 11.30 am–11 pm, Sat-Sun 12 pm–11 pm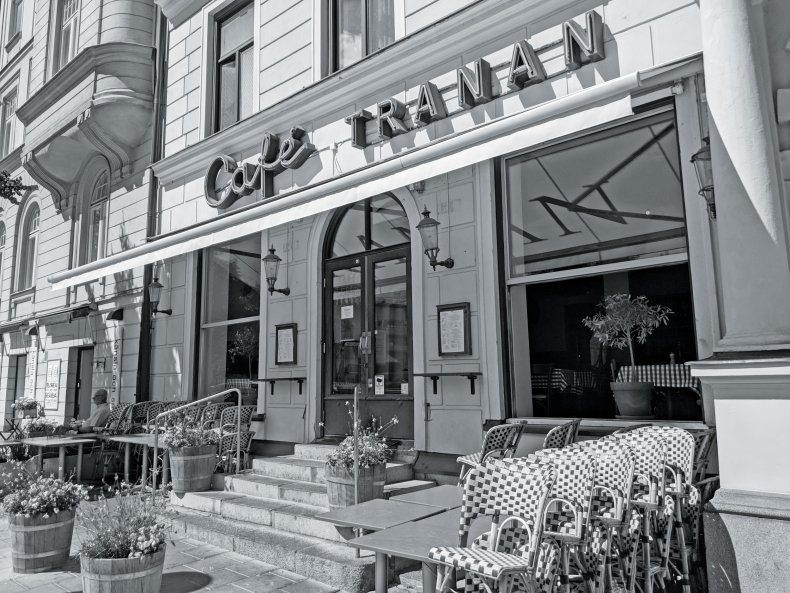 Best Places to Drink
A permanent fixture on the Södermalm bar scene, Kvarnen (The Mill) is a traditional, old-fashioned beer hall from 1906 that manages to keep up with the younger crowd without losing its dignity. It was originally a working-class pub but during the 1960s it started to attract some of the neighborhood's prominent artists, and in the '70s it really took off as the unofficial headquarters of Hammarby football fans – still true today. The main room is an elegant, grown-up space, with tall windows, high ceilings, blonde wood and low lights, perfect for having a dignified pint of Swedish beer and a plate of meatballs, but the late-night scene, when the place becomes a disco, is what it's known for. There's also a cute, steampunk-ish Czech beer bar in the back corner, and a section of outdoor seating around the corner at Medborgarplatsen, Södermalm's main square. Reservations are recommended on weekends and when Hammarby is playing.
Tjärhovsgatan 4
Open Sun–Tues 4 pm–1 am, Wed-Sat 4 pm–3 am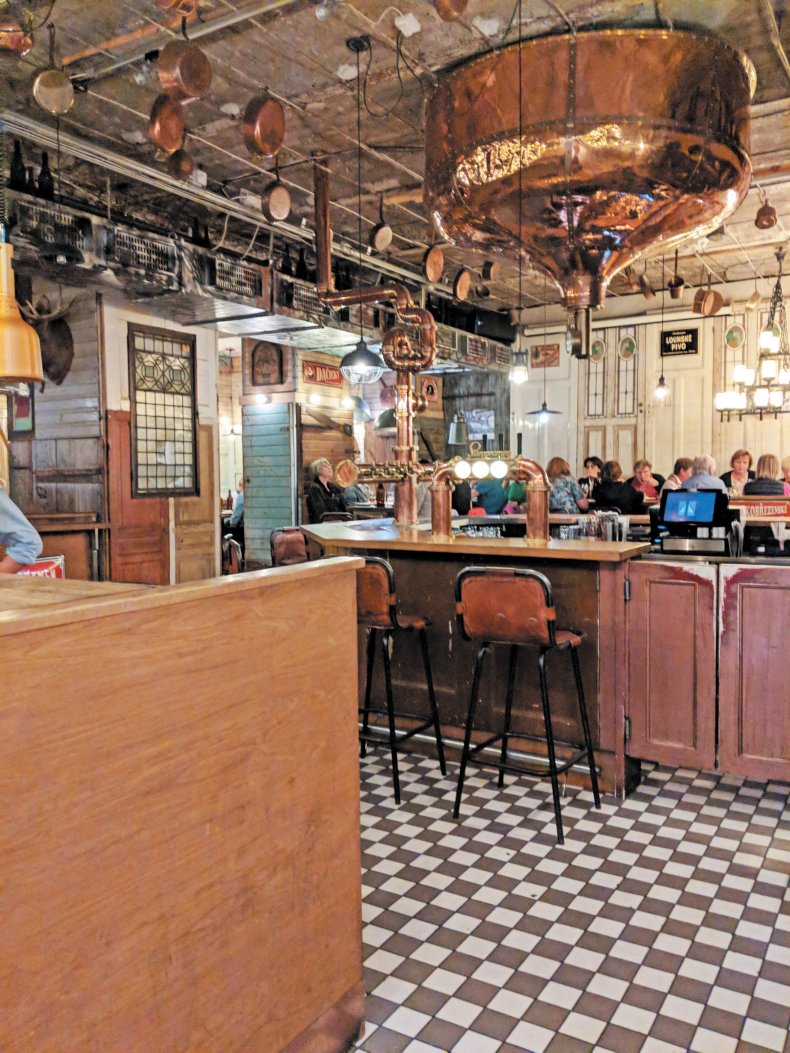 Another longstanding neighborhood favorite, Tennstopet serves meals you could probably make at home, but they wouldn't be anywhere near as tasty. Best example: pytt i panna, which is essentially 'Swedish hash' – chopped potatoes and meat and whatever else is leftover all fried in a pan, served with a fried egg and red beets. Tennstopet's version of 'SOS' – smör, ost och sill, or butter, cheese, and herring – is also a winner, as is the cured salmon plate, with potatoes in dill sauce. The main room looks like a Swedish interpretation of a Scottish pub, with red tartan carpet and wall coverings, a long wooden bar, a carved wooden ceiling and an elk head over the doorway. Off to the side is a more refined, elegant dining room, all chandeliers, and ceramic tiles. It's a local's hangout, and the staff are open and friendly. If you belly up to the bar and chat while you eat, you're bound to make friends and learn something about Stockholm you didn't know before.
Dalagatan 50
Open Mon–Fri 11.30am–1pm, Sat–Sun 1am–1pm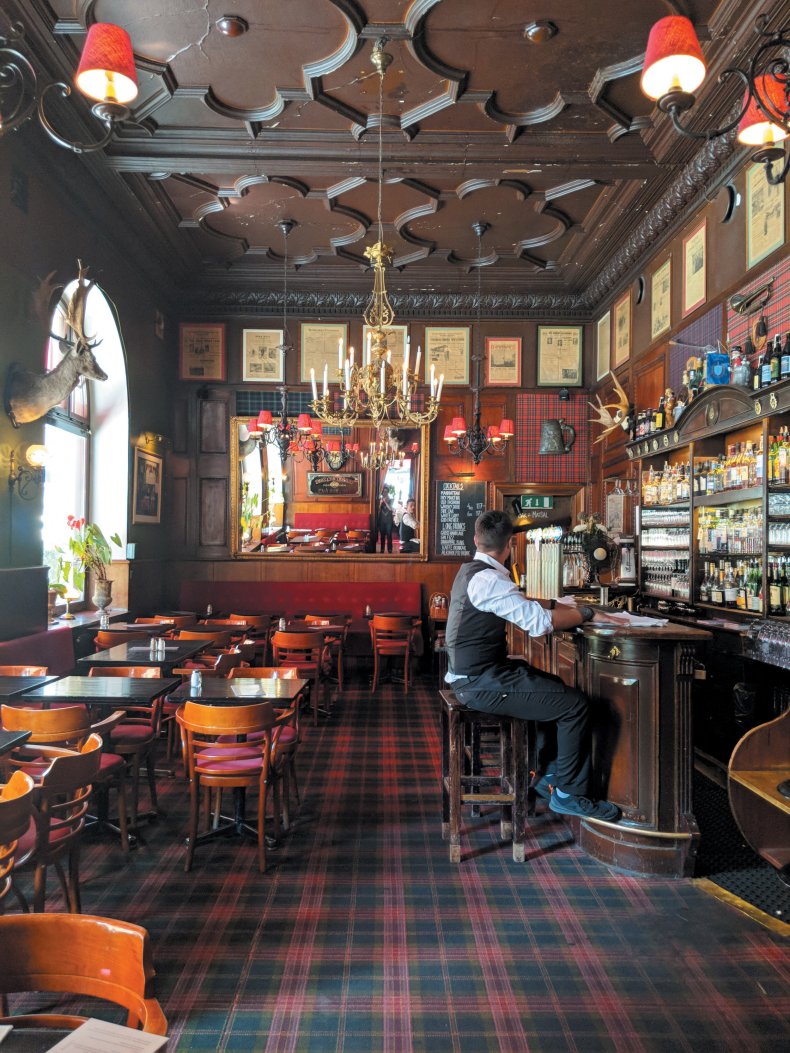 If you don't happen to have a friend who owns a boat in Stockholm and invites you out for drinks and dinner cruise, this LGBTIQ-friendly floating bar and restaurant is a wonderful substitute. Open in summer only, it's composed of a series of awnings and pagodas on floating docks, adjoining a herb and flower garden with additional seating. Everything is leafy and green and covered in flowers. On a sunny afternoon or evening, it's glorious. The food is nothing astounding but reliably good (I like the burger and the grilled salmon salad), but the cocktails are outstanding; try a strawberry margarita or a champagne cocktail. Many of the staff are expats or immigrants, and all of them are intimidatingly good-looking and disarmingly friendly. There's live music on most nights. If the atmosphere inspires you, there's a garden shop next-door.
Norr Mälarstrand 64
Open 11 am–1 am (Apr-Sept)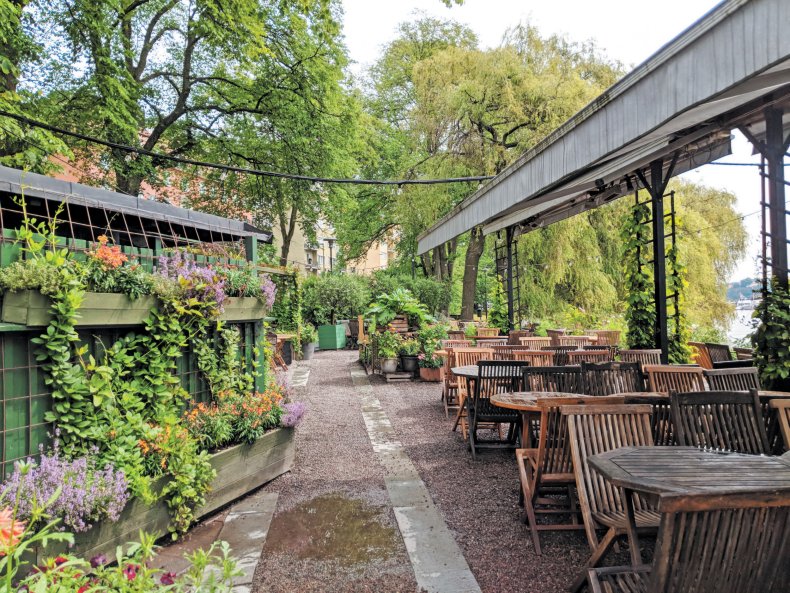 Best Places to Shop
If you want to be sure that the handicrafts you're buying are the absolute best possible quality, this is the place to shop. Hemslöjd means handicraft, and the artisans here are part of a collective with extremely high standards for quality and authenticity. Things are made traditionally, not mass-produced. (And if you have a craftsperson in your life, this is the place to pick up super-luxurious yarns and how-to books). Look especially for textiles of all kinds, from table runners and kitchen towels to rugs and pillowcases; hand-woven wool clothing; painted wooden horses from Dalarna; Indigenous Sami jewelry; adorable quilted pot-holders; and beautifully carved wooden kitchen tools. They're not all cheap, but you're buying quality and supporting Sweden's makers.
Norrlandsgatan 20
Open Mon–Fri 10 am–6 pm, Sat 11 am–4 pm, Sun 12 pm–4 pm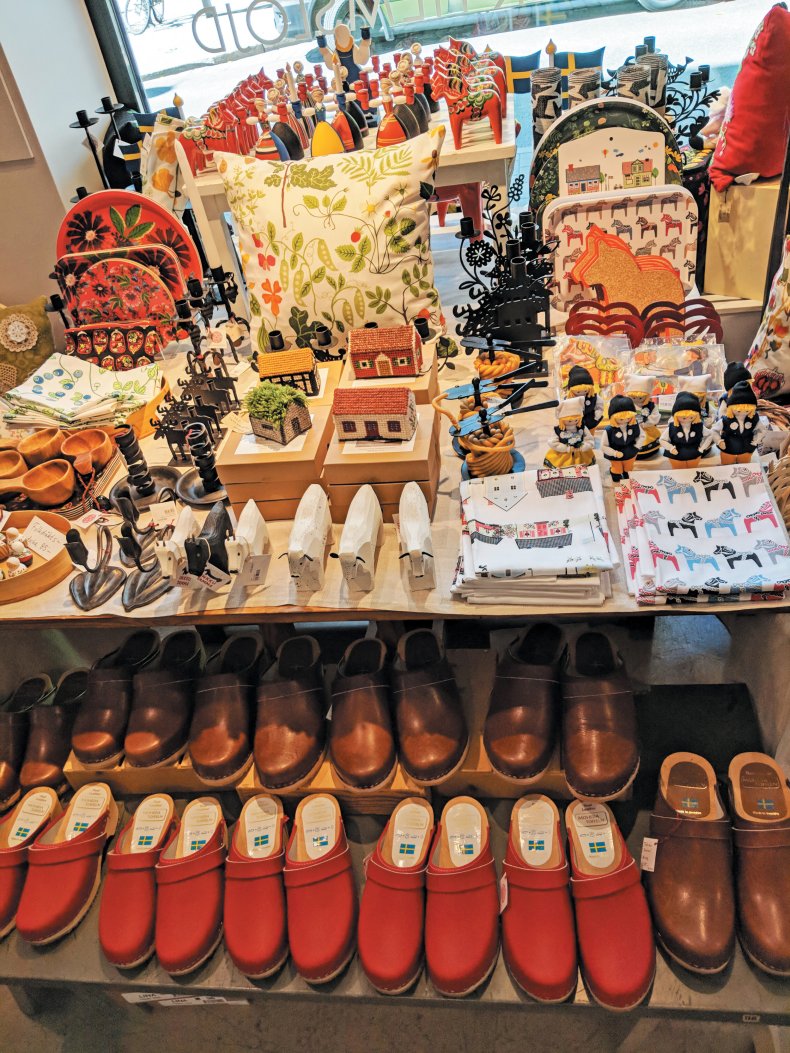 You love IKEA but this is nicer and way cheaper than the big-name design stores (which, in Stockholm, might as well be museums). Designtorget provides an outlet for up-and-coming designers as well as established names, specializing in examples of brilliant Swedish design. Here you might pick up an early version of household items by the next big name designer. Everything is cleverly made, whether it's a cheese grater, a towel hook, a serving tray or a bookshelf. Look for kids' toys, candle holders, easily packable kitchen linens, art books and any number of other things you didn't know you needed. This is a good place to shop for your last-minute gifts, especially because there are locations all over town. (This one is very central; there's another inside Central Station).
Sergelgången 29
Open Mon–Fri 10am–8pm, Sat 10am–7pm, Sun 11am–6pm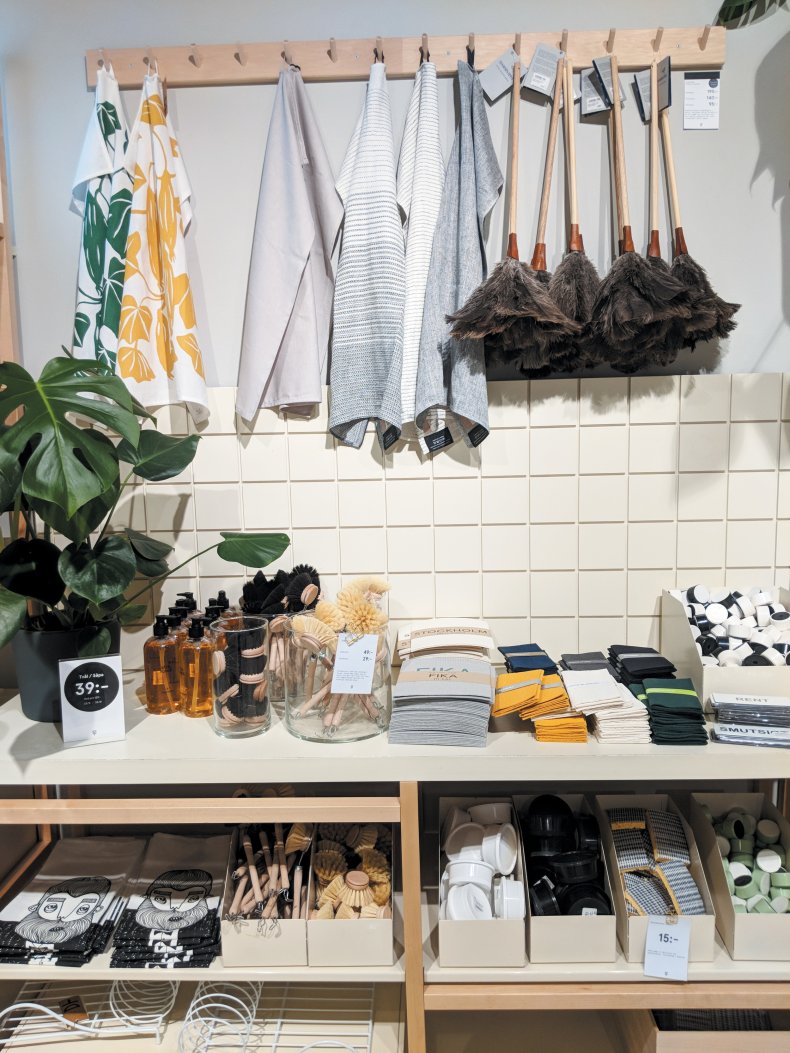 As much a cathedral of commerce as a department store, NK is beloved among Stockholmers for a few things in particular: one, its hotdogs (grillad korv), which are probably no better than any other hotdog on any Stockholm street, but these are from NK, so...you know. Two, the annual holiday window displays – every December, each of the store's big windows is transformed into its own little wintery world, with elaborate props, lighting and animatronic figures doing entrancing things. People line up to look at them (me too). But for most visitors, NK is all about the basement: a treasure chest of good-quality, reasonably priced, authentic Swedish gifts. Even the simplest household items boast superb Scandinavian design – from glassware and crystal to textiles, napkins and wooden knives. If you've put off your shopping to the last minute, do it here. The customer service department is generous with advice on tax-free shopping and on the best way to safely pack your gifts for transport.
Hamngatan 18–20
Open Mon–Fri 10am–8pm, Sat 10am–6pm, Sun 11am–5pm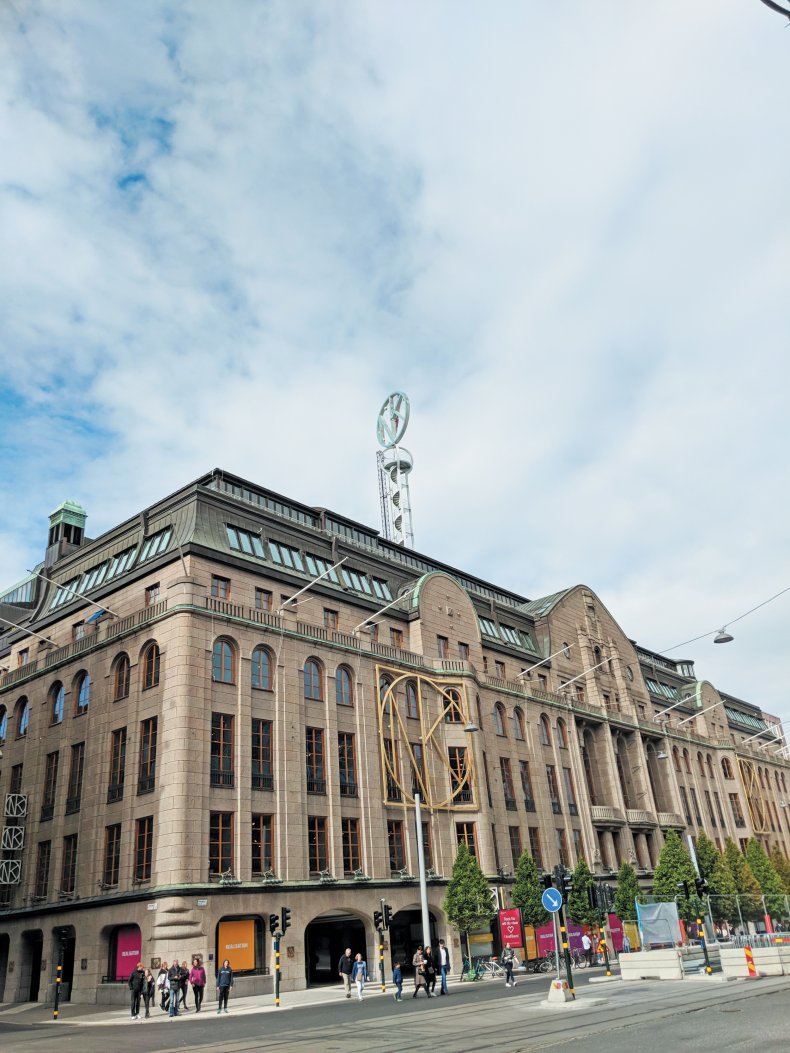 For a fast and thorough tutorial in Swedish interior design, take a stroll through the spaces at this venerable shop – the envy of every design blog. Dominating Stockholm's design world since the early 1930s, this shop – established by pewter artists whose interests later shifted towards interior design – is immediately recognizable. Its aesthetic was shaped by founder Estrid Ericson and the Austrian artist Josef Frank, a key figure in the Vienna School of Architecture, who with his Swedish wife fled to Stockholm in 1934 to escape Nazism. Frank's signature patterns – wildly colorful, splashy, lively scenes of floral chaos – cover everything from chairs and sofas (which Frank also designed) to rugs and window dressings to much more affordable paper napkins and serving trays which make ideal gifts. The little vignettes set up in each nook of the store prove that there's really no such thing as clashing patterns. Upstairs is a tea room where you can have a light meal in a perfectly curated space.
Strandvägen 5
Open Mon–Fri 10 am–6.30 pm, Sat 10 am–5 pm, Sun 11 am–4 pm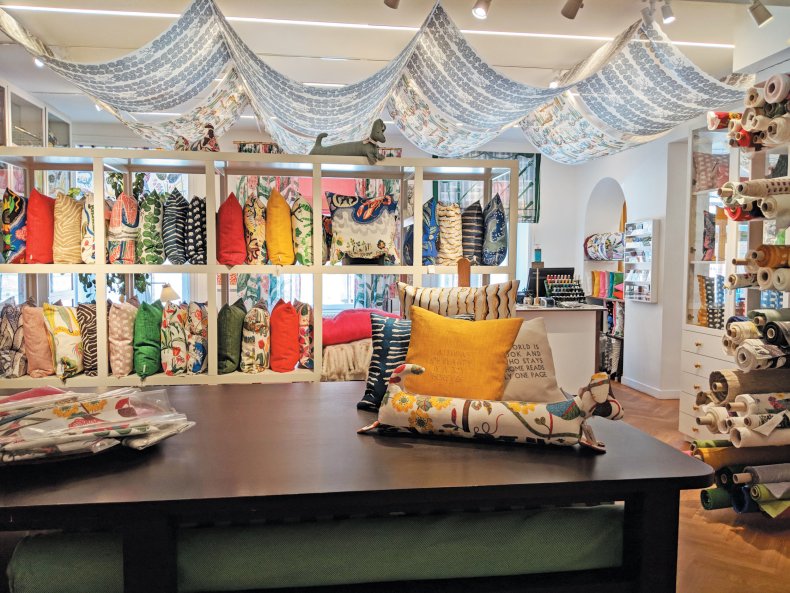 Best Places to Go
Stortorget (Main Square)
The old town's main square is the precinct's adorable cobblestone heart. It's lined with cafes in colorful historic buildings with elaborate rooflines and decorative facades. The fountain in its center is from 1778 but a well has stood here since the Middle Ages, marking the official center of town. In fair weather, cafes such as Grillska Husets Konditori have outdoor seating; when temperatures drop, you can duck into a candlelit cellar room. The Nobel Museum gives you a history of the coveted prize and is housed in the neoclassical former Stock Exchange building, built in the 1770s. History buffs know the square as the site of the Stockholm Bloodbath of November 1520. To squelch resistance by Swedes who wanted independence from the Kalmar Union and Danish rule, the Danish king Christian II invited more than 80 Swedish nobles to the palace and then had them hanged or beheaded in the square. This sparked Sweden's war for independence. But these days the square is peaceful and cheery.
Gamla Stan
Open daily 24-hrs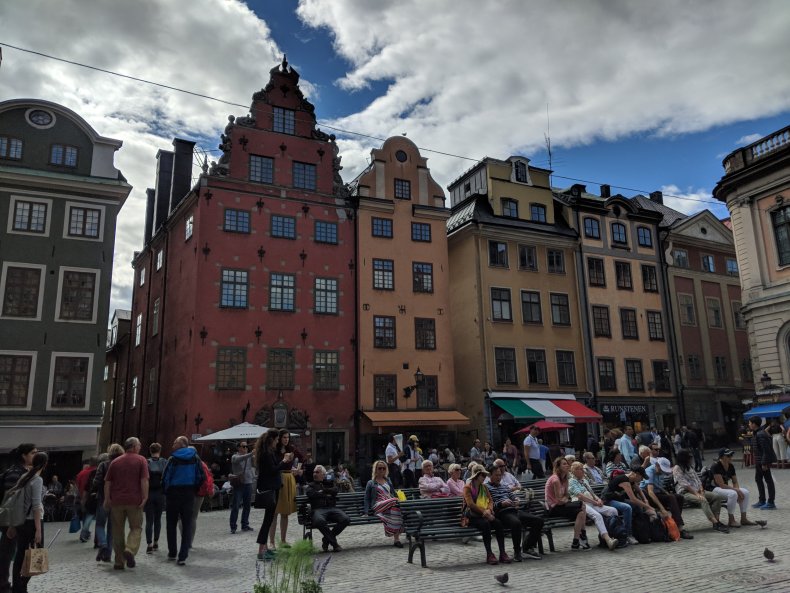 Moderna Museet (Modern Art Museum)
'You don't have to like every painting,' my grandfather told me once on a visit to Moderna, 'but you should think about how to become friends with each of them.' He was an artist and an art critic for Stockholm's daily paper and I loved hearing him talk about art. And I listened: I have since become good friends with most of the pieces in Moderna Museet's permanent collection. I visit them often, and I have my favorites: Giacomo Balla's almost-in-motion Futurist painting Speed of a Car + Light; Robert Rauschenberg's Monogram (aka the Goat in the Tire); the whole Marcel Duchamp-Dadaist room; and, best of all, Swedish artist Öyvind Fahlström's enormous, ultra-precise comics-style canvases. The museum's temporary exhibits are also consistently excellent. The Moderna Museet Restaurant has epic views across the water to Djurgården and a hearty daily lunch. Café Blom has humbler options.
Exercisplan 4
Open Tues 10am–8pm, Wed–Thurs 10am–6pm, Fri 10am–8pm, Sat-Sun 11am–6pm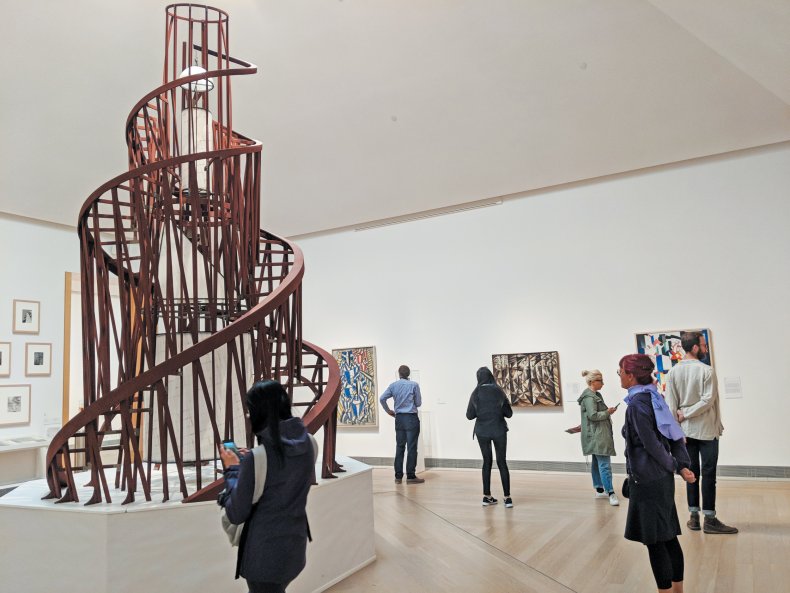 A rare example of a tourist attraction that lives up to the hype, the Vasa Museum is one place every Stockholmer will recommend to visitors and rightly so. It's a purpose-built museum housing the intact Vasa warship, a catastrophic failure (er ... lesson). Billed as the most powerful warship in the Baltic, the Vasa set sail on 10 August 1628 – only to capsize and sink within minutes. Thirty people died, many more were embarrassed, and the ship was lost to the sea for hundreds of years. An amateur archaeologist found it in the 1950s, starting a lengthy process of rescue and restoration. It's now the only example of an entire 17th-century ship ever salvaged. The Vasa grabs you for its sheer scale, the ambition of the shipbuilders, the characters unlucky enough to be on board and how it went wrong. You can walk around the entire ship but not inside. One evocative section describes the dangerous process of salvaging it: tunneling under, then wrapping the ship in cables to lift it slowly out of the water.
Galärvarvsvägen 14
Open daily 8.30 am–6 pm (June–Aug), 10 am–5 pm (Sept-May) (to 8 pm Wed year-round)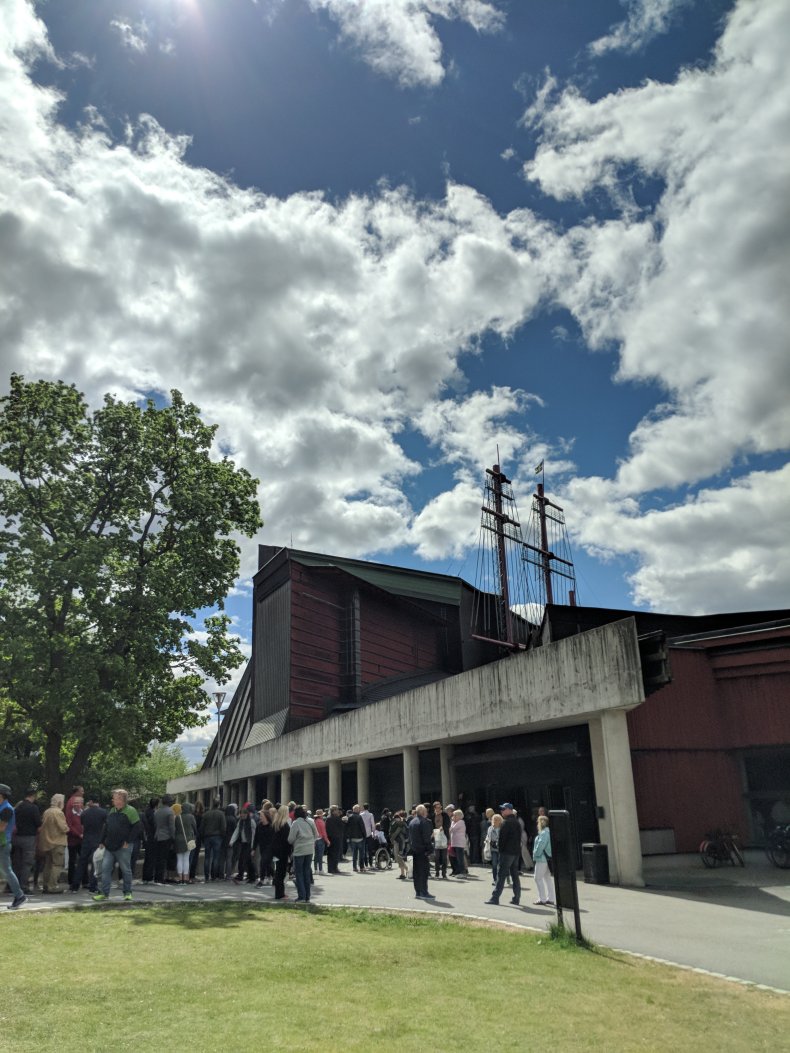 This open-air museum on a hill is 'Sweden in miniature', but it feels enormous. Bring snacks, wear comfortable shoes and spend a full day exploring. Museum mastermind Artur Hazelius founded it in 1891 to bring together the folk traditions of all of Sweden's various far-flung provinces. Historic buildings from the northern- and southern-most points in the country were moved here (including a Sami Indigenous camp). Volunteers in traditional costumes explain what life was like at that time and place. In spring, the Nordic Zoo rewards you with adorable baby versions of Scandinavia's many native species: bear cubs, piglets, lambs, tiny reindeer. Make sure not to miss the glassblowers' workshop, a small wooden hut in which master glassmakers conduct fascinating demonstrations (enter through the gift shop). If you're looking for traditional Swedish souvenirs, the gift shop has high-quality crafts at decent prices. Visit the bakery in another tiny wooden house, for traditional Swedish goodies and breads.
Djurgårdsslätten 49–51
Open daily 10 am–4 pm (longer hours in summer)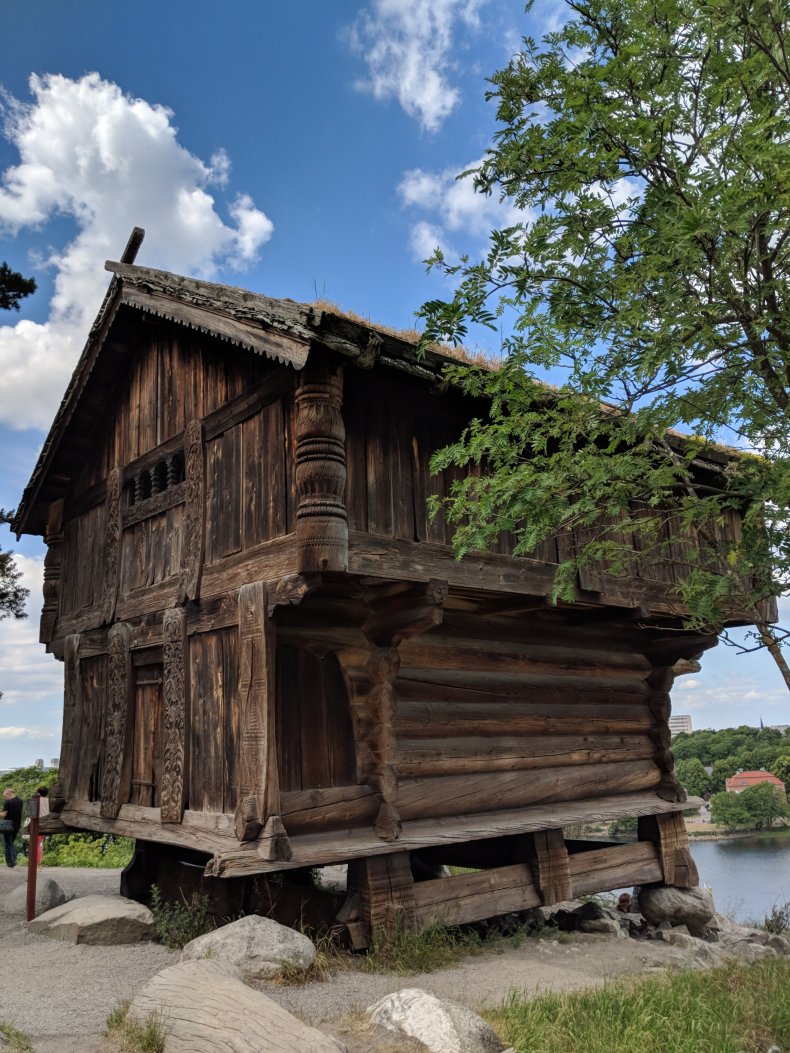 Best Places to Stay
Hotels are of a high standard, though rooms tend to be smaller (which is typically European) than what you'd find in equivalent hotels, particularly in the US. Most hotels include an expansive breakfast buffet in the price.
Hostels in Sweden operate more like budget hotels. They're called vandrarhem (wanderers' homes) and aren't particularly youth-focused. Most offer private rooms, sometimes with en suite bathrooms. There's usually an optional extra charge for bedding, towels, and breakfast.
Recommended Hotels
This hotel has budget-friendly rooms, plus a cool bar and rooftop restaurant called Tak.
The rooms in this hotel/hostel are located in a renovated former prison building. But don't let that scare you - it is upscale and beautifully done.
Home of the famous Ice Bar and inches from the Arlanda Express train to the airport, Hotel C has great facilities and good budget-room options.
The boutique hotel with pop prestige is co-owned by ABBA's Benny Andersson.
Booking an apartment through Airbnb is generally less expensive than a hotel, and it gives you a base in a residential neighborhood and the opportunity to cook some of your own meals.
Becky Ohlsen first visited Stockholm as a toddler, on a trip to meet her maternal grandparents, and has researched and written about Stockholm for Lonely Planet since 2004. She is the author of Stockholm Pocket Precincts, published by Hardie Grant Books May 2019.