Sponsor Insight
Wilshire Law Firm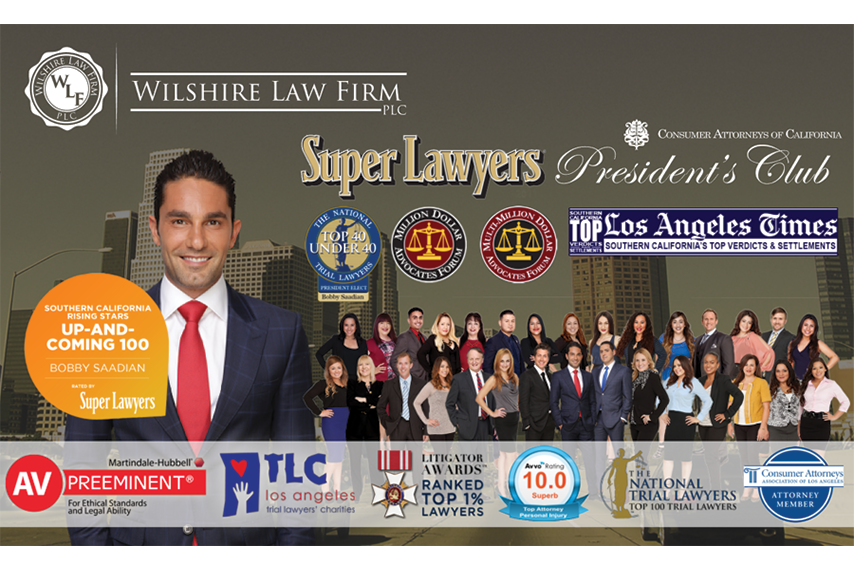 Meet Bobby Saadian, Esq., of Wilshire Law Firm
When Founding President and Managing Attorney Bobby Saadian started Wilshire Law Firm in 2007, he vowed to help accident victims get full and fair compensation for their life-changing injuries. Since then, he has collected many prestigious awards and accolades for his valuable contributions to the community – and now he's adding another one to his impressive list.
"I make it my firm's priority to be 110% client focused. We treat each and every client like a VIP and cater our legal services to their specific needs and goals," Bobby said.
The personal injury attorneys at Wilshire Law Firm have extensive experience in a wide variety of personal injury cases, including but not limited to:
Car Accidents
Motorcycle Accidents
Truck Accidents
Bicycle Accidents
Pedestrian Accidents
Traumatic Brain Injury (TBI)
Spinal Cord Injury (SCI)
Amputation Injury
Wrongful Death
Construction Accidents
Dangerous Pharmaceuticals and Defective Medical Products
Sexual Abuse and Assault
NFL Concussions
Employment Law
"I love practicing law, and I love being a personal injury attorney, because it allows me to have a unique connection with our community and make a real difference in people's lives," Bobby said. He added that he takes after his beloved late father, who was an immigrant medical doctor treating the underserved low-income Latino community of East Los Angeles.
Wilshire Law Firm's track record includes a number of multimillion dollar settlements and verdicts. In a recent case, Bobby achieved $17.1 million verdict for an 85-year-old bus accident victim, who, after suffering catastrophic injuries, had to have his right leg amputated. "The bus company refused to accept full liability even though they were clearly at fault," Bobby said. "So we took them to court and convinced the jury to give our client a landmark verdict. He was very happy with the result, which made us happy."
In recognition of his expertise and exceptional legal achievements, Bobby Saadian has been given numerous awards and accolades, including:
Litigator Award – Trial Lawyer Board of Regents
AV Preeminent Rating – Martindale-Hubbell
Top 100 Trial Lawyers – The National Trial Lawyers
President Elect in 2016 and President in 2017 of Top 40 Under 40 – The National Trial Lawyers
Million Dollar Advocates Forum – Lifetime Member
Multi-Million Dollar Advocates Forum – Lifetime Member
Perfect 10.0 'Superb' Rating – Avvo
Los Angeles Trial Lawyers' Charities (LATLC) – Executive Board Member
Southern California Rising Stars Up-And-Coming 100 – Super Lawyers
Best Personal Injury Lawyers – Three Best Rated
Southern California's Top Verdicts & Settlements – Los Angeles Times
"While we are honored to receive such recognition for our work, really, the greatest reward is to have a client come in and thank us for changing their lives for the better," Bobby said.