Sponsor Insight
IF YOU ARE THINKING OF A CAREER IN STEM, YOU NEED TO KNOW ABOUT ABET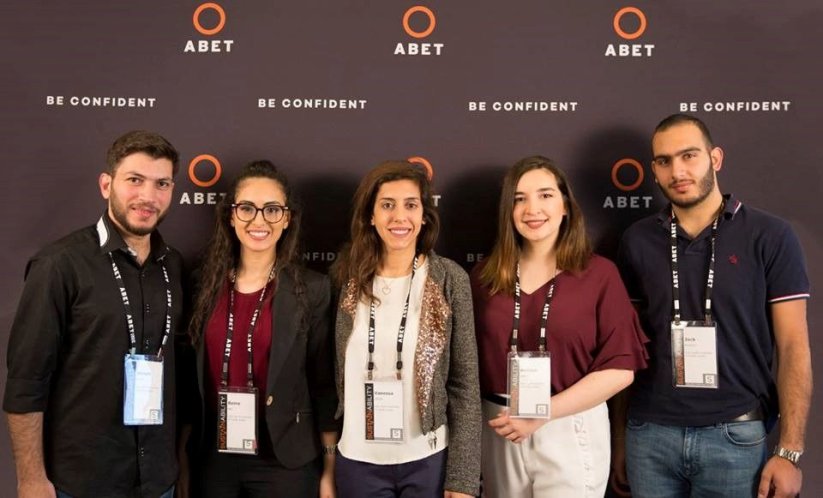 If you want to make a difference in the world, there has never been a better time. From careers in sustainability and cybersecurity to jobs in health informatics or construction management, STEM fields can provide future graduates with an incredible sense of fulfillment and excitement, in addition to great job prospects.
In recent years, we have seen huge developments in technology and innovation, and with that growth comes a greater demand for skilled STEM professionals to keep pace with rapid social and technological change. From 2009 to 2015, employment in STEM occupations grew twice as much as non-STEM occupations—10.5 percent (or 817,260 jobs) compared with 5.2 percent—and experts project that the demand for STEM professionals will continue to outpace supply until 2026.
Many of these projected openings are for jobs that do not presently exist. While experts can predict a demand in various engineering areas such as rebuilding of infrastructure, renewable energy, oil and gas extraction, and robotics, they cannot predict exactly what the jobs will entail. Though we don't know exactly what future STEM jobs will look like, we know that there are certain skills that will be essential to future graduates' success. And that's where ABET comes in.
We also know that students, with the proper education, can attain the technical knowledge and lifelong learning skills to prepare them for whatever challenges lie ahead.
As you consider which STEM degree program may be right for you, there is something that you should look for – programs that have ABET accreditation, as our accreditation plays an important role by assuring confidence and supporting global career mobility in the fields we accredit.
ABET accreditation:
Assures prospective students that a program has received international recognition of its quality
Promotes "best practices" in education
Directly involves faculty and staff in self-assessment and continuous quality improvement processes
Is based on "learning outcomes," rather than "teaching inputs."
ABET accreditation is the global standard in STEM education. From engineering and computing, to the applied and natural sciences, graduating from an ABET-accredited program will put you in the best position to obtain a job in your field. With 3,852 accredited programs in 31 countries, you can be sure that employers all over the world will recognize the value of your education, as they seek to find professionals prepared and equipped to handle the complex environments where they are expected to thrive. Universities and employers worldwide understand that high educational and program standards are an important part of finding the best tech professionals.
As a specialized accreditor, ABET plays a critical role in ensuring the quality of education for future tech professionals, who will in return play a crucial role in the global economy by helping solve the world's most complex problems. We promote excellence in STEM education by focusing on continuous quality improvement processes, not by prescribing methods. With technological change occurring so rapidly, institutions seeking to ensure their programs are dynamically evolving participate in the ABET accreditation process.
ABET accreditation:
Ensures that graduates have met the educational requirements necessary to enter the profession
Provides opportunities for the industry to guide the educational process to reflect current and future needs
What makes ABET the world standard for excellence in STEM Accreditation?
Our accreditation criteria. And the Experts who develop them.
ABET accreditation criteria are developed by STEM professionals, who are members of one or more of our 35 member societies. Coming from academic, industrial and governmental backgrounds, ABET program evaluators, also called ABET Experts, are trained to assess programs for relevancy, content, and quality. This third-party peer review is critical in the technical fields, where quality, precision, and safety are of utmost importance, and sets ABET apart from other accreditors. It is a solid process that has been refined over 85 years.
By bringing together thought leaders from industry and academia, we can ensure that our processes truly align with the needs of employers and educators. Bringing both industry and academic perspectives together, our criteria remain both relevant and current.
For this reason, employers worldwide view ABET accreditation as an effective screening tool for identifying qualified new hires. Ask any multinational company in the STEM fields and they will tell you that the people they are looking to hire must not be singularly good at engineering, science or technology. These new hires must also be strong communicators, business-minded and globally aware. In professions that are truly global by nature, graduates need to connect with customers, learn new jobs in different functions and organizations, work with diverse teams, all while maintaining technical currency and excellence in all they do.
Many universities also consider ABET-accreditation while reviewing applicants interested in pursuing advanced degrees. If a prospective student comes from an ABET-accredited program, admission officials and department heads will know that he or she has a solid education behind them and the foundation necessary to move forward and succeed, whether they are from Lima or Manila, Madrid or Ho Chi Min City. And this increases their chances of obtaining an advanced degree.
Another key factor in the accreditation process is ensuring programs have the latitude to innovate and develop creative new approaches to education. Especially in the fast-changing sectors we serve, it is important that programs keep evolving with the needs of industry and society. By instilling a standard of continuous improvement, the programs we accredit must always be adapting and evolving to meet industry and societal needs. This ensures students are well-equipped not only to perform but to thrive in an increasingly global and complex environment, thus making our world safer, more comfortable, sustainable and efficient.
ABET is a nonprofit, non-governmental accrediting agency for programs in applied and natural sciences, computing, engineering and engineering technology. We are recognized as an accreditor by the Council for Higher Education Accreditation.
For questions about ABET accreditation, please email comms@abet.org. To learn more, visit our website at http://www.abet.org/
For more information on Educational Insight Sections please contact inquiries@insight-team.com