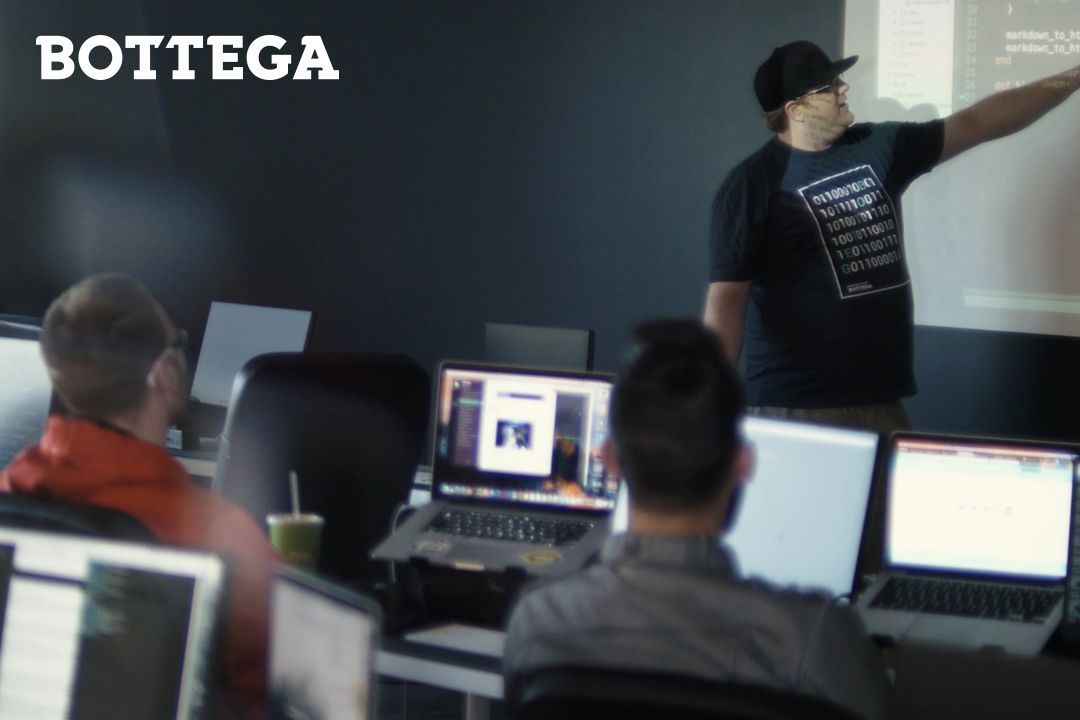 Bottega's founders brought together experienced educators and developers, and created one of the first Accredited Software Development Bootcamps. A revolutionary online learning platform also creates a realistic work environment that guides students toward mastering U.S. software development standards. More than 30,000 U.S. and International students have utilized Bottega's content to learn new skills.
Ongoing Learning vs A Quick Career Fix
"Employers know that a 12-week bootcamp isn't a quick fix substitute for a computer science degree. It's a wonderful starting point, but must be followed by ongoing learning to achieve true mastery. Bottega's model seeks to bridge the gap between the need employers have for more rapid training, and the existing four year university model." say Eric Wold, CEO.
Deep learning happens in phases. There must be a long period of carefully interwoven content and hands-on programming. After the initial "bootcamp" phase, Bottega grads have access to ongoing material equivalent to a full CS degree that they can study part-time while working, or they can transfer and continue their studies with a growing list of partners.
Deep Learning Theory
Bottega's learning platform is its secret sauce. It balances traditional education tools like quizzes and testing with real world skills like using JIRA to track completion of building modern web applications. Performance data is gathered to help Bottega's proprietary machine learning algorithms highlight areas for continual improvement. "Our goal is to create an education model that adapts to the unique learning profile of the individual student by dynamically altering the content they experience based on assessment and mentor feedback", says Jordan Hudgens, chief curriculum designer and current PhD Candidate in Machine Learning as it applies to Education.
"This is an incredibly exciting area of inquiry. We hope that we are going to be able to use the latest biometric tools to watch how people learn so we can get better at meeting their needs", says Doctor Michael Tingey, Physician of Internal Medicine.
Bottega founders have been granted one patent from the U.S. PTO specifically related to Voice Biometrics and Machine Learning and are working on an A.I. powered Teacher's Assistant that will help them realize their dream of delivering personalized education.
Education Partnerships
As one of the only Accredited coding bootcamps in the industry, Bottega also helps Public Schools and Universities operate coding classes using its learning platform and its full "CS Degree" of curriculum. One summer program with 14 school districts and 420 students enjoyed an unprecedented graduation rate of 92% (386 kids).
Three degree granting University programs will soon be online utilizing Bottega curriculum in many of their Computer Science courses.
Regional Accreditation through NorthWest Accreditation Commission means that Bottega is subject to academic oversight by the typical standards that govern most of the public schools and universities.
Engagement Models
"Not everybody has the same needs, or the same time available for learning. We are so excited to be able to bring people different options for learning, and different pathways forward to keep studying, whether their goal is immediate work to support a family, or progress towards a degree with one of our amazing partners," says Scott Schwab, President.
Bottega has an extensive online, remote learning, model with students all over the country enrolled part-time or full-time from the comfort of their own home with unlimited support from qualified developers. Bottega, and partners, also operate physical locations students can attend in-person.
Corporate Training
Bottega is partnering with employers to launch retention benefits such as ongoing education that can lead to a U.S. degree (even for foreign workers). The idea is that workers stay at their job and continue their studies part-time, which the employer will pay for, assuming the employee stays with the company long enough to fulfill their obligation.
Content is also available to meet any team's ongoing education needs for more advanced topics like Machine Learning, Amazon Web Services, and more.