Sponsor Insight
Deep Dive Coding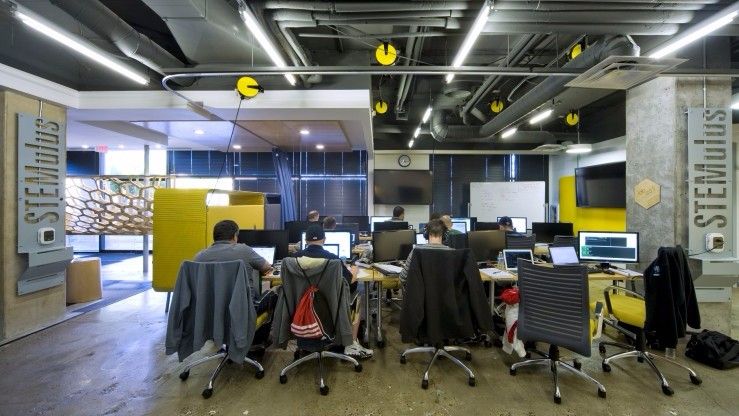 Deep Dive Coding, located in the heart of downtown Albuquerque, New Mexico, hosts the premier coding bootcamps in the Southwest, offering exceptional quality and affordable pathways to learn how to code. Since 2012, over 200 people have participated in Deep Dive Coding to seek new careers, enhance prior skills as web developers, and become computer programmers.
Central New Mexico Community College (CNM) – which ranked No. 1 in the country for the number of associate degrees and certificates earned by Hispanics and Native Americans in the 2014-15 academic year, and No. 2 for overall associate degrees and certificates awarded – is the parent of Deep Dive Coding. As a leader in education, students are assured of the quality of the program. The knowledgeable and passionate instructors have decades of experience as both teachers and IT professionals. CNM is a national leader in supporting student success, and Deep Dive Coding is known for the personal and professional success of its alumni. Students are coached on their career options and online presence, and they're connected with professionals in the industry. Additionally, as part of CNM, Deep Dive Coding is one of the few coding bootcamps in the country that is eligible for GI Bill benefits. Veterans from all over the country are coming to Albuquerque to attend Deep Dive Coding.
Deep Dive Coding currently consists of three coding bootcamps, which are all open to individuals new to programming. In our flagship Fullstack Web Development bootcamp, students learn comprehensive technologies to become a frontend and backend web developer, preparing them to build high-quality interactive websites. This immersive 10-week web development bootcamp focuses on HTML5, JavaScript, Angular 4, jQuery, MySQL, CSS3, Object-Oriented Programming, and PHP (server-side). Bootcamp students become proficient with test environments, GitHub collaboration, Agile Development Methodology, and other development tools used by today's best software shops. The Fullstack bootcamp, offered every January, April, July, and October, will graduate its 18th cohort in December 2017.
The newest offering from Deep Dive Coding is the Deep Dive Java+Android+SalesForce Bootcamp, which graduated its first cohort in September. The 12-week immersive development course covers a range of topics related to Java development. Java ranks at the top of high-demand programming languages in terms of usage, popularity and jobs. Students will become fluent in Java-based software development and will create a project portfolio, including an Android app, to present to potential employers. Students will also prepare for the Java SE 8 Programmer I exam for Oracle Certified Associate, Java SE 8 Programmer certification. The Java bootcamp is offered three times per year, every January, May, and September.
Deep Dive .NET is an immersive nights-and-weekends mobile web development bootcamp using Microsoft technology. The C# and .NET programming bootcamp runs for 10 weeks and will help students learn the basics of C#, Object-Oriented Programming, Model-View-Controller, CSS3 and HTML5, which will culminate with a robust and mobile friendly website. Now in its second year, the .NET bootcamp is a popular option for those who can't quit their day job to attend a fulltime bootcamp.
Cultivating an entrepreneurial mindset is also part of the Deep Dive Coding bootcamp experience. Eleven companies have been formed by Deep Dive Coding graduates, with many of those companies now employing other Deep Dive graduates. Several other graduates are successful freelancers, working on their own terms. Nearly 90 percent of Deep Dive graduates have achieved their career goals. The quality of the programming and affordability of Albuquerque make it a great option to consider.
Sound interesting? Visit www.deepdivecoding.com and apply. If you're not sure whether this is right for you, apply anyway. There's no obligation, and a representative will contact you to discuss the options. The ideal applicant only needs good, basic computer skills, dedication, enthusiasm and a willingness to go all in. Deep Dive Coding Bootcamps often sell out several weeks before the application deadline, so apply early and Deep Dive into a new, high-paying career today.