Sponsor Insight
New York Code + Design Academy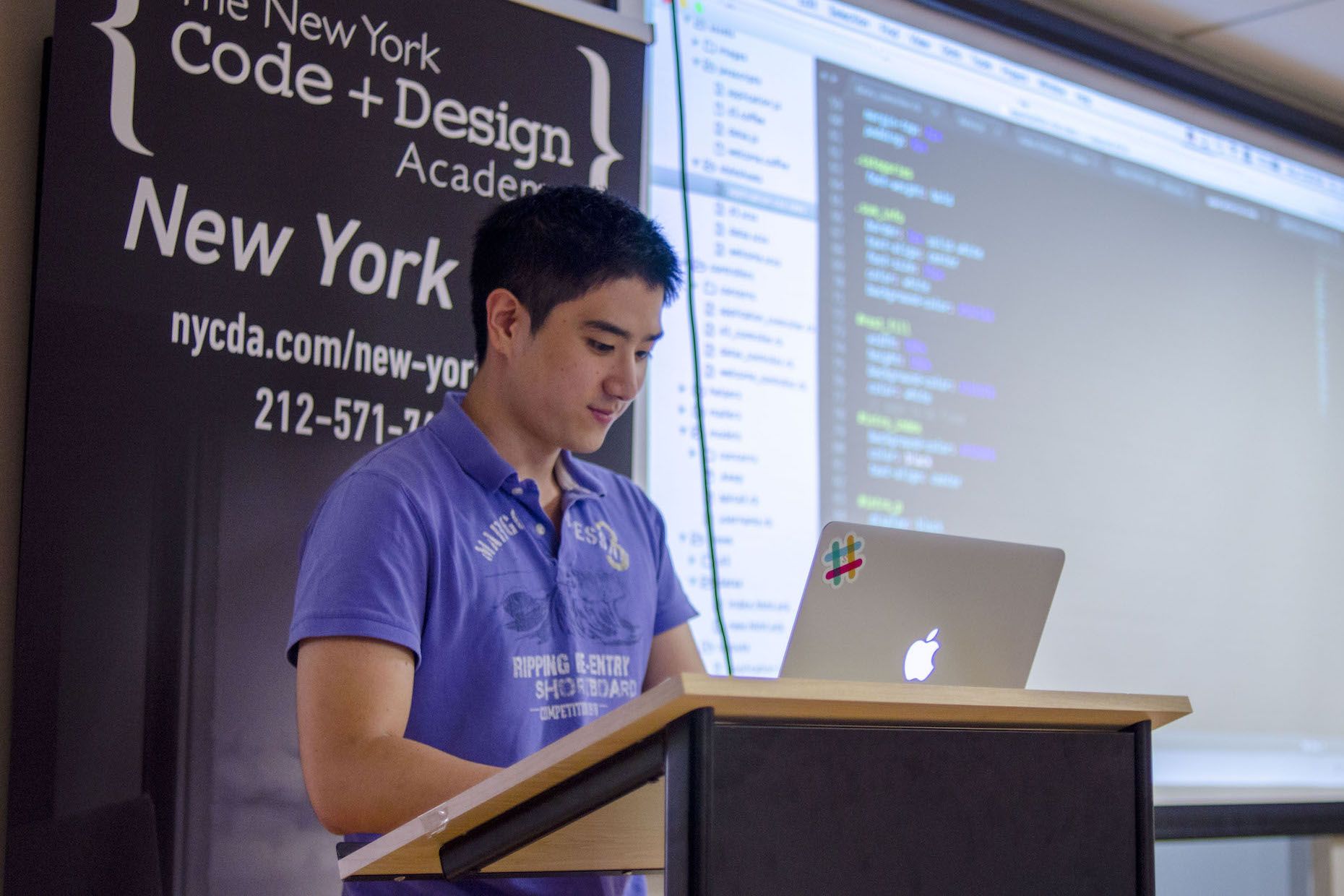 The New York Code + Design Academy was founded in 2012 with the mission of bringing more people of all backgrounds into the world of technology. We love how code and design are moving the world forward, and want to bring that experience to everyone. As we move further into the 21st century, these technical skills aren't just jobs or careers themselves, but impact every job and every career. Code and design are what we do, but problem solving and building with efficiency are the reasons we do it. All of this comes to life in our full- and part-time courses in Web Development and User Experience Design.
Through our Web Development courses, 12-week full time and 8 to 24-week part time, students learn the basics of HTML, CSS, and JavaScript, and then build on that foundation with technologies like Sass, Ruby on Rails, React.js, Node.js, Express.js, Git/Github, 3rd party API integration with JSON and AJAX, and databases like PostgreSQL.
In our UX Design courses, students work on real-world, client based projects, and work through the entire design process: Project Scoping, Persona Mapping, User Scenarios, Concept Design, Wireframing, Prototyping, Usability Testing, Interface Design, Interaction Design, and Information Architecture. Along the way, they'll learn front end development to bring their designs and prototypes to life, closing the gap between designers and developers to speed up the design-iteration process.
Learning the technologies is only part of becoming a well-rounded tech professional, so we integrate computer science topics, project management, and UX design into our courses to give students the full spectrum of skills needed for success in a technical role or on a technical team.
We understand the need for support throughout a student's journey, so a dedicated personal Success Coach begins working with each student as soon as they enroll. Success Coaches provide helpful resources, offer real-world training, and challenge students to identify and work toward the goals that are most important to their success. With the aid of a Success Coach and by leveraging their past experiences combined with their new set of skills and a portfolio of polished projects, NYCDA graduates go on to find careers in a wide range of roles at companies of all shapes and sizes.
Providing flexibility and accessibility has always been a priority, offering both full- and part-time course formats, in lengths ranging from 8 to 24 weeks, but we always provide flexibility in our financing. Students come in with all financial situations, so we offer flexible payment plans, a variety of financing partners, and our new Income Share Agreement.
The Income Share Agreement is our answer to endless student debt, and allows students to take our Web Development Intensive course in Philadelphia and Salt Lake City with no upfront cost, and they only have to make payments once they're making $40,000 per year or more. Not a single cent is owed to us until they are earning real money. On top of that, students pay only 8% of their monthly income, and make 48 payments, even less if they hit the tuition cap sooner.
In addition to our general courses, we're working with organizations like the Tech Talent Pipeline, Workforce Development Commission, and B.Startup School Amsterdam to expand technology education to even more groups of people all over the world.
We recognize that technology is everywhere and our mission doesn't end in New York. Our campus footprint has expanded across the Hudson to Jersey City, NJ at Liberty Science Center, Philadelphia, Washington, D.C., and Salt Lake City, UT, as well as across the Atlantic Ocean to Amsterdam, NL.