Sponsor Insight
PDX Code Guild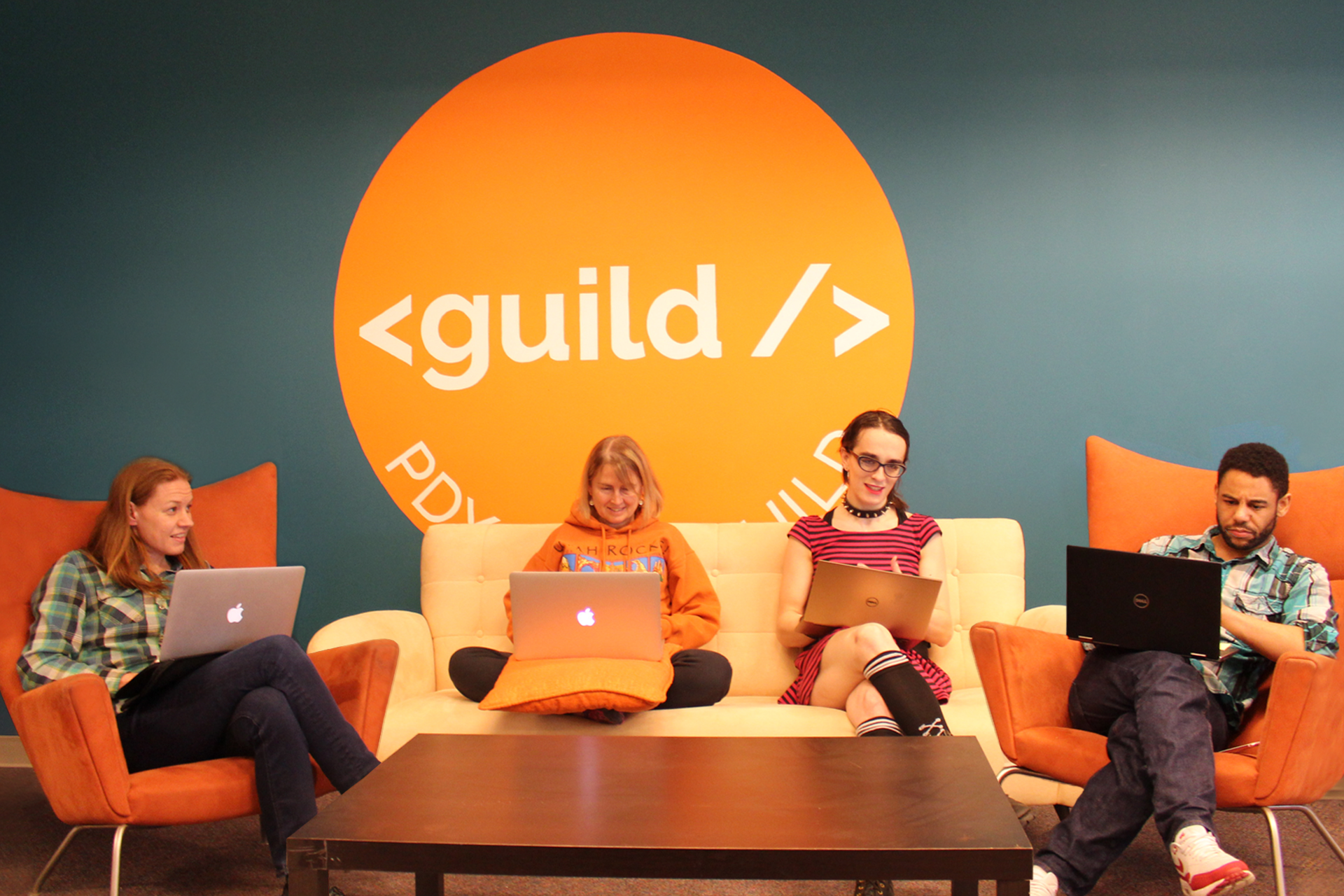 Our Mission: To create an environment that empowers and educates a new generation of software developers and critical thinkers.
PDX Code Guild has earned a strong reputation for being the number one choice for students serious about gaining outstanding junior developer skills. It's a place where you can practice your creative and problem-solving skills while learning how to make the world a better, more efficient place.
This is the digital age, and we are here to help you carve out a spot in it.
High Quality Instruction
As a software developer, you will be tasked with developing creative solutions to complex problems. Learning to THINK like a developer is just as important as the languages you learn to program in.
Our bootcamps are taught by experienced programmers with knowledge beyond the scope of the course. The carefully curated curriculum focuses on hands-on training in an immersive environment, delivered in an intensive, interactive format designed to accelerate and maximize your success.
Students are taught in tight-knit cohorts. Lectures are short, conversational and interactive, students learn by solving labs and writing increasingly complex code including portfolio pieces and a full-stack web app capstone project that is the student's own original idea, work and intellectual property.
Excellence in Curriculum
The comprehensive curriculum at PDX Code Guild covers full-stack web application development through the Python stack (Python, HTML, CSS, Django, JavaScript, database design), as well as professional developer practices and software skills. Students master strong programming fundamentals that are transferrable to other languages, giving them choices in their career path – Frontend, backend, full-stack, software and more. As you develop these skills and master these languages, you'll build a portfolio that will include your own original capstone project.
Individualized Instruction
The classes are small at PDX Code Guild and each student is treated as an individual. This affords the instructors an opportunity to work more closely with students, including daily one-on-one instruction. While the basic curriculum is a strong preparation for a career in technology, additional advanced, super advanced, auxiliary and challenge work are available to students to accommodate their ability to go above and beyond the basic curriculum. Our class size allows teachers to adapt the curriculum to fit individual students' proficiency and hard work.
Community Centered Culture
The culture at PDX Code Guild is one of collaboration, support for each individual member and a belief that everyone grows, learns and succeeds when their strengths are nurtured in a supportive and challenging environment.
In addition to bootcamps, PDX Code Guild hosts peer mentoring meetups where anyone can participate as both a mentor and mentee. Once you graduate you are still a welcome and vital part of the community. Alumni Hacker Space is open to all students and alumni during all open hours and instructors are nearby to help with tech challenges, projects and career guidance.
Commitment to Diversity
PDX Code Guild is committed to increasing diversity in the tech industry and offers a $2000 diversity scholarship for women, people of color and LGBTQ+. Many students also qualify for state grants.
Funding
Sources of funding for PDX Code Guild Students include WorkSource Grants, Diversity Scholarship, SkillsFund Loans (with up to an additional $7500 cost of living stipend available) and the GI Bill®.
Visit pdxcodeguild.com to find more information and get a headstart on your future in tech.