Sponsor Insight
Big Nerd Ranch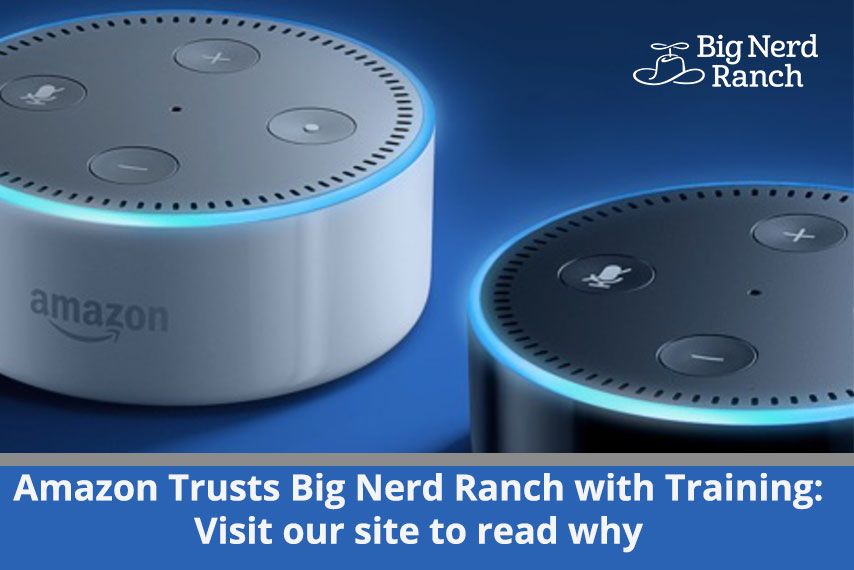 Classroom training is still king! Regardless of the ever-increasing options that are seen as more effective, research has shown, engineers retain knowledge better in face-to-face settings. With business needs changing quickly, and technology advancing even faster, companies demands the acquisition of skills fast and want engineers who can keep up.
Partnering With Big Nerd Ranch
Companies who partner with Big Nerd Ranch see great value in our ability to provide top-notch training within 1-week. Our instructors have mastered the art of taking complex information and teaching it in a easily digestible manner. In fact, that is exactly why Amazon partnered with Big Nerd Ranch to create their Alexa Skills Training documentation for developers. Read the full story on our website.
The Big Nerd Ranch Experience
We believe instructors should do more than just teach. Our instructors are best-selling authors who work on digital products for Fortune 100 companies. The popular Big Nerd Ranch Programming Guides series include a variety of topics including iOS Programming co-authored by Aaron HIllegass. Before Aaron started Big Nerd Ranch, he worked alongside Steve Jobs at Apple. Strong relationships with tech giants in the industry continues to contribute to the quality and relevance of the Big Nerd Ranch class curriculum.
Engineering teams and designers can take advantage of onsite and offsite training options. Offsite coding classes are an immersive, bootcamp-style training located in Atlanta, GA. Class sizes are limited to preserve the learning experience for each student. Onsite training is ideal for teams of 10 or more. An instructor travels to your office to train your engineers, discuss projects and the nuances of your digital product.
Unforgettable Training
As leaders of your engineering team, you have likely experienced many training options available in the marketplace. So you may be familiar with the characteristics of a great training experience: well-designed content that is relevant and engaging.
But you might be wondering:
What happens when the instructor leaves?
How will your engineers retain knowledge?
Will the knowledge be applied to your projects?
How do I show the effectiveness of the training?
Big Nerd Ranch's teaching style gives students the ability to understand concepts, especially as it relates to your digital product. When Big Nerd Ranch instructors leave, your engineers are provided a login to The Frontier - an online screencast subscription created by the very same instructors your engineers are familiar with.
Once a Nerd Alumni, Always a Nerd Alumni –We invite all engineers to the Hero Community - an online portal created just for our alumni and clients. Our Heroes network with each other, receive tips to make their code more efficient, learn new skills and opportunities to engage with our engineers, designers, leadership team and, yes, even Aaron!
An assessment is critical in showing the effectiveness of training. We can gauge specific skill levels before and after to quantify the value from our training.
Here are a few reviews from some of the popular sourcing sites.
"Great Training in a Great Environment"
"Worth every penny"
"Life Changing"
"By far the Best!"
Use Training to Increase Retention— Go beyond an ad hoc training class. Build an entire training program that will attract and retain top developer talent. Big Nerd Ranch can partner with business leaders to create a program that will fast track your junior-level developer to senior-level. When you invest in your engineers, they can build brilliant digital products that your users will love while giving you a competitive advantage.
Contact us today for a free assessment and to discuss training options for your team.
@bignerdranch