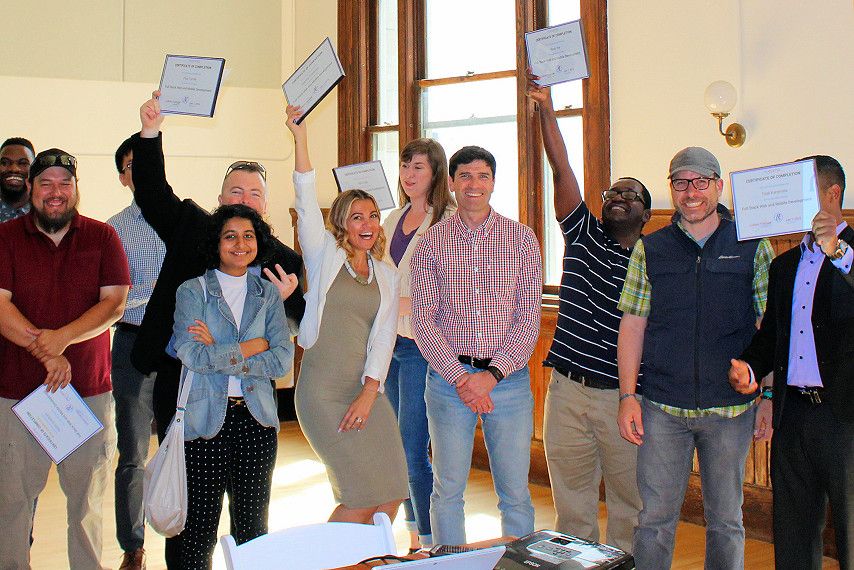 Nucamp is the most affordable Nights & Weekends Hybrid Coding Bootcamp, rooted in local communities and with a social mission to bring low-cost web development education to big cities and underserved areas nationwide.
Coding Schools are emerging everywhere, as aspiring web developers look for immersive programs to acquire the skills they need to jump into a new career. Many try online learning first, and soon realize that coding is difficult to learn on your own. Attending a full-time bootcamp is costly and high-risk; Nucamp founders Ludo Fourrage & Karim El Naggar realized that many potential coders couldn't afford the average $12,000 tuition for a traditional bootcamp and were not in a position to quit their existing job for 12 to 18 weeks without pay, despite the promises of a better job.
Disrupting the Industry with the Nucamp model
At Nucamp, our mission is to make bootcamps affordable to all and available in every community, without sacrificing quality of content or quality of instructors.
In the Nucamp model, students attend small group classes in their local communities, supported by a dedicated (i.e. passionate!) instructor, without having to quit their job, and paying only a fraction of the price of traditional bootcamps.
We offer a high-quality curriculum taught online during the week, followed by in-person workshops on weekends, with the support of an instructor at all times. Our instructors are not full-time faculty, but instead are part-time professionals who are passionate about teaching. Workshops are held in cafés, in co-working spaces, or in offices of partner companies who support our social mission. With the Nucamp model, we can serve communities inside and outside of big cities, keep costs low, and transfer the savings to students.
The result is a better learner experience, at less than $2,000 for a 21-week full-stack web development course.
High-quality curriculum delivered consistently in all locations
But Nucamp is much more than a disruptive low-cost model, it's also a unique learning platform developed by industry veteran and former Microsoft executive Ludo Fourrage. The platform delivers our curriculum in a carefully scripted, consistently way across all the communities we serve, with instructors and students receiving daily content, instructions, and assignments. This ensures that our students are getting the same learning experience in any community we serve and helps them stay on track, thanks to a manageable daily workload.
It also means that our instructors don't lose time preparing courses or performing administrative tasks. They focus on what they love most: sharing their knowledge and experience, and providing hands-on support to students. Student progress is measured weekly on the platform, so instructors can jump in proactively to help students that need it the most. Additionally, instructors receive weekly student survey results, so they can adjust their focus as needed.
At Nucamp we recognize it's a big effort to learn to code in addition to your daily job, and we do everything we can to support students and help them stay on track to success.
The skills you need, for the career you want
We accept all students and give everyone a chance to explore if web development is a full-time job they want to pursue. Students build web applications as their personal projects, to use as a reference when searching for a job. Our affordable prices also attract many professionals who want to acquire web development knowledge to accelerate their existing career. IT program managers, UI/UX designers, small web-business owners are a few examples of professionals who often join Nucamp to sharpen their resume.
Our curriculum
Our Full-Stack program covers HTML, CSS, JavaScript, Bootstrap, Angular, NodeJS / Express, MongoDB and React / React Native. Our approach is structured around student collaboration on projects. Unlike traditional bootcamps, our program emphasizes a combination of online collaboration during the week and in-person teamwork on weekends, which mirrors today's distributed work environment.
Nucamp is currently serving Seattle, Tacoma, Marysville, Spokane, and Bellingham in Washington State.