Sponsor Insight
The Software Guild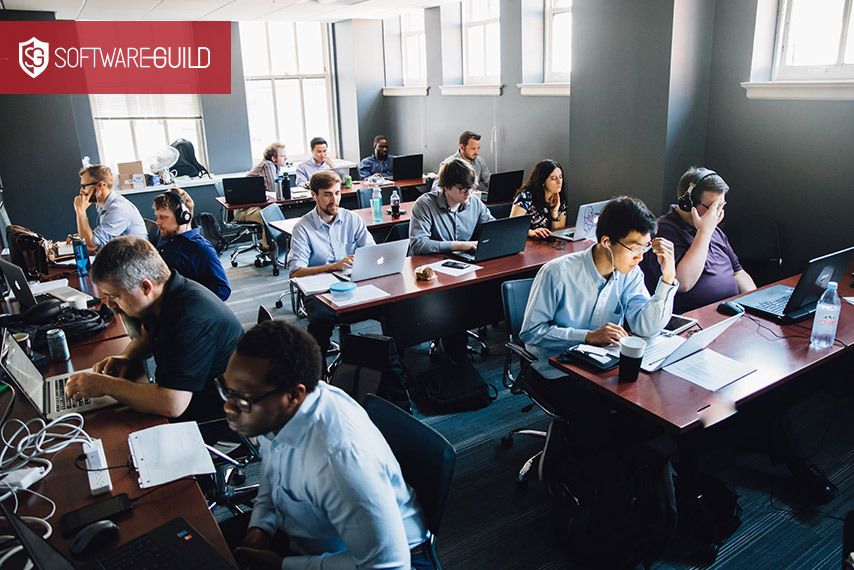 The Software Guild : A Different Kind of Coding Bootcamp
The skills gap is continuing to grow. Companies across industries are struggling to find highly skilled candidates for software developer roles. Potential employees are ready to work, but lack the skills necessary to fill those roles. At The Software Guild, we're working closely with individuals, companies and schools to close this gap through coding bootcamps that train apprentices to work with the latest technologies and find lifelong careers
Defining a Bootcamp
Training through The Software Guild offers the opportunity to learn the skills necessary to succeed as a developer in a short period of time. We offer on-ground bootcamps and training programs that create apprentice developers in just 12 weeks of hands-on training. Our part-time online and blended programs teach the same skills in less than a year. Through our partnerships with corporations, universities, community colleges and high schools, our programs are easily accessible to students everywhere.
The Software Guild Difference
Many bootcamps may promise a quick education, but not all bootcamps are created equal. The Software Guild takes a different approach to learning.
Verified Results
As part of our commitment to accuracy, we are proud to be a founding member of the Council on Integrity in Results Reporting (CIRR). This consortium relies on third-party verification to ensure that outcomes for bootcamp graduates (such as job placement rates and salary information) are accurate. So, when we say we have a 71 percent graduation rate, you can trust that we're telling the truth. See for yourself by checking out the latest CIRR report at thesoftwareguild.com.
Relevant Programs
As technology changes, it's important that bootcamps are teaching the latest trends. At The Software Guild, we regularly update our curriculum to ensure we're meeting the needs of the labor market. With up-to-date programs focused on two of the top foundational languages used by Fortune 500 companies around the world, .NET/C# and Java, The Software Guild can help apprentices gain the skills they need.
Helping Businesses Obtain, Train & Retain
The Software Guild's training turns employees into engaged, lifelong learners who unlock their potential to accomplish your company's goals. As a partner, we will close your skills gap by helping you obtain, train and retain highly skilled tech employees. We take the time to understand your goals so we can align to your needs and deliver custom training programs that will help your employees solve challenges specific to your business.
Master Instructors
On average, our instructors have 10 years of software development experience, working in industries ranging from gaming to health care and more. Instructors teach a curriculum grounded in the identified needs of employers, designed to enable graduates to make a difference from their first day on the job.
Guild for Life
We offer a range of programs that transform novice students into tech professionals. Bootcamp training creates a community where our graduates maintain relationships with instructors and peers, so they can continue to ask questions and learn even when their bootcamp has concluded. In addition, our Employer Network is always open to "Guildies," providing opportunities for employment long after graduation. We'll help you prepare for opportunities by helping with everything from knowing about job openings to polishing a resume to ensuring social media profiles are optimized.
Career Readiness
The Software Guild's Employer Network consists of more than 450 businesses in need of tech professionals. Through this network, we help graduates find jobs that meet their new skill set, but we know career readiness goes beyond job postings. Through our bootcamps, we work to prepare students with soft skills, such as effective team communication, project prioritization and efficient work practices. We also assist graduates through 1-on-1 career profiling, email tips, job fairs, job coaching, mock interviews and more.
To learn more about The Software Guild, visit www.thesoftwareguild.com.