Sponsor Insight
The Hong Kong Polytechnic University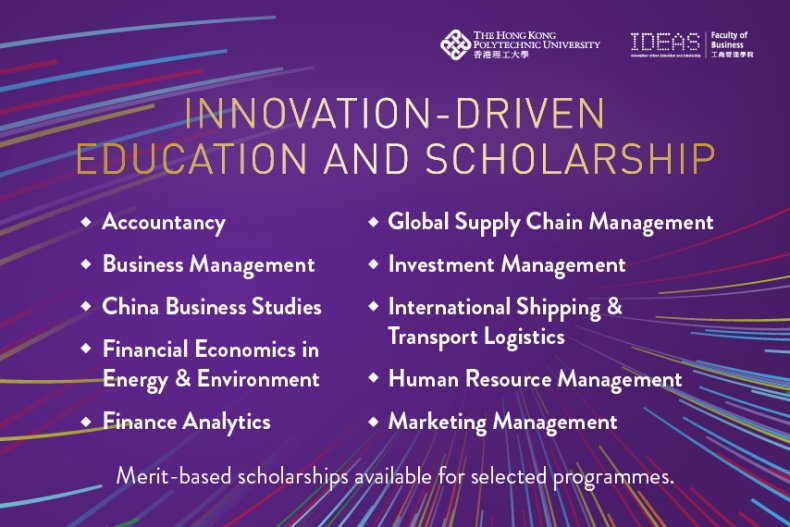 Faculty of Business,
The Hong Kong Polytechnic University
The Faculty of Business at The Hong Kong Polytechnic University is home to over 160 scholars from around the world, 4,500 students and 50,000 alumni. We have achieved accreditations from AACSB (The Association to Advance Collegiate Schools of Business) and EQUIS (EFMD Quality Improvement System). Our research has been ranked 61st in the world (The UTD Top 100 Worldwide Business School Rankings Based on Research Contributions 2015-2019).
The Faculty pursues IDEAS (Innovation-driven Education and Scholarship)with a 3D focus on Discovery, Design and Delivery. We realize knowledge and technology transfer through educational programmes, as well as partnership and close links with industry and the professional community. To maintain currency of the programmes and specialist consultancy, faculty members undertake pioneering and impactful research, both within and across their disciplines, facilitated by our centres for Belt and Road development, branding and marketing, financial technology, leadership and innovation, maritime studies, shipping and logistics, sustainability and entrepreneurial finance.
The Faculty offers a comprehensive portfolio of undergraduate and postgraduate programmes, many of which are recognized by professional bodies in the fields of accounting, finance, logistics, management, marketing and transport. Apart from the BBA, MBA, DBA and specialized master's and doctor's degrees, there are also research programmes leading to the MPhil and PhD awards.
Taught postgraduate programmes for international students:
Master of Business Administration
MSc in Business Management
MSc in China Business Studies
Master of Finance (Investment Management)
Master of Finance (Financial Economics in Energy & Environment)
MSc in Accountancy
MSc in Accounting & Finance Analytics
MSc in Business Analytics
MSc/PgD in Global Supply Chain Management
MSc in Human Resource Management
MSc/PgD in International Shipping & Transport Logistics
MSc in Marketing Management
Master of/PgD in Professional Accounting
Some of these programmes provide merit-based scholarships.
Research programmes for international students
Master of Philosophy
Doctor of Philosophy
Undergraduate programmes for international students
BBA (Hons) in Accountancy
BBA (Hons) in Accounting and Finance
BBA (Hons) in Financial Services
BBA (Hons) in International Shipping and Transport Logistics
BBA (Hons) in Management
BBA (Hons) in Marketing
BBA (Hons) in Supply Chain Management and Analytics
The application deadline for early consideration is 25 November 2020.
We look forward to welcoming you on campus!